MOSCOW -- The veracity of statements coming out of the Russian regime continues to come under doubt as the official death tally of Russian medics from COVID-19 varies greatly from independent sources, and further spurs doubt over the state of the country's healthcare system.
At least 101 medics have died from the coronavirus, said Moscow last week in its first such announcement, but an online tally compiled by doctors gives a far higher figure.
Senior Health Ministry official Lyudmila Letnikova told the parliamentary health committee that the ministry keeps a register of deaths of medical personnel, but this is the first time the Kremlin has disclosed a figure publicly.
Still, the official number is much lower than the total on an online list compiled by doctors from data sent in by colleagues, which has 293 names.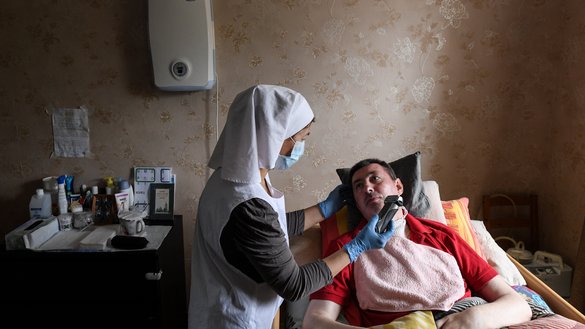 The higher tally is an inconvenient reflection of the reality of the coronavirus outbreak in Russia, which is seeing some of the highest new number of cases and deaths since the COVID-19 crisis began.
Coronavirus deaths in Russia passed the 5,000 mark on Tuesday (June 2) and total cases topped 420,000, the third highest in the world.
Yet critics have cast doubt on the numbers, accusing the authorities of under-reporting deaths and threatening a new wave of infections by lifting restrictions.
The perception that Russia has the virus under control is especially crucial to Russian President Vladimir Putin, who is desperate to hold a massive military parade in Moscow on June 24 and and July 1 vote on constitutional reforms that could extend his rule beyond 2024.
Remembrance List
The "Remembrance List" site was launched in April by medics including cardiologist Alexei Erlikh, who works at a Moscow state hospital.
The creators of the list said their aim was to provide reliable information on deaths of health workers, fearing that the authorities would not do so.
When the online list appeared, the Health Ministry did not respond to an AFP request for the number of coronavirus casualties among health personnel.
The dubious official death tallies come shortly after the Kremlin, which is boosting efforts to spread disinformation about the coronavirus, began employing similar tactics of disorientation and confusion on his own country's healthcare system, causing outrage among Russian medical workers.
Putin promised large bonuses for medical personnel who deal with COVID-19 patients to inspire hard work and reward risk. For most, nothing ever came.
"I hoped that if I came in contact with the infection, I would also get some extra money," said Maria, a 24-year-old doctor who works outside Moscow and spoke on the condition of anonymity.
"I could have contracted the virus, but instead of a bonus, my salary is less than usual," she said in May, adding she was given only one surgical mask and a pair of gloves per shift.
Questions over deaths
While Moscow is short-changing the doctors working on the front line of the pandemic, some observers have questioned the veracity of its infection and coronavirus-related death count.
Russia has reported far fewer deaths than many other countries with fewer cases, prompting questions over whether the authorities are accurately recording deaths from the virus.
Government officials have cited reasons that include a mass testing campaign that reportedly picked up many mild or symptom-free cases, as well as the recording of causes of death based on autopsies.
Officials in the capital on May 28 released details of mortality statistics for April in an attempt to quash the under-reporting claims.
A total of 636 patients died from the coronavirus in Moscow in April, down from the previously reported toll of 639, health officials said.
Moscow's health department also reported that 756 patients had tested positive for the coronavirus but "died because of other reasons" in April.
The official picture stands in stark contrast of what is being reported on the ground.
Medical workers in St. Petersburg, for instance, said hospitals remain at peak capacity.
Sergei Sayapin, a doctor at the Pokrovskaya municipal hospital, told local media that 650 patients were being treated at his hospital in late May, which has just over 540 beds.
"People lie on examination benches, without mattresses or pillows," Sayapin was quoted as saying on Wednesday. He declined to speak to AFP.
"Ambulances can spend up to seven hours driving around town to find a place for a coronavirus patient," Natalia, an ambulance worker, told AFP on condition of anonymity.
"The hospitals are bursting at the seams. I don't really believe in official figures that don't correspond to the images we see every day."
Bogus coronavirus claims
Moscow's attempts to underplay the impact on the virus in Russia mirror other disinformation campaigns aimed at concealing the country's own woes while attempting to destabilise other nations and regions.
While the world grapples with the COVID-19 pandemic, the Kremlin continues to spread damaging disinformation about the deadly virus, while endangering lives worldwide, according to a European Union (EU) study published in April.
Pro-Kremlin media outlets are promoting disinformation about COVID-19 in order to worsen the crisis in the West by undermining trust in healthcare systems, warned an internal EU document seen by AFP in March.
Between January 22 and April 1, watchers logged more than 150 cases of pro-Kremlin disinformation on COVID-19, the European External Action Service (EEAS) reported.
The strategy is to pump out dozens of different, sometimes contradictory, narratives to sow confusion and fear.