ASHGABAT -- Russia's plan for a second gas pipeline to China represents an attempt to push Turkmenistan out of the Chinese gas market, say officials from Turkmenistan's fuel and energy sector.
Success of Moscow's plan would spell disaster for Turkmenistan, which has only two customers -- China and Russia. China is by far the bigger customer. Only last year did Russia resume buying a small amount of Turkmen gas after a hiatus of more than three and a half years, and it forced Turkmenistan to accept an insultingly low price.
In late 2019, Russia began delivering natural gas to China through the Power of Siberia gas pipeline.
Now, a feasibility study is under way for a second pipeline, the Power of Siberia 2.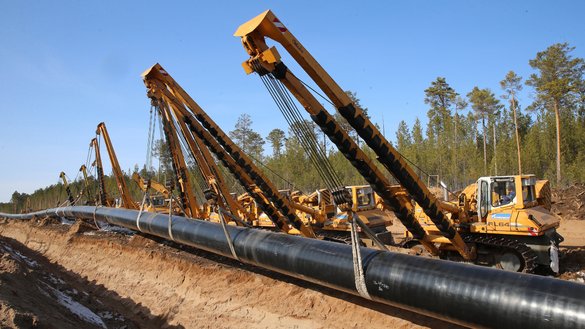 The chairman of Russian energy giant Gazprom, Alexey Miller, received approval to start working on the second pipeline during a meeting with Russian President Vladimir Putin in late March, according to a Gazprom release.
Russia could deliver as many as 50 billion cubic metres of gas per year to China via the Power of Siberia 2 pipeline, said Miller.
Representatives of the Turkmen natural-gas industry reacted negatively to the news, interpreting Moscow's plan as an attempt to squeeze Turkmenistan out of China's gas market.
"At the time [of the first pipeline], we were told that the Chinese market was huge and that there was enough room for all suppliers," said Khaknazar B., a gas treatment plant technologist at Marygazdobycha (Mary Province Gas Extraction Co.) in southern Turkmenistan.
"Then lo and behold, Russia's first step was followed by a second [pipeline]," he said.
Turkmenistan entered China with its own gas pipeline a decade ahead of Russia.
From 2009-2019, it supplied a total of 252.1 billion cubic metres of gas, according to Chinese gas officials.
"The monopolist Gazprom could not accept someone [else] dominating such a promising gas market," according to Turkmen gas industry officials.
Undermining Turkmen opportunities
The Russian initiative is pernicious, said a high-ranking employee of the state-owned enterprise Turkmengaz (Turkmen Gas) on the condition of anonymity.
"China has tremendous needs when it comes to energy, but it appears that Russia is aiming to squeeze Turkmenistan out of this enormous gas market and cement its own position there," he said.
In the end, it is China that stands to win, he said. It is gaining a new influx of gas and at the same time the opportunity to dictate its pricing terms to suppliers.
"Everyone understands that this is economics and competition, but it's not the first time that Russia has used different pretexts to try to block competitors from profitable markets," the official said, adding that "if those competitors are already there, Russia is trying to gradually push them out."
In one example, Russia and Iran jointly opposed the construction of the Trans-Caspian Gas Pipeline from Turkmenistan to Azerbaijan and in so doing blocked Turkmenistan from sending its gas to Europe, according to the official.
"Azerbaijan was willing to provide its infrastructure to pump Turkmenistan's gas into Turkey and Europe, and the European Union supported the project, but Russia and Iran essentially torpedoed it, saying that it would destroy the Caspian's ecosystem," he said.
"In reality, those who were challenging our diversification weren't concerned about the environment. Rather, they didn't want to see Turkmenistan's gas in Europe," he added.
Coronavirus aggravates crisis
News of the Russian efforts come as Central Asian countries suffer from the effects of economic crisis and the coronavirus pandemic.
In March, PetroChina notified Central Asian countries of an occurrence of force majeure (a reference to the coronavirus-caused economic slump) and a resulting proportional reduction in gas supplies from those countries.
China buys gas from Turkmenistan, Kazakhstan and Uzbekistan.
China did not announce specific volumes, but Turkmenistan sells more gas to it than Kazakhstan and Uzbekistan do. Any proportional reduction cuts Turkmen sales the most.
The capacity of the gas pipeline from Central Asia to China is 55 billion cubic metres per year, of which 33.3 billion cubic metres came from Turkmenistan in 2019.
Turkmenistan does not disclose losses related to the economic crisis and the coronavirus, but China has announced that the volume of gas imported from Turkmenistan fell by 17% over two months in 2020 compared to the same period last year.
The issue is not just reduction of exports, say Turkmen oil and gas analysts. Now great uncertainty exists about the construction of a fourth branch of the Central Asia–China gas pipeline, through which Turkmenistan was planning to sell China another 25 billion cubic metres of gas per year for $4 billion (14 billion TMT).
Turkmenistan is completely dependent on China, which is the main customer of Turkmenistan's gas, say Turkmen economists.
"If Russia increases the volumes of gas it supplies through a second pipeline, China will have another chance to drive down the price for Turkmen gas, and that will make it even harder to build up the profitable portion of the country's budget," said Maisa Agayeva, an Ashgabat-based economist.
"If the Power of Siberia 2 delivers another 50 billion cubic metres of Russian gas to China [per year], that will mean that Turkmenistan loses its status as leader of that market," said Agayeva.