ALMATY -- Russian President Vladimir Putin's recent comment that former Soviet republics "owe" Russia for leaving the Soviet Union has drawn outrage in Kazakhstan.
Post-Soviet states should return the "gifts from the Russian people" in the form of land, Putin said in an interview on June 21.
His comments were broadcast by state-owned Russia-1 TV as part of the "Russia. The Kremlin. Putin" programme.
The treaty establishing the Soviet Union (founded in 1922) articulated the right to exit it but did not outline the procedure for doing so, he said.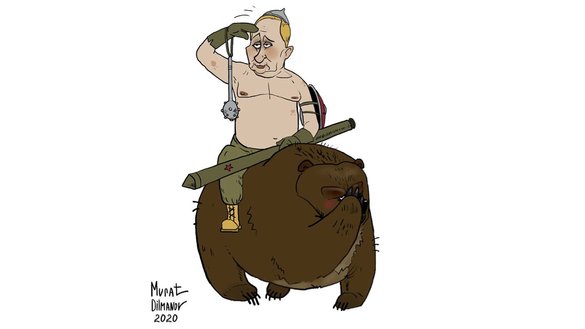 "So the question arises: what if a republic joined the Soviet Union but received a massive amount of Russian land that was ancestral, historic Russian territory and then decided to exit the Soviet Union? In that case, it should have left with what it brought -- not take along the gifts from the Russian people," he said.
A day after the interview aired, Putin spokesman Dmitry Peskov told reporters that Putin's comments were aimed at pointing out "systemic errors that were permitted earlier in the [Soviet] constitution" and thus were highlighting the need to reform the Russian constitution.
A vote on constitutional reforms, now scheduled for July 1 despite dangers associated with the coronavirus, is set to enable Putin to serve indefinitely in the Kremlin.
Under existing law, Putin may not stay on as president beyond 2024 because he may serve only two consecutive terms. If passed, the proposal would turn the clock back on his terms to zero.
Bellicose nationalism
While acknowledging that Putin's comments were likely aimed at Ukraine, Kazakh analysts say the threat is also directed at Kazakhstan.
Kazakhstan borders Russia, unlike many other ex-Soviet republics, and is rich in oil, gas and other natural resources.
The Kremlin illegally annexed Crimea from Ukraine in 2014.
Specific agreements and international instruments ratify Kazakhstan's borders, so nobody can call them a gift from Russia, said Islam Kurayev of Almaty, a political analyst.
"This comment by [Putin] could be construed as a direct threat to Kazakhstan's national security," Kurayev said.
Putin's words embody aggressive nationalism, said Miras Shekenov, a member of the Nur-Sultan city council.
"This is precisely the type of ideology he'll promote among his people -- idealisation of life in the Soviet Union, glorification of the victory in the war against Germany, and so on," he said.
Trouble arises when politicians start invoking history, according to Dosym Satpayev of Almaty, director of the Kazakh think-tank Risk Assessment Group.
"As Putin's approval ratings fell because of the worsening socioeconomic situation in the country, he again decided to play that worn-out card of 'Great Russia', which was lost and which others 'plundered'," he wrote on Facebook.
"Then, on top of this idiocy, to invite the presidents of the former Soviet republics to a parade marking the 75th anniversary of the victory ... over Nazi Germany, while announcing to the whole world that these republics 'owe' Russia something, risks inciting a new wave of separatist media coverage," said Satpayev.
Irrational ideas
Kazakhs have sharply rebuked Putin's comments.
Kazakhstan, which is one of Russia's few remaining friends, will soon turn its back on Moscow if Putin continues to tout "its imaginary territorial claims", Arman Shorayev, an Almaty-based media analyst and former member of the National Council of Public Trust, said in a video message on Facebook.
"When it left the Soviet Union, Kazakhstan received as a 'gift' the dried-up Aral Sea, the Semipalatinsk [Semey] nuclear site and dozens of explosions of nuclear missiles that lacerated our steppes and caused our women to give birth to children with disabilities," Shorayev said.
"Meanwhile, the rocket propellant from Baikonur [the Kazakh cosmodrome used by Russia] is poisoning every living creature and killing our citizens and Red Book [endangered] animals," he said.
A "Napoleon complex and inferiority complex" constantly compel Putin to express irrational ideas, he added.
Shorayev urged Putin to "take a look at what is going on beyond the boundaries of successful Moscow", where "your elderly are living on bread and water", and to ponder the truly pressing issues inside Russia.
"Neither the Kazakhs, nor the Ukrainians, whom Putin robbed of Donbas and the Crimea, nor the Georgians, from whom Putin took part of their territory, nor the Moldovans, whom Putin holds by the throat, are Russia's enemy. All of Russia's enemies are sitting in the Kremlin and have usurped power," Shorayev said.
Meanwhile, Murat Dilmanov, an Almaty artist, mocked Putin with a caricature.
In the cartoon, Putin, sitting astride a bear, holds a missile and a club and peers into the distance. The bear is "face palming".
"In search of the traditional, ancient, historic gifts," reads the caption.