NUR-SULTAN -- Kazakh authorities recently announced a number of new successes in the fight against organised crime and drug and human trafficking, and also plans for expanded measures against these continuing crimes.
The Kazakh Interior Ministry (MVD) is "improving its investigation of human-trafficking crimes", the ministry said in a November 4 statement summarising a press briefing by Interior Minister Yerlan Turgumbayev.
As part of those improvements, the MVD is forming a special department to help combat organised crime and human trafficking in the country.
Police this year have identified 107 such crimes, which are often "well organised and transnational in nature," said Turgumbayev.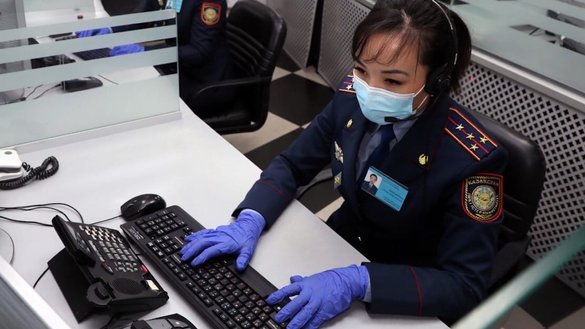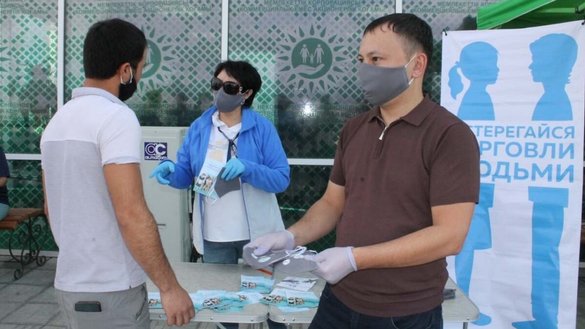 Since the beginning of this year, authorities have prosecuted 16 accused leaders and 130 members of crime rings and have seized more than 150 firearms and 960 rounds of ammunition from them, according to the MVD statement.
In June, police conducted Operation STOP Trafficking, which identified 50 incidents of human trafficking.
As part of the effort, police officers raided entertainment centres, saunas, hotels, sublet apartments, farms and construction sites, where they uncovered evidence of human trafficking, slave labour and sexual slavery, the ministry said at the time.
An anti-trafficking police helpline -- 116-16 -- is available in Kazakhstan. To help promote the service, police, along with non-governmental organisations, are distributing medical masks that have cautionary information and the helpline phone number.
Terrorism-crime links
Efforts to crack down on trafficking will help weaken terror groups, said political scientist Bolatbek Isayev of Nur-Sultan.
"Human trafficking is a common occurrence among ... extremists and terrorists," he said. "Among other things, we're talking about keeping girls and women as captives, passing them from one 'husband' to another. In Syria, for example, 'Islamic State' [IS] supporters quite actively used prisoners as chattel."
Isayev noted the close links between terrorism and organised crime in the modern world.
"Human trafficking, drugs, arms trafficking on the black market -- these can be done both by members of terrorist organisations and their sympathisers who provide financial support to terrorists."
It is a positive point that "the problem is not being hushed up. We know about the potential danger of terrorism and about the police response", he emphasised.
While Kazakhstan is making progress against human trafficking, more work is needed.
The US State Department's annual Trafficking in Persons report published in June ranked countries based on their efforts to meet standards against human trafficking. It labelled Kazakhstan as Tier 2 Watch List.
That category includes countries "whose governments do not fully meet the TVPA [US Trafficking Victims Protection Act]'s minimum standards but are making significant efforts to bring themselves into compliance with those standards", according to the report.
Drug crackdown
Kazakh police meanwhile have been seeking to curb the production and sale of synthetic drugs as part of their crackdown on organised crime.
Last month, law enforcement officials in Karaganda Province discovered a drug lab and detained a local resident, from whom they seized more than 5kg of synthetic drugs.
In September, a court in Zhambyl Province convicted nine members of an organised criminal group involved in smuggling drugs from Kyrgyzstan to Kazakhstan. They received prison terms ranging from 10 to 17 years.
In addition, police officers are constantly monitoring social networks to identify prohibited content. For example, on November 2, a Temirtau resident was fined for posting extremist materials online with unrestricted public access.
Law enforcement personnel additionally are aiming to prevent illegal weapons from falling into terrorists' hands.
Kazakhstan began Operation Karu (Weapons) in late May in various provinces across the country.
"The main objectives of this measure are to prevent, break up and uncover firearm-related crimes; identify individuals and organised criminal groups involved in the illegal storage, manufacture and trafficking of weapons, ammunition and explosives; and uncover instances of illegal storage and sale of weapons and ammunition," the MVD said at the time.