In a second weekend of mass protests, tens of thousands took to the streets in more than 100 cities across Russia on Sunday (January 31), demanding the release of President Vladimir Putin's most prominent opponent.
The protests, which saw authorities enforce an unprecedented lockdown of the centre of Moscow, came ahead of a high-profile court hearing that could see jailed Kremlin critic Alexei Navalny imprisoned for several years.
Police made more than 5,100 arrests in protests from Vladivostok to Pskov. The detainees included 82 journalists.
It was the highest number of protest-related arrests in recent history, according to the OVD Info monitoring group, which reported more than 4,000 arrests in similar protests January 23.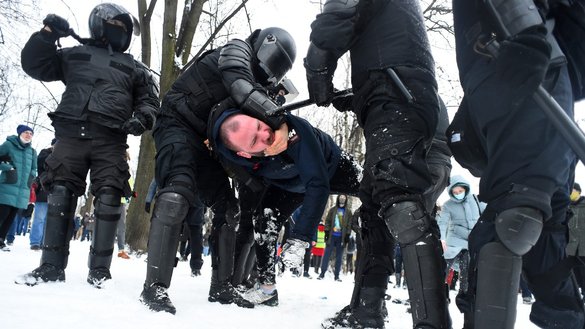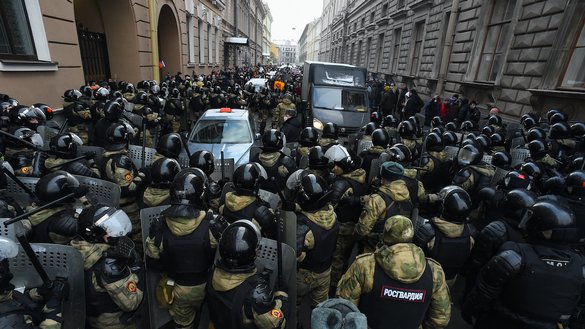 Navalny was detained at a Moscow airport January 17 after flying back to Russia from Germany, where he was recovering from a near-fatal Novichok nerve agent poisoning in Siberia last August that he blames on the Kremlin.
The anti-corruption campaigner is being held in a Moscow detention centre.
In a Monday statement, the General Prosecutor's Office said it backed a prison service request to change Navalny's suspended sentence to jail time.
A concerted effort is under way to silence Navalny's team, dismantle his Anti-Corruption Foundation and pressure his family, say Kremlin critics.
Ahead of the protests, Navalny's brother Oleg and key allies, including activist Lyubov Sobol, were placed under house arrest until March 23 for allegedly violating coronavirus restrictions and calling on people to join protests.
Navalny's wife, Yulia Navalnaya, posted a picture of her family on Instagram on Sunday, urging supporters to make their voices heard.
"If we remain silent, then tomorrow they will come for any one of us," she wrote.
Navalnaya was detained by police shortly after she announced her arrival at Sunday's rally on social media, said Navalny's team.
'Putin is a thief!'
Hundreds of police lined the streets of central Moscow on Sunday, with central subway stations closed and restrictions on the movements of pedestrians.
Protesters who had hoped to gather outside the Federal Security Service headquarters were instead scattered to various parts of the city as organisers made last-minute changes in locations.
The demonstrators chanted "Freedom!" and "Putin is a thief!" as they marched through the Russian capital, braving bitter cold and snow.
Many carried gold-painted toilet brushes in reference to a video released by Navalny's team alleging Putin had been gifted a $1.35 billion mansion on the Black Sea, complete with $840 toilet brushes.
Navalny claims the mansion, which features a casino, theatre, underground hockey arena, aquatic disco and hookah lounge -- with pole-dancing stage -- was paid for "with the largest bribe ever".
Putin ally and former judo partner Arkady Rotenberg on Saturday said he owns the property, telling Russian news agencies, "There were many creditors. I became the beneficiary [of this site]".
While Navalny's arrest was the catalyst for the protests, the public's outrage over the "bribery" palace also underscores Russians' growing discontent over tumbling wages and pensions, crippling sanctions and other financial troubles.
In addition to supporters of Navalny, the protests have drawn opposition groups from across the spectrum, from communists to right-wing nationalists.
Adjusted for inflation, Russians' take-home wages have dropped 10% since 2013, the last year of solid growth before the Russian annexation of Crimea, the Moscow Times reported last Friday.
The economic discontent is taking a toll on Putin's approval ratings, and political analysts say it is no coincidence that protests have spread to remote provinces, which are feeling the economic pain more acutely.
Batons and tasers
Protesters and monitors pointed to the police's harsh tactics, saying they used batons and tasers on peaceful demonstrators and beat some badly.
Valery Fadeyev, the chairman of the Kremlin's human rights council, denounced the rallies as a "provocation".
But authorities essentially unleashed "a military operation" against protesters and paralysed the city, said the St. Petersburg ombudsman.
Several thousand protesters demonstrated in St. Petersburg, despite police closing off the main thoroughfare, Nevsky Prospekt, and shutting subway stations, and 962 were detained in that city during the rally, according to Ovid Info.
"Batons and tasers will not solve existing problems. Violence only breeds intransigence and engenders bitterness," ombudsman Alexander Shishlov said in a statement. "This is a path towards great trouble. It's time to stop."
"It's true we are asking ourselves if these protests will really do any good," said Nadia, a 21-year-old student who took part in the protest. "It will take more for Navalny to be freed. And even more for Russia to be free."