MOSCOW -- Conservative groups in Russia are not reacting well to their country's choice of a Tajik-born woman to represent Russia at the Eurovision Song Contest 2021 in May.
They are clamouring for an investigation of "Russian Woman", the song composed and performed by 29-year-old Manizha Sangin.
"Russian Woman" praises the strength of Russian women, urging them to be more independent and to resist sexist views on beauty, age and child-bearing.
The Investigative Committee (SK), which probes major crimes in Russia, on March 18 said it had received a request from a civic group to investigate the song for "possible illegal statements".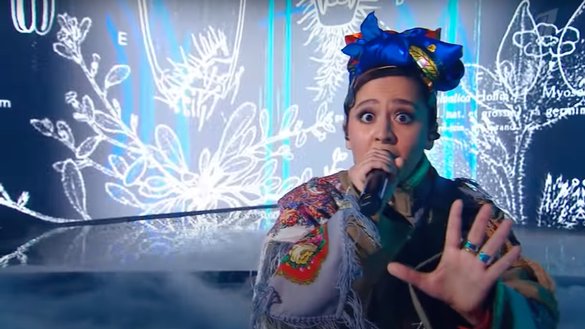 The committee will examine the request in accordance with the law, SK spokesperson Svetlana Petrenko told RIA Novosti.
Investigating 'Russian Woman'
The request came from a site devoted to war veterans, "Veteranskie Vesti", which March 16 published an open letter to SK chairman Alexander Bastrykin asking him to initiate criminal proceedings into the song.
The organisation describes itself as independent but partners with Russia's Interior and Defence ministries and the Federal Security Service (FSB).
Manizha's tune "aims to grossly insult and humiliate the human dignity of Russian women", said the group. It called the song "a lasting crime" that incites ethnic conflict.
Another complaint comes from the Union of Orthodox Women, which in an open letter March 18 called for a ban on Manizha's music video and on her participation at Eurovision.
Her lyrics incite "hatred towards men, which undermines the foundations of a traditional family", said the letter.
On March 8, performing "Russian Woman", Manizha won the right to represent Russia at Eurovision, defeating two other contenders by a wide margin in an online Russian poll.
Immediately after her selection, hate-filled posts and articles surged on Russian social networks and in the tabloids.
Some social media users accused Manizha of being a Tajik and a non-Russian feminist who demeaned Russian women.
"When I read the first wave of hateful comments, I sincerely did not understand what I had done to anybody," she said in a March 15 interview with Ksenia Sobchak on Russia's Channel One.
Being a Tajik in Russia
Manizha was born in Dushanbe, but with Tajikistan in the midst of a civil war, her parents fled with their three-year-old daughter to Russia in 1994.
All her adult life, Manizha has heard insults from Russians based on ethnicity, skin colour, hair colour, eye shape and other physical traits, she told Sobchak.
"The first word that I learned in Russia was black-assed," the singer said on TV.
Racial taunts and other forms of ugliness always have been present in her life because of her ethnicity, she said. "But not as many as last week."
Such remarks online include "Where did she come from?" and "In all of Russia, isn't there a Russian performer to represent the country at Eurovision?"
Others, which invoke Nazi and racist tropes, are too obscene to reprint.
The negative comments hurt her, Manizha said.
Many of her supporters and fans were outraged to see racist slurs coming from prominent, highly educated figures.
Singer Yuri Loza, journalist Mikhail Shakhnazarov, State Duma member Vitaly Milonov, Liberal Democratic Party leader and State Duma member Vladimir Zhirinovsky, and hundreds of other well-known Russians have all denounced Manizha.
Milonov lobbed another insult at the singer on Komsomolskaya Pravda radio Wednesday (March 24).
"I don't see the need to import people to sing in place of Russians," he told programme host Diana Kadi, referring to Manizha.
Russian chauvinism, hypocrisy on display
The majority of Russian society aggressively opposes anyone who looks different, said Karim Shermatov, an ethnic Tajik living in the Urals, who like Manizha fled the Tajik civil war.
Every day in Russia, thousands of migrant workers from Central Asia suffer humiliations and mockery because of their ethnicity, he said on Skype.
Manizha is one of those thousands, Shermatov said.
She faces ethnic hostility on social networks, but other Tajiks, Uzbeks, Kyrgyz and Turkmens -- who wait tables and wash dishes in restaurants and bars, who collect garbage, and clear snow from the streets -- experience this hostility in person, he added.
"Even completely swearing off alcohol becomes a pretext for others to try to criticise or insult you," Shermatov said, meaning that Russians find fault with Central Asians no matter what they do.
A number of racial slurs toward Central Asians, which Shermatov recited for Caravanserai, are routine vocabulary for many Russians.
Shermatov said he is happy for his compatriot Manizha, but he does not understand why Russians, who voted for her to represent them at Eurovision, are taunting her on social networks.
"This reveals not only their chauvinism but also their hypocrisy," he said.
Russian hypocrisy will manifest itself in its full glory if Manizha wins the contest in Rotterdam, The Netherlands, he said.
"You will see for yourself how they [Russians] will then speak differently about our Tajik girl."
Eurovision, with performers from 41 European countries, will take place May 18-22 in Rotterdam.
The event will be held in person but with smaller national delegations and fewer journalists as a measure against COVID-19, say the organisers.