BISHKEK/TASHKENT -- Kyrgyzstan and Uzbekistan saw improvement in 2020 in their efforts to fight human trafficking, according to an annual report published by the US State Department.
The State Department on July 1 published its 2021 Trafficking in Persons Report, which catalogues successes and failures in the fight against human trafficking across the world.
According to the State Department website, this report is the main diplomatic tool wielded by the US government to engage foreign governments in the problem of human trafficking.
It is also "the world's most comprehensive resource of government efforts in the fight against human trafficking, and it reflects the US government's commitment to global leadership in this vital human rights and law enforcement issue," it said.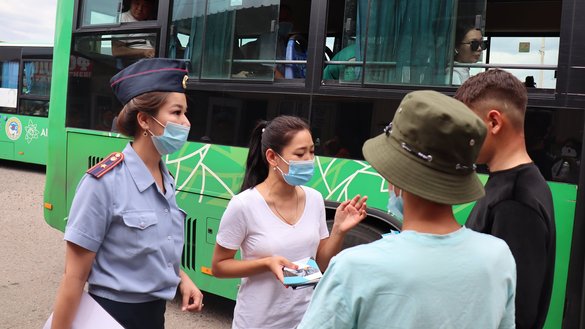 According to the report, the Kyrgyz and Uzbek governments stepped up their efforts to combat human trafficking in 2020, moving up to Tier 2, a group that includes Kazakhstan and Tajikistan.
Being in this tier means that a government does not completely meet the minimum standards of the Trafficking Victims Protection Act of 2000 (TVPA), but it is making significant efforts to abide by those standards.
In particular, the Kyrgyz government developed a national plan of action to address trafficking in persons; resumed discontinued investigations into human trafficking incidents; and evacuated dozens of Kyrgyz children from areas of armed conflict, according to the report.
The government created a mobile app and activated a hotline for victims of human trafficking; launched an information campaign on the issue; and organised trainings for social workers, law enforcement agency personnel, prosecutors and judges.
In a special video address, Brian Stimmler, the US chargé d'affaires to Kyrgyzstan, said the United States was encouraged by Kyrgyzstan's efforts over the past year.
"We hope that this year Kyrgyz trafficking victims will be able to see justice served, and their traffickers convicted and jailed for their crimes," Stimmler said.
Meanwhile, in Uzbekistan, labour inspection, law enforcement agencies and civil society activities to combat human trafficking all gained strength in 2020, and citizens have become increasingly aware of their rights to reject coercion and to report violations, according to the US embassy in Tashkent.
The United States provides ongoing support to Central Asian countries in the fight against human trafficking.
In September 2019, the US Agency for International Development (USAID) launched a project focused on safe migration in Central Asia, which is being implemented by Winrock International in five Central Asian countries.
According to the USAID website, the goal of this five-year project is to combat trafficking in persons by empowering survivors, ensuring efficient services and establishing systems that protect at-risk groups.
Coronavirus and human trafficking
In a message accompanying the recent report, US Secretary of State Antony Blinken said that global crises such as the COVID-19 pandemic, climate change and discrimination are worsening the plight of those who already endure oppression, and are further exacerbating existing vulnerability to exploitation, including human trafficking.
"We must break this inhumane cycle of discrimination and injustices if we hope to one day eliminate human trafficking," Blinken wrote.
The main problem inherent to Kyrgyzstan is the unlawful transport and sale of people for labour or sexual exploitation in other countries, said Ulan Shamshiyev, a Bishkek-based specialist on combating human trafficking and a former director of the emigration department at Kyrgyzstan's State Migration Service.
In recent years, sales of children have been occurring more and more often, Shamshiyev said.
"It's hard to investigate such crimes and prosecute criminals abroad," he said.
"Also, this kind of phenomenon is often under the radar -- for example, many women who are subjected to sexual exploitation don't report it to the police because they don't want the publicity".
Uzbekistan is facing similar challenges.
In June 2020, Uzbekistan's National Commission for Combating Trafficking in Persons and Forced Labour said that 43% of all crimes related to human trafficking involved the sale of newborn babies.
Women try to sell children mainly to cope with poverty or to conceal out-of-wedlock pregnancies. Traffickers sell infants at prices ranging from $200 to $20,000 and sometimes trade them for apartments.
The only way to effectively fight human trafficking is through active co-operation by all parties: the state, international organisations, NGOs and the media, said Nina Balabayeva of Almaty, director of the NGO Rodnik.
"Civic efforts are also important. Every individual can make a contribution to this fight: he [or she] can report suspicious incidents to the police, provide assistance when needed, and help disseminate important and useful information -- in short, not standing on the sidelines," Balabayeva said.
Russia, China do not meet 'minimum standards'
The improvements made by Kyrgyzstan and Uzbekistan stood in contrast to the performance of Russia and China, which the State Department again ranked as Tier 3.
Governments at that rank "do not fully meet the TVPA's minimum standards and are not making significant efforts to do so", according to the State Department.
Russia actively participates in exploiting the forced labour of North Korean workers, it added.
"The government did not screen North Korean workers for trafficking indicators or identify any North Korean trafficking victims, despite credible reports in previous years that the Democratic People's Republic of Korea (DPRK) operated work camps in Russia and exploited thousands of North Korean workers in forced labor," reads the report.
As for China, in the past four years, authorities have carried out mass arrests and political and ideological indoctrination of ethnic Uighurs, Kazakhs, Kyrgyz, Uzbeks and Tajiks, most of whom are Muslim, and members of other ethnic and religious minorities in Xinjiang region, China, the State Department noted.