KHATLON PROVINCE -- Tajik fruit and vegetable growers -- women in particular -- are seeing positive results from the United States Agency for International Development (USAID) Agribusiness Competitiveness Activity in Tajikistan.
The programme is designed to increase employment opportunities and incomes for agribusinesses, and enhance the competitiveness of Tajikistan's dairy and horticulture sectors.
The five-year, $18.6 million activity was launched in 2018.
In the first two years, the undertaking has created 2,139 jobs in 14 districts in Khatlon province, according to USAID data from March.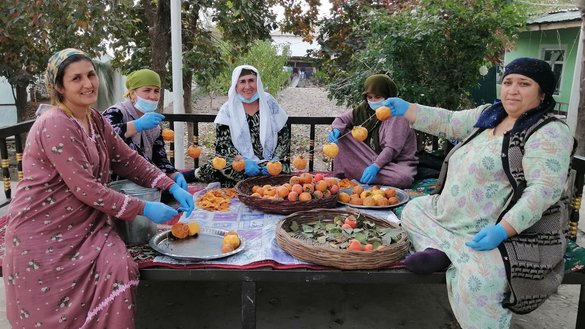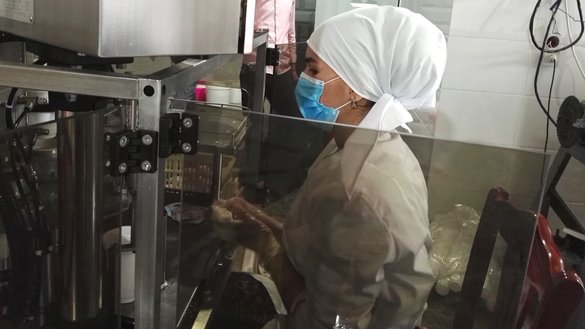 Two-thirds (67%) of the job recipients are women who were either homemakers or unemployed.
High ambitions in Bokhtar
Sharofat Abdulloyeva, a schoolteacher in Bokhtar, is one of the beneficiaries of the programme.
Rather than follow her brother to Russia to work as a migrant worker, Abdulloyeva was able to remain in Tajikistan and now manages Azizamokh, a 0.6 hectare orchard with apricot, sweet cherry, sour cherry and other fruit trees.
While farmers in Khatlon province in the south are not accustomed to drying fruits, Abdulloyeva knew that in northern Tajikistan, growers use special technology to dry apricots and then sell them for good money.
After participating in USAID trainings, Abdulloyeva stayed with a group of Khatlon women in Sughd province in July 2019.
They visited a number of small farms in Isfara province, and saw how they harvest, dry, sort and package apricots. That was when Abdulloyeva was inspired with the idea of creating her own production facility.
USAID approved her project and provided a $16,000 (188,500 TJS) grant to purchase a drying machine. She spent her own savings to perform major repairs on one of the empty buildings on her farm and installed the drying machine there.
In addition to providing the grant to purchase equipment, the project gives her advice. As Abdulloyeva moves through the next stages of business development, she may also borrow money at favourable rates.
"USAID not only made my work easier, but now I can produce competitive products and large volumes," she said. "It will be difficult for me for the first two years, but I am sure that all expenses will be easily recuperated."
The new equipment allows Abdulloyeva to dry up to 300kg of fruit in eight hours, and 10-12 tonnes of apricots per season.
By establishing a production chain from fruit collection to drying, Abdulloyeva created jobs for 50 people, mainly homemakers. In the future, she intends to start producing dried cherries and tomatoes, and to create a packing facility.
"There are already orders from supermarkets in Dushanbe and Bokhtar for everything that I plan to produce," Abdulloyeva said. "As I expand production, I also expect to export my products."
A lucrative experiment
Azizamokh Makhmadiyeva, a Jami district resident with a family of 20, is another beneficiary of the USAID programme.
She participated in the USAID trainings and received advice from consultants from northern Tajikistan on how to use drying technologies.
Makhmadiyeva focused on persimmons, which are overproduced in Tajikistan's south.
"Last year, my sons and I decided to experiment: we bought about three tonnes of fresh persimmons at the season's peak for 1 TJS ($0.90) per kg and dried them in a greenhouse that was available in summer and autumn to protect them from direct sunlight," she said.
"We got a tonne of fruit of a completely different colour, which we sold to Sughd province entrepreneurs," she said.
USAID found the customers, who came to her house and bought the produce for 20 TJS ($1.76) per kg, resulting in 17,000 TJS ($1,527) in profit, she said.
Makhmadiyeva said she intends to expand her business in October, when USAID is expected to provide her family with equipment for cutting, drying and packaging produce.
"When we launch our persimmon drying operation, not only will our family members get permanent jobs, but so will about 20 other local residents," she said.
Raising the standard of living
The women's experiences are a sign that USAID is working toward its goal of boosting product competitiveness in Tajikistan, which will allow farmers, processors and others on the product line to earn stable incomes and raise their families' standard of living.
"Our goal is to help diversify agricultural production, reorient producers and agribusiness toward new markets, develop partnerships, and use available resources to accelerate structural reforms in agriculture," said Nozim Narzulloyev, deputy director of the USAID Agribusiness Competitiveness Activity in Tajikistan.
"With the help of the US government, we plan to recruit local farms and processing enterprises to participate in food security programmes, introduce advanced practices and new technologies into agricultural production, improve the operations of small and medium-sized businesses, and expand the network of enterprises and firms whose activities comply with international standards," he said.
Tajikistan's agricultural sector already accounts for 22.6% of the country's GDP, but agriculture's potential to increase its share of the economy is significant, local analysts say.
"To accomplish this, it is necessary to expand the network of small agile production facilities in rural areas, introduce new technologies in agriculture, diversify production and, having created competitive products, sell them in markets where prices are higher," said Sabohatullo Muzaffarov, an international agriculture advisor who worked on the USAID Agribusiness Competitiveness Activity in Khatlon.
"Many varieties of fruits and vegetables produced in Khatlon province are sold in foreign markets under Tajik brands," he said. "This is because most producers, processors and logistics centres lack entrepreneurial skills. As a result, other people get the profits from the sale."
New opportunities
To tackle that problem, the USAID Agribusiness Competitiveness Activity in Tajikistan has held trainings for more than 9,500 agricultural producers and processors.
"Many have gained access to grants and favourable loans," said Khosiyat Komilova, who oversees the project's implementation. "The important thing is that a chain of top specialists has formed among the local workers, who will train producers and suppliers in the future."
USAID and other international organisations have helped many agricultural producers take part in international informational meetings, forums, exhibitions and fairs.
Instead of just acquainting them with new technologies for growing and storing vegetables and fruits, USAID helps them find potential partners for supplying produce to other parts of Tajikistan and abroad.
"New opportunities motivate producers to look for ways to expand their production and range of products, accounting for market requirements, and to increase the competitiveness of their products," said Komilova.
"The interesting and realistic ideas presented to USAID are awarded with grants, which ultimately contributes to real economic growth," she added.