OSH, Kyrgyzstan -- Newly established fruit processing plants and cold storage facilities in Osh Province are enabling farmers to sell produce on better terms than in the past and to create processed fruit products for export, stakeholders say.
Two fruit drying plants will process more than 1,000 tonnes of produce per year, while a new warehouse can store up to 40 tonnes of apples, according to a November 13 statement from the US Embassy in Kyrgyzstan.
The US Agency for International Development (USAID) partnered with several farmers to set up the processing lines, the statement said.
"The work of processing companies benefits more than 2,000 local families since they will be able to sell their harvest for storage or processing," said Aysalkyn Maksutova, a businesswoman from Osh.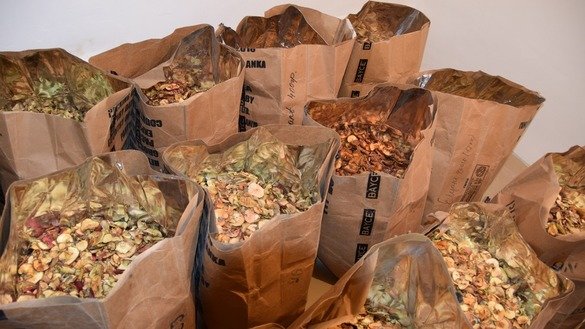 "Thanks to USAID support, they have modern production lines that process the harvest and agricultural produce suitable for export," she told Caravanserai.
The new processing plants will be able to store, dry and process fruits as jams, compotes, juices, candied fruits and other products, she said.
"On the whole, these efforts aim to increase the income of small farmers by increasing their output and expanding access to local and international markets," Maksutova said.
It also benefits consumers who will have access to fruit products during the off-season, she said.
Domestic, international support
USAID support for the two processing plants included modernising the facilities, installing equipment, introducing an international system of quality control and providing other technical assistance.
One facility, operated by Orjemil LLC, "will process off-grade fruits like peaches, plums, cherries and other stone fruits that are not suitable for selling fresh in the market", according to the embassy statement. It will have a capacity to produce 600 tonnes per year.
"The second producer of dried fruits, Advantex LLC, will use its new Uzgen facility to expand its production by 500 tonnes per year," the statement said.
The Kyrgyz government is also focusing on aiding local farmers, Deputy Minister of Agriculture, Food Industry and Land Reclamation Erkinbek Choduyev told Caravanserai.
Kyrgyzstan's exports are expected to grow this year thanks to the implementation of a government project that resulted in an increase in the number of farmers who received subsidised loans from domestic banks, he said.
"Now we will no longer lose part of our harvest that for one reason or another wasn't exported," he said.
'Major breakthrough' in agriculture sector
Fakhriddin Kasymov, a farmer from Kara-Suu District, Osh Province, said he had a good peach and grape harvest this year, which he had originally planned to export.
"But in order to export the harvested produce before it spoils, we have to spend a substantial amount of money on transport and other services," he told Caravanserai. "That's why it's now profitable for me to sell my harvest to processing plants at the market price."
"This is a major breakthrough in the sector," Daniyar Taychabarov, a businessman from Bishkek, told Caravanserai.
"Before, farmers suffered when they had nowhere to sell the produce they harvested," he said. "It sometimes happened that, for example, one-third of their apple harvest went to livestock fodder."
The fruit processing plants and storage facilities will increase agricultural output, Taychabarov said.
"Before, 80% of apricots were exported at fire-sale prices to neighbouring Tajikistan, or almost all cherries and black cherries went for cheap abroad," he said.
"Farmers will now begin expanding their fruit and berry orchards," he said. "It will benefit farmers to sell their produce to the new processing businesses."