BISHKEK -- Aida (a pseudonym) is one of several Kyrgyz citizens whose relatives remain trapped in al-Hol refugee camp, situated in northeastern Syria near the border with Iraq.
Al-Hol has about 62,000 residents, more than 80% of them women and children from 60 different countries, according to the United Nations.
Among them are Aida's sister and six-year-old nephew.
Aida in late October joined other relatives of Kyrgyz women and children still in Syria in beseeching Kyrgyz President Sadyr Japarov to aid those family members or to bring them back.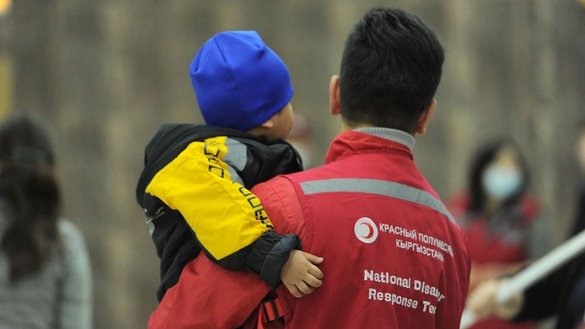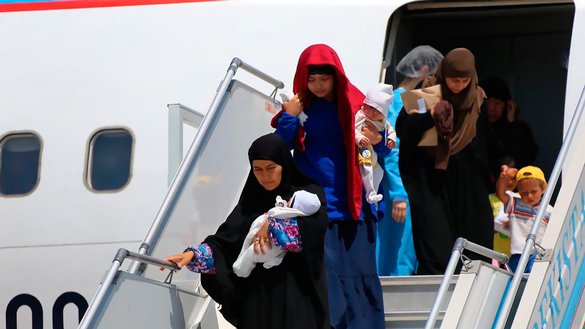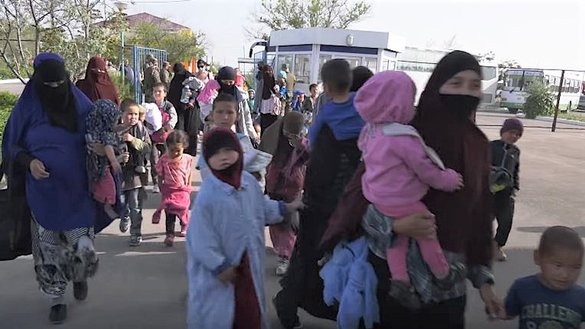 "There are still several hundred women and children from Kyrgyzstan left in this camp," Aida told Caravanserai Monday (November 15).
"The situation there is terrible now -- many refugees have nowhere to sleep, there is an acute shortage of tents, and even tents won't save them from the approaching cold weather," she said.
The Japarov administration has not yet said whether it has made any decision on the matter.
"Our leaders have already saved many children in Syria and Iraq, and we are not losing hope," Aida said.
Central Asian countries built policies from scratch to bring back their citizens, and, having no experience in this area, they have run into challenges such as limited social and economic resources and infrastructure, according to Emil Dzhuraev, a Bishkek political scientist and lecturer at the OSCE Academy.
Kazakhstan and Uzbekistan achieved the greatest successes, each organising several flights to bring home mainly women and children, while Kyrgyzstan and Tajikistan had only one flight each, he noted.
The Kazakh government, the first Central Asian country to begin repatriations, brought home more than 700 Kazakhs from Syria and Iraq between 2019 and 2021 as part of Operation Jusan (Bitter Wormwood).
For its part, Uzbekistan repatriated more than 318 Uzbek women and children from Syria and Iraq in three installments.
Tajikistan and Kyrgyzstan have also conducted similar operations.
"It is difficult to single out any specific problem. There were a lot of challenges, and they are all multifaceted," Dzhuraev told Caravanserai. "The difficult socioeconomic situation was not even the most important of them."
At the first stage, there was a difficult negotiation process with the Iraqi government, not to mention the inability to conduct any negotiations at all with the Syrian authorities.
Without host-country consent and co-operation, it was impossible to organise flights to return Central Asian citizens to their homeland, he said.
But even when repatriates return to their homeland, legal problems arise. Many of them, especially children, do not have documents, said Dzhuraev.
It is difficult to renew documents for those who ever had any. Often it turns out that repatriates' children were born in a war zone, or their parents either cannot be identified or died in the war, making it impossible to determine the orphan's status.
"So this mission requires the well-co-ordinated co-operation of a large number of institutions, both government agencies and international, competent NGOs," Dzhuraev emphasised.
Central Asian states need to make even more efforts, since "in Syria, thousands of people continue to languish in the so-called camps for people displaced from their places of residence, or rather from different countries, including Central Asian countries", he said.
"There is a catastrophic humanitarian situation in Syria -- we must work out reliable, efficient mechanisms for bringing people home from there and rehabilitating them in their country, which will require more funds," Dzhuraev said.
Rehabilitation
Dzhuraev decried the tendency of some to stigmatise returnees.
Social rejection is psychologically traumatising for life, and children are especially vulnerable, he said.
"The most difficult task is to ensure that those who return from Syria and Iraq can become full-fledged citizens," he said.
While those who travelled to conflict zones have been stereotyped as religious fanatics by the media, their true motivations vary, according to Indira Aslanova, director of the Centre for Religious Studies in Bishkek.
"The religious factor really does exist, but in some cases, it may be only an external attribute, while the true motives may be different," Aslanova said.
Her organisation studied prisoners in Kyrgyzstan who were convicted of participating in the war in Syria and Iraq, she said.
They found that for half of the respondents, the main impetus was helping other Muslims, women and children in distress.
"These people did not intend to build a caliphate. Instead, they were guided by humane motives," Aslanova said.
Rehabilitation, including "debunking" militant ideology, can produce the opposite effect -- actually provoking interest in the topic, she said.
"Before applying ... rehabilitation, serious work must be done to assess repatriates' motives, why they joined the banned groups, and to determine their ideology," she said.
Regional conference discusses reintegration of returnees
Officials and analysts from Central Asian countries late last month gathered in Bishkek to discuss the challenges of rehabilitating and reintegrating citizens who have returned from conflict zones in Syria and Iraq.
The international NGO Search for Common Ground (SCG) organised the event as part of a security initiative of the C5+1 group of countries -- Kazakhstan, Kyrgyzstan, Tajikistan, Turkmenistan, Uzbekistan and the United States.
The regional conference -- attended by government officials, experts and representatives of civil society -- served as a platform for exchanging knowledge and experience on how to prosecute, rehabilitate and reintegrate repatriates from conflict zones.
Participants included representatives of the European Commission, US Institute of Peace and universities of Central Asian countries, as well as expert practitioners who work with those who have returned from Syria and Iraq.
Armed conflict in Syria and Iraq and its consequences have become a serious security threat for Central Asian governments and populations, SCG said in a press release.
More than 4,000 of the region's residents headed to war zones in the Middle East as foreign fighters, according to the organisation.
The majority of the male combatants from Central Asia were killed, leaving their wives and children in refugee camps or prisons.