TASHKENT -- Uzbekistan is continuing a variety of aid efforts to help beleaguered Afghanistan, which is facing a humanitarian crisis exacerbated by a harsh winter.
United Nations (UN) officials have warned for months of 23 million people facing hunger in Afghanistan, more than half the population.
Half of Afghanistan's 40 million-strong population are experiencing food insecurity, Frank Remus, the senior liaison officer for the UN High Commissioner for Refugees, said in a briefing in Tashkent on December 17.
The 3.5 million Afghan citizens who have been involuntarily displaced inside the country particularly need urgent help, he added.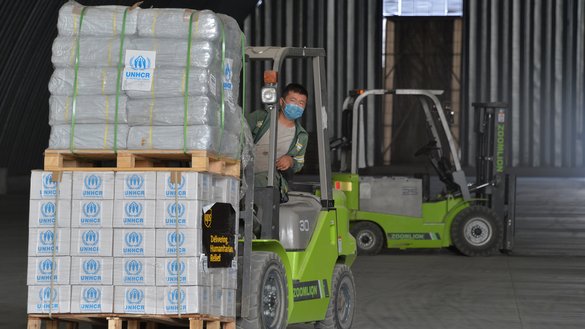 For its part, Uzbekistan on December 31 extended by one year a previous agreement to export electricity to Afghanistan, Da Afghanistan Breshna Sherkat, the Afghan utility, said in a statement.
The two sides concluded the agreement after three days of negotiations, the statement said.
Under the deal, Uzbekistan will export up to two billion kWh of electricity to Afghanistan for $100 million.
The extension of the contract comes days after Tajikistan extended by a year its own agreement to export electricity to Afghanistan.
Earlier, on December 23, an Uzbek train delivered a 4,000-tonne relief consignment of flour, rice, sugar, other foods, clothing and coal to Mazar-e-Sharif, Afghanistan.
Uzbek aid
Uzbekistan has been supplying essentials to Afghanistan following the start of a humanitarian crisis last August, when the previous Afghan government collapsed.
The aid comes by truck and train.
The first aid train brought 1,300 tonnes of food, medicines and clothing in September.
Trucks carrying aid from a UN humanitarian hub in Termez, a border city in southern Uzbekistan, have been heading to Mazar-e-Sharif since October 1.
Built in 2016, the logistics terminal was meant to spur trade between Uzbekistan and Afghanistan by allowing Afghan businesspeople to travel to Uzbekistan and close deals to buy Uzbek-made goods.
Now it is used to deliver aid.
Uzbekistan has dispatched 64 rail cars of relief supplies, mainly food, since September, Nodir Jalilov, the manager of the Termez Cargo Centre, told Caravanserai.
The centre's capacity is enormous: it can accommodate 80,000 tonnes of cargo at once, he added.
Uzbekistan is also helping Afghanistan with the postwar rebuilding of its infrastructure.
For example, 30 Uzbek specialists are working on the reconstruction of the airport in Mazar-e-Sharif.
On December 17, Ismatilla Ergashev, the Uzbek president's special envoy to Afghanistan, told journalists that the technicians would finish their work early next year.
In addition, Uzbekistan will bring in 83 Afghan Ministry of Transport and Civil Aviation employees for training, according to Gazeta.uz.
Co-ordinated approach
A lack of humanitarian aid would have meant a surge of Afghan refugees into Uzbekistan, according to Maksim Matnazarov of Nukus, a historian and a veteran of the Soviet-Afghan War.
"Afghans have big families, so hunger will primarily affect children. It is vital to take steps to feed them at the local level," he said.
"On the other hand, the majority of the country's residents are dehqans [farmers]. We must distribute grain and seeds for other crops they can grow."
"Tashkent's active co-operation [with Afghanistan] dates back to the previous administration of Hamid Karzai," Nurbek Alimov, a political analyst in Tashkent, told Caravanserai, referring to Afghanistan's president of 2002–2014.
"It invested in Afghanistan's economy," he added. "So today Uzbekistan is providing assistance of all kinds to maintain its influence in Afghanistan."
For his part, Uzbek President Shavkat Mirziyoyev has urged the international community to keep its eye on the situation in Afghanistan.
"It is imperative to formulate co-ordinated approaches to the situation in Afghanistan and develop a dialogue with the country's new leadership," he said September 17 in Dushanbe at a summit of the Council of Heads of State of the Shanghai Co-operation Organisation.
He proposed unfreezing Afghanistan's assets in foreign banks, which would help prevent a massive humanitarian crisis and exodus of refugees and help solve a multitude of social problems.