TERMEZ -- International aid to Afghanistan has begun to arrive via Uzbekistan, which is using the Termez Cargo Centre as a critical transport hub for deliveries.
A Ukraine International Airlines plane arrived in Termez on October 15, carrying a 32-tonne relief shipment from Dubai. The first delivery was followed by others on Saturday through Monday (October 16–18).
Organised by the United Nations High Commissioner for Refugees (UNHCR), the humanitarian aid will go to Mazar-e-Sharif by truck.
"The cargo contains essential supplies. There are tents, dishes and blankets," Nodir Jalilov, director of the Termez Cargo Centre, told Caravanserai.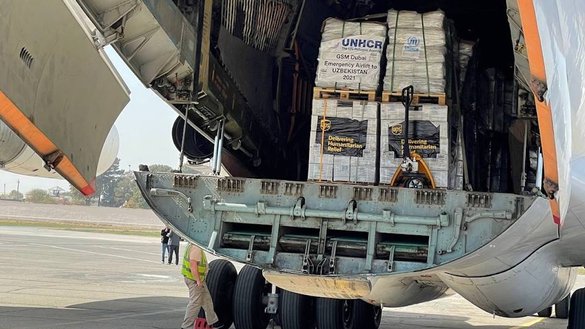 The UN World Food Programme (WFP) has also been providing assistance to Afghanistan via Uzbekistan since early October, Jalilov said.
"We loaded 34 trucks with goods. They were delivered to Afghanistan by truck," he said of the October 15 shipment.
The Termez Cargo Centre was built in 2016 with the goal of bolstering trade between Uzbekistan and Afghanistan.
It is the only cargo terminal in Central Asia built next to the Afghan border.
In addition to funneling aid to Afghanistan, Uzbekistan is independently helping its neighbour. In September alone, it sent 1,400 tonnes of flour and flour products to Afghanistan.
Gateway to Afghanistan
Termez's location makes the city a strategic hub, including from a logistics standpoint.
The city is one of few gateways to isolated Afghanistan, first and foremost for humanitarian supplies.
A railway and highway lead south to Afghanistan from Termez over the Friendship Bridge.
To facilitate aid, the Uzbek government granted the Taliban access to several facilities in Surxondaryo (Surkhandarya) province, a border region.
The decision indicates that Tashkent is willing to co-operate with the Taliban government -- which has yet to be officially recognised internationally -- in the interest of regional stability, say observers.
"Uzbekistan doesn't want Afghanistan to fall into a deep humanitarian crisis... If there's unrest there and people suffer, we can't stand on the sidelines, especially that the consequences will affect us too if we don't help," said Farkhod Mirzabayev, an Uzbek political analyst.
"So now isn't the time to impose any conditions on Afghanistan's new government; we need to help it overcome the humanitarian disaster" unfolding there, he said.
"It's not because we want to be friends with the Taliban, but rather because the Afghan people are our neighbours and we need to help them."
Mirzabayev urged Taliban authorities to leverage all their internal resources as much as possible and make every effort to prevent a humanitarian crisis in their country.
They alone are now accountable to their people in this regard, he said.
Ascending to power violently is one thing. Successfully governing the country and achieving a positive result are an entirely different thing, Mirzabayev said.
"The current situation will become a major ordeal for the viability of the new Afghan government. But it sometimes seems like it doesn't grasp the full magnitude of the situation and it's continuing to focus on the wrong matters," Mirzabayev said.
"Is it really most important right now to curtail women's rights?"
Urgent help needed
The humanitarian crisis in Afghanistan is worsening and funding for emergency aid is urgently needed to help 20 million people there, the UNHCR warned in a statement October 12.
"Only five per cent of households have enough to eat every day, and more than half of all children under five are expected to become acutely malnourished in the next year," the UNHCR said.
Said Sanjar Barlas, 35, an Afghan journalist who lives in Tashkent, left Afghanistan with his family at the beginning of this year.
He last spoke to his relatives who are still in Afghanistan on October 8.
"My relatives live in Sheberghan, Sar-e-Pul province. They say they haven't yet received any aid. But as far as I know, international humanitarian aid is already entering Afghanistan," Barlas told Caravanserai.
"If the Taliban are humane enough and have the will, maybe they can equitably distribute the aid. But right now, there are more questions than answers," he said.