ALMATY -- Kazakhstan is eyeing Almaty as an international logistics hub to provide humanitarian aid to Afghanistan.
During a meeting with a delegation from the European Union (EU) at the presidential palace in Nur-Sultan October 5, President Kassym-Jomart Tokayev outlined Kazakhstan's efforts to provide humanitarian aid to Afghanistan, Tokayev's press office said in a statement.
The meeting with Eamon Gilmore, the EU special representative for human rights, and Terhi Hakala, the EU special representative for Central Asia, discussed regional security and other issues.
The delegates remarked on Kazakhstan's regional leadership in stabilising Afghanistan.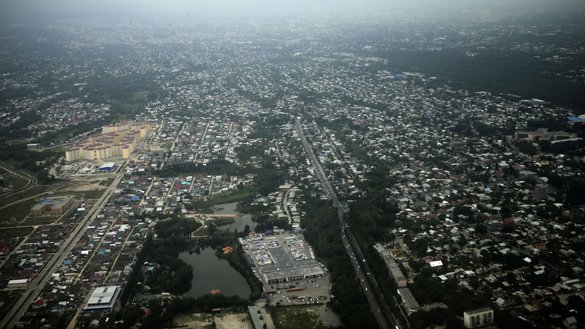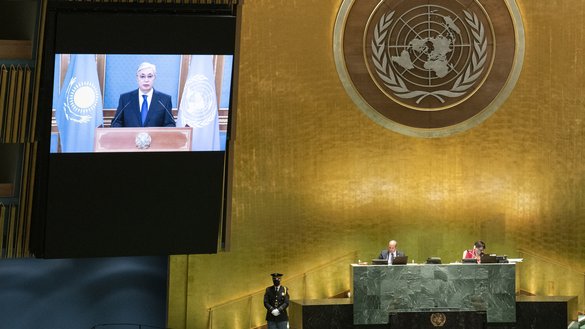 The meeting came after the United Nations (UN) on September 20 approved a proposal by Tokayev to create a hub in Almaty to help the Afghan people and to consider redeployment of the UN Assistance Mission in Afghanistan (UNAMA) to Almaty.
"Given Kazakhstan's existing infrastructure and logistics capabilities, we propose creating a ... humanitarian hub in Almaty to deliver international aid to Afghanistan," Tokayev said on September 17 at the summit of the Shanghai Co-operation Organisation (SCO) in Dushanbe.
"I believe that this initiative will give our organisation a chance to take on a more prominent role in solving the region's pressing issues, and our work will be compatible with efforts by the UN and other international organisations," he said.
UN officials have warned of a humanitarian crisis in Afghanistan affecting some 18 million people, about half the population.
"This misery will inevitably cross borders to Central Asia, and there will be ramifications on a global scale, first and foremost due to forced migration," Tokayev argued in his proposal.
Humanitarian support
A site from which to provide aid to Afghanistan is necessary, said Dos Koshim, a civic leader in Almaty.
"I totally agree that this hub is necessary. We need to help any starving state -- that's a display of humanity, first and foremost to ordinary people, no matter what government is ruling them," he said.
Western countries have already collected more than $1 billion to help Afghanistan even though they are not pleased that the Taliban took power, Koshim added.
"Giving humanitarian support to countries going through hard times is a foreign policy priority of every civilised state," he said.
"On top of that, countries in the post-Soviet region -- and that includes Kazakhstan -- to a certain extent bear some guilt for Afghanistan," he said, citing the 1979-1989 Soviet war in Afghanistan.
More than 1 million Afghans were killed in that war, according to some estimates.
Since Tokayev came forward with this initiative, Kazakhstan needs to play an active role in executing it, Koshim said.
The hub has benefits for Kazakhstan as well.
The proposal plainly is meant to reap diplomatic gain, said Rustam Burnashev, a political analyst in Almaty.
"Transferring the UN Mission's office from Afghanistan to Almaty and setting up a humanitarian hub will bring Kazakhstan a lot of benefits, ranging from positive attention and favorable positioning in Central Asia to the purely economic gain of having high-ranking... UN officials in Almaty," he said.
Taliban risks
Other observers are concerned about working with the Taliban.
"To be able to deliver humanitarian aid to Afghanistan, we'll need to co-operate with the Taliban one way or another," said Madiyar Kenzhebulat, senior researcher at the Centre for Macroeconomic Research and Forecasting in Nur-Sultan.
"Keep in mind, first of all that, in Kazakhstan the Taliban are a banned terrorist organisation," he said.
"Kazakhstan hasn't recognised the Taliban government," added Kenzhebulat. "Based on that, how can we work with them?"
Second, no humanitarian campaign involves the donors going door to door and putting food, clothing and medicine into the hands of the needy, he said.
The government is supposed to distribute such supplies to its own citizens.
"But there is corruption, from which financial tranches are being looted and humanitarian shipments are being resold," he said.
"Even if the Taliban leaders operate honestly, no one will stop commanders on the ground from taking food for themselves, and no one will be able to keep an eye on them," Kenzhebulat added.