ALMATY -- The United States is taking part in a range of investment projects that aim to bolster development and security in Central Asia.
Delegations from the C5+1 group of countries -- Kazakhstan, Kyrgyzstan, Tajikistan, Turkmenistan, Uzbekistan and the United States -- met in Tashkent July 15-16 during the international conference "Central and South Asia: Regional Connectivity. Challenges and Opportunities".
C5+1 officials discussed plans to best utilise the region's potential as a cargo transit, trade and energy centre, and outlined new prospects for regional co-operation and development.
US commitments to Central Asia, Afghanistan
The United States, which is on track to withdraw its troops from Afghanistan by August 31, made its commitments to Central Asia and Afghanistan clear in a joint statement at the end of the meeting.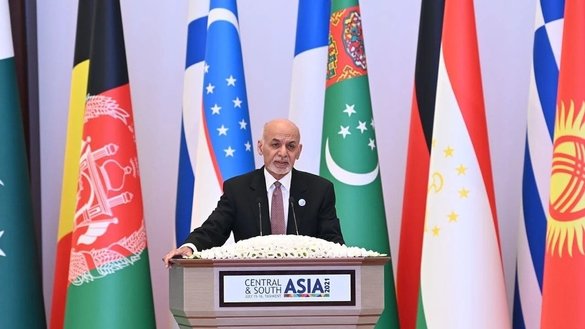 "The C5+1 countries affirm their commitment to enhancing engagement through our regional diplomatic platform and seeking opportunities to strengthen connectivity between the Central and South Asian regions via trade, transport, and energy links," the statement said.
"The C5+1 recognises that increased connectivity supports its shared goal of a prosperous and secure Central Asia."
The C5+1 countries agreed to launch a range of investment projects that will help modernise infrastructure and boost cargo transit potential in Central Asia, as well as enhance cross-border ties between companies.
They also vowed to tackle energy and environmental challenges, including bolstering the productivity of the energy sector and expanding and effectively incorporating renewable energy sources.
Other goals included strengthening efforts on climate change, air quality and water co-operation, as well as upholding human rights and freedoms and strengthening the rule of law.
The lengthiest passage concerned C5+1's commitment to ensuring security and stability in Afghanistan.
"The C5+1 endeavours to ... create stable and prosperous conditions favourable to the Afghan peace process."
It reaffirmed several key points including "the urgency of substantive negotiations on a political settlement; that the only path to a just and durable peace is through a negotiated political settlement that results in an inclusive political system and respects the fundamental rights of all Afghans; that there is no support for the imposition by force of a new government in Afghanistan; and that terrorists and third party forces must never be allowed to use Afghan territory to threaten or attack the C5+1 countries or any other country."
Central Asian potential
Among the first and key beneficiaries of the US government's regional development initiative is Kazakhstan.
In January, Kazakhstan and the United States signed an agreement to carry out joint investment projects worth up to $1 billion.
The United States wants the entire Central Asian region to attain sovereignty and strong geopolitical positions, Adam Boehler, then-CEO of the US International Development Finance Corporation, told the Kazakh news outlet Vlast.kz in January.
The United States is currently the leading investor in Kazakh energy, and new investments will target renewable energy, agriculture and tourism, he said.
These are strategic industries that the Kazakh government is prioritising for development.
For example, at a May 26 cabinet session on the energy industry, President Kassym-Jomart Tokayev raised the target proportion of renewable energy sources in overall power generation to 15% by 2030, increasing the previously stated target of 10%.
The United States also will provide financial support to small-business owners, particularly women, Boehler said.
"Our task is to jump-start investment activity in Central Asia," he said. "I think we'll see a surge in interest in the region."
Chinese debt bondage
The US government's development efforts in Central Asia stand in contrast to China's projects that are part of its Belt and Road Initiative (BRI).
Experience has shown that various Chinese infrastructure projects -- such as the construction of highways -- benefit Beijing's business interests more than serve Central Asian economies.
China in particular seeks to satisfy its energy needs, conquer international markets and create a network of convenient routes for overland export of its goods to distant lands, analysts say.
For Central Asian countries, these hugely expensive projects turn into debt traps and the loss of strategic mineral deposits.
For example, in the spring of 2018, Tajikistan relinquished the Upper Kumarg gold mine in Sughd province to China, with 50 tonnes of gold reserves, to settle a $330 million debt incurred to modernise the Dushanbe-2 power plant.
Now, Kyrgyzstan faces the threat of forfeiting national assets.
Beijing refused to take into account the devastating economic fallout from the COVID-19 pandemic and accommodate Bishkek's request to ease the terms of its loans to China -- at least to extend payment deadlines.
Beijing ignored the requests for almost a year, agreeing finally in November to break the 2020 payment up over the next four years. But in return for this "concession", it tacked on a fee amounting to 2% of the loan.
Kyrgyzstan owes more than 40% of its $5 billion external debt to China.
China habitually conceals the financing terms of BRI projects and what it requires from the recipient countries, said Arman Temirzhan of Nur-Sultan, a scholar of regional security and spokesperson for the East-West International Centre of Geopolitical Projection.
"These deals carry serious risks that become evident when it's time to repay the debt," he said.