ALMATY -- The Chinese regime is refusing to defer repayment on its massive loans to Kyrgyzstan despite the economic hardships resulting from the coronavirus pandemic.
As of June, the country's total foreign debt was $4.1 billion (335 billion KGS), of which it owed $1.8 billion (147 billion KGS) to the Export-Import Bank of China, according to statistics by the Kyrgyz Ministry of Finance.
That figure makes the Chinese regime Kyrgyzstan's biggest creditor.
Meanwhile, remittances from abroad, which usually account for one-third of Kyrgyzstan's gross domestic product (GDP), have plummeted because Kyrgyz migrant workers had to leave Russia after the pandemic broke out.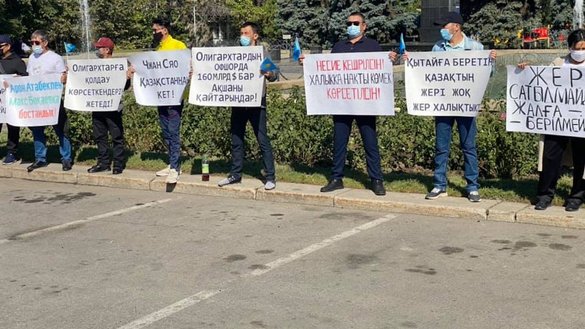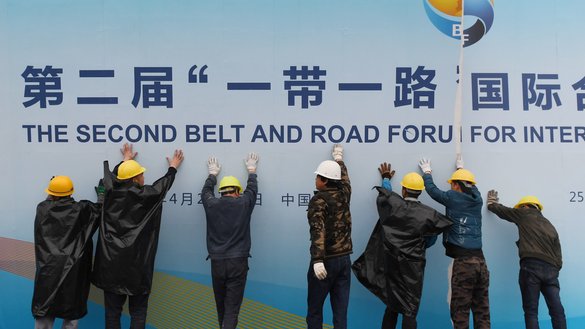 To alleviate pressure on the economy, then-Kyrgyz President Sooronbay Jeenbekov in April asked Chinese President Xi Jinping during a phone conversation to "consider the possibility of offering payment relief and extending Kyrgyzstan's payments on its foreign debt to China".
In August, Bishkek again appealed to Beijing for support, this time through the countries' foreign ministries.
Both times Kyrgyzstan was rebuffed.
Jeenbekov (on September 21) asked the United Nations to support his nation in requesting a write-off of a portion of its debts to countries that have lent it the most money.
Jeenbekov on October 15 became the third Kyrgyz president to resign since 2005, following clashes between protesters and police after parliamentary elections on October 4.
'Angry at Kyrgyzstan'
"China has made it clear that it does not intend to defer, let alone forgive, Kyrgyzstan's debt, even in light of the country's catastrophic situation," Aiderbek Kusagaliyev, a Bishkek analyst, wrote in a blog post published September 26 by the Ekho Kyrgyzstana (Echo of Kyrgyzstan) website.
The main reason for the refusal is Beijing's pronounced dissatisfaction with "the delay in completing its projects in Kyrgyzstan", such as the China-Kyrgyzstan-Uzbekistan railway and the Iskra Azii (Spark of Asia) industrial park in Chui Province, said Kusagaliyev.
"Beijing is also angry at Kyrgyzstan because Bishkek cannot protect Chinese investments since the people are protesting them," Kusagaliyev wrote.
Demonstrators in several Central Asian countries have rallied to express concerns over the consequences of borrowing so much from the Chinese regime.
Chinese policy runs counter to the actions of the global community, which is actively supporting vulnerable states.
In April, the World Bank, the International Monetary Fund and G20 countries decided to defer loan payments until the end of the year for the poorest countries due to the pandemic. If the situation does not improve, the moratorium could be extended.
"These days, many international financial institutions are offering debt deferrals due to the developing situation. This has enabled borrower countries to take a breather and repair their economic situations," Kusagaliyev said.
Beijing is interested not only in the settlement of the debt but also in the "opportunity to control Kyrgyzstan's domestic political processes by blackmailing the country with a debt that grows by the day", said Kusagaliyev.
China's 'true colours'
Economists Carmen Reinhart of Harvard University, Sebastian Horn of the University of Munich, and Christoph Trebesch of the Kiel Institute for the World Economy found that in recent years, Beijing has lent developing countries more than $200 billion (16 trillion KGS) that it has not disclosed in its own statistics, the Wall Street Journal reported in March.
About a dozen of the poorest countries are indebted to China for an amount equal to 20% or more of their annual GDP, according to the study.
"Much of the growth [in Chinese financing] can be traced to China's sprawling 'Belt and Road' initiative, which seeks to open up new trade routes, expand overseas opportunities for Chinese firms and deepen the country's strategic influence through the financing and building of infrastructure," the Wall Street Journal wrote.
Iskender Sharsheyev, an economist and director of Global Technology Solutions Co. in Bishkek, considers Chinese debt bondage a genuine threat to Kyrgyzstan.
"Even though the Chinese government is aware that Central Asian countries won't be able to repay the debt, it is nevertheless willing to issue large loans, and at the same time it does not recognise these countries' sovereign right to defend themselves in court and not meet an [onerous] contract," he said.
"If Central Asian countries can't pay off an accrued debt, mineral assets and territory will in all likelihood be transferred to China, which a few countries in the region have already done," added Sharsheyev, in an apparent reference to Tajikistan's transfer of a gold mine into Chinese hands to settle a debt in spring 2018.
Beijing offers massive loans to Central Asian countries not for the sake of profiting in the future but in order to lock up hydrocarbons and other minerals, which it demands as collateral, said Ayan Ryskulov, a Bishkek entrepreneur.
"When it offers loans, Beijing always voices its all-embracing support, partnership and understanding, but when the time comes to pay the bills, our powerful neighbour will show its true colours," Ryskulov said.
The Chinese regime offers loans with comparatively high interest rates and very specific terms, he noted.