KYIV -- As Russia continues its aggression against Ukraine, invading the country from several directions on Thursday (February 24), the arrival of a full-scale war is consolidating Ukrainians' resolve to defend their country.
Heavy Russian tanks and other equipment crossed the frontier in a string of northern regions as well as from the Kremlin-annexed peninsula of Crimea in the south, while Russian warplanes and cruise missiles hit targets deep inside Ukrainian territory.
Russian forces were advancing into Ukraine along the eastern front, where a separatist insurgency backed by the Kremlin has claimed more than 14,000 lives since 2014.
Ukrainian officials said Russia was primarily targeting military infrastructure and silos, hitting a string of airfields, including Boryspil airport in Kyiv, the armed forces said.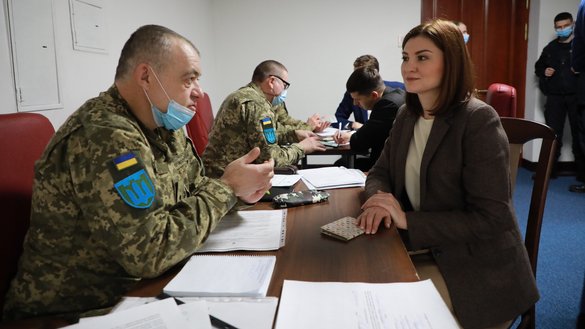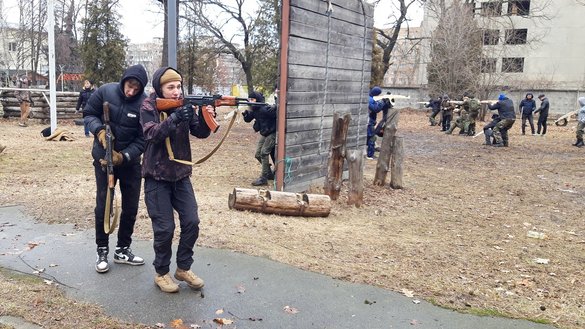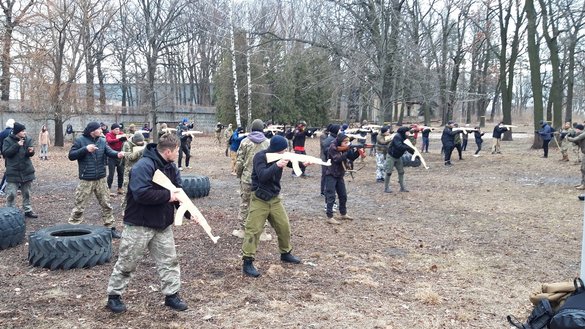 The invasion also was staged from several positions in Belarus, where Russian armed forces have been holding massive military drills this months involving an estimated 30,000 troops.
After holding a series of emergency calls with world leaders, Ukrainian President Volodymyr Zelenskyy convened a meeting of his top military brass.
Zelenskyy "gave orders to inflict maximum losses against the aggressor", said Ukrainian military commander-in-chief Maj. Gen. Valeriy Zaluzhny.
Ukraine's forces were "waging heavy combat" and repelling Russian advances in some parts, said presidential adviser Mykhailo Podoliak.
Ukraine early Thursday claimed to have killed about 50 "Russian occupiers" while taking back control of the eastern frontline town of Shchastya, and downed at least six Russian planes, a helicopter and destroyed four tanks.
Ready to fight
Rising tensions and the increasing threat of war over the past several months have inspired many Ukrainian civilians to take up arms to defend their land.
More than 37% of Ukrainian citizens declared their readiness to fight if Russia launched a full-scale war, the Kyiv International Institute of Sociology (KIIS) reported following a poll conducted February 5–13.
Since December, the number of civilians ready to fight Russian aggression by taking up arms has grown by four percentage points, the survey found. In addition, 57.5% of Ukrainians are ready to resist in any way.
In January, a law on national resistance took effect in Ukraine, creating territorial defence troops as part of the armed forces. All young and physically healthy Ukrainians may enrol in territorial defence.
"Now many people are interested," said Mykhailo Shcherbyna, deputy director for defence at the Kyiv Department of Municipal Security.
"Every day, 200–300 citizens of Ukraine turn to us on hotlines: men, women and even foreigners who want to join the territorial defence of Kyiv," he said. "We have very patriotic and disciplined people in Ukraine."
Politicians are leading by example.
From numerous public TV screens in the Ukrainian capital, Kyiv's Mayor Vitali Klitschko, dressed in military uniform, addressed the people, calling on them to join the territorial defence force.
Olesia Zubrytska, a lawyer and Kyiv City Council member from Vitali Klitschko's Udar political party, applied to join her city's battalion.
She said she is ready to perform any function to help the Ukrainian army.
"I was brought up in a patriotic family: my grandparents were punished for being kulaks [successful peasants whom Joseph Stalin purged] and deported to Siberia," she said. "This became part of our family's memory."
"I believe that every citizen has the duty to defend his [or her] country, not to flee from it, and must specifically understand how he can help the army in the event of hostilities," she said.
Ukraine is no longer the country that it was eight years ago, Zubrytska said.
"In 2014, we did not deploy territorial defence. There were many volunteers who were ready to defend their cities and towns, but there was no proper co-ordination," she said. "A certain chaos prevailed, and the army was weak."
Training civilians
Kyiv resident Marat Saifulin, who volunteered on the frontlines in 2014, after the battles for Mariupol and Ilovais'k, is once again ready to fight for his country.
"The war has been going on for the eighth year now, and the motivation has remained the same as in 2014 -- the defence of the motherland from those who attack us, that is, from Russia, which is trying in every way to destroy the Ukrainian nation, to erase Ukraine from the map of the world," said Saifulin, who organises military training courses.
Most of his charges do not have military training, so experienced instructors work with them, he said.
"We give the basics of tactics, the rules of movement during battles," Saifulin said during a training session prior to the invasion, which about 60 local residents attended.
"Starting military training courses is very easy -- you just need the demand," he said.
"Many different trainings ... are now being held in Kyiv," he said at the time. "Volunteer battalions are forming too. They train everyone."
The people's resistance could benefit Ukraine, analysts say.
Ukraine's armed forces number 250,000 troops, while the territorial defence today comprises about 130,000 members, Shcherbyna said.
"That is, the territorial defence forces are practically another army that will be ready to carry out tasks to create a resistance system against the enemy," he said.
Along with the rise in the level of readiness to defend their land, support for the country's entry into NATO and the European Union is increasing among Ukrainians.
Some 62% of Ukrainians favour Ukraine's integration into NATO -- the highest level of support since 2014 -- and 68% of Ukrainians surveyed support the country's integration into Europe, Rating, a Ukrainian pollster, reported February 17.
"For 700 years, Moscow has been trying to destroy Ukraine," summed up Saifulin, the organiser of military training courses. "Fortunately, Ukrainians know how to resist, clench their fist and repel the enemy. Today we are consolidated like never before."