KYIV -- Russian forces who occupied the Chornobyl (formerly spelled Chernobyl) nuclear plant stole radioactive substances from research laboratories that could potentially kill them, Ukraine's State Agency for Managing the Exclusion Zone said on Sunday (April 10).
The plant was the site of a nuclear disaster in 1986, during Soviet times.
Moscow's forces seized the defunct power plant on the first day of their invasion of Ukraine on February 24. They occupied the highly radioactive zone for over a month, before retreating on March 31.
Russian soldiers pillaged two laboratories in the area, the zone management agency said on Facebook.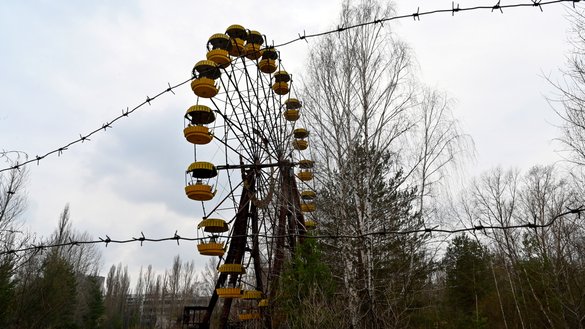 The Russians entered a storage area of the Ecocentre research base and stole 133 highly radioactive substances, it added.
Russia has not explained what it intends to do with the substances.
"Even a small part of this activity is deadly if handled unprofessionally," the Ukrainian agency said.
Last week Ukrainian Energy Minister German Galushchenko said Russian soldiers exposed themselves to a "shocking" amount of nuclear radiation, saying some of them may have less than a year to live.
"They dug bare soil contaminated with radiation, collected radioactive sand in bags for fortification, breathed this dust," Galushchenko said on Facebook on Friday after visiting the exclusion zone.
"After a month of such exposure, they have a maximum of one year of life. More precisely, not life but a slow death from diseases," the minister said.
"Every Russian soldier will bring a piece of Chornobyl home. Dead or alive."
Russian military equipment was also contaminated, he said.
"The ignorance of Russian soldiers is shocking."
Chornobyl's number four reactor exploded on April 26, 1986, causing the world's worst nuclear accident, which spread radioactive contamination west across Europe.
The reactor is now encased in a massive double sarcophagus to limit radioactive contamination.
The original sarcophagus, constructed by the Soviets, deteriorated over the years. Workers completed a new one in 2019.
The plant's other three reactors were gradually shut down after the disaster, the last in 2000.
In Central Asia, Chornobyl is often cited as a cautionary example amid Russian proposals to build nuclear plants in the region, and as the region recovers from the long-term impact of nuclear testing sites.
'Nuclear terrorism'
When Russian troops in late March vacated Chornobyl, they took an unspecified number of captive Ukrainian servicemen with them, officials in Kyiv said earlier on March 31.
"As they ran away from the Chornobyl nuclear power plant, the Russian occupiers took members of the National Guard, whom they had held hostage since Feb 24, with them," the state nuclear agency Energoatom said in a statement on Telegram, citing plant workers.
It was unclear how many Ukrainian servicemen the Russians took away.
Russian planes based in Chornobyl had also bombed Kyiv and its surrounding towns when it was occupied by Russian forces, in what some observers deemed "nuclear terrorism".
The Russians understand that the Ukrainian army will not fire back at an adversary occupying a nuclear facility, so they are using such sites as a shield, Yuri Kostenko, a specialist on nuclear power and former Ukrainian minister of environmental protection who led programmes in the 1990s to close the Chornobyl plant, said in early March.
"That's nuclear terrorism," Kostenko said.
"Combat that takes place at a nuclear facility is called nuclear terrorism everywhere in the world. It's not just the reactor that's there but also the long-term spent fuel storage facility. The people who went in there have no idea how to deal with that."
Russian forces also shelled and captured the Zaporizhzhia plant, Europe's biggest atomic power plant, on March 4, causing a fire that raised alarm in Europe over a possible nuclear catastrophe.
"A column of enemy vehicles approached the central square in front of the nuclear power plant's administrative building and began firing at the plant, the research and training centre, and the administrative building with the aim of damaging the checkpoint and entering the plant," Petro Kotin, the acting president of Energoatom, said in an interview with Ukrainian television channels at the time.
An accident at the Zaporizhzhia plant could have had an aftermath equal to "six Chornobyls", Ukrainian President Volodymyr Zelenskyy said after the attack.
Russian forces still hold that plant, around which fighting continues.