KYIV -- Ukrainian forces are continuing to uncover evidence of rape and torture committed by Russian forces as they advance into occupied territory.
After almost eight months of war, Ukraine's forces are making progress on the battlefield, liberating occupied areas in the nation's north and southeast.
But in liberating those areas, they have found disturbing signs of crimes against humanity including mass graves, torture chambers and accusations of sexual assault at the hands of Russian forces.
"Destroyed houses and hundreds of corpses of tormented people. That's what the Russian soldiers are leaving on our territory," said Oleksiy Kashporovsky, a former war correspondent who is now a press officer in the Armed Forces of Ukraine.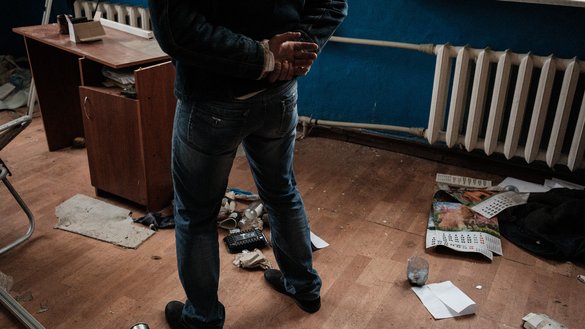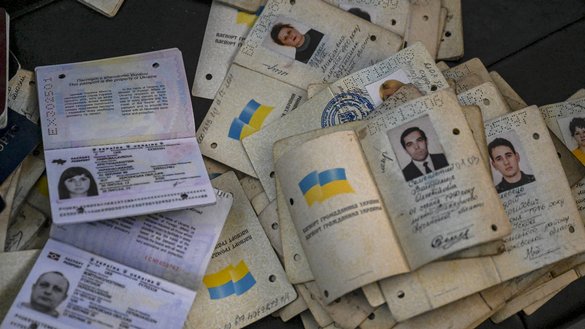 Kashporovsky is responsible for taking journalists on press tours, the most recent of which took place in Lyman, a city in the Donetsk region that was liberated on October 4 after a four-month-long occupation.
"It was the first time in my life that I saw a mass grave of civilians," he said. "It was actually an unmarked grave. A tractor had dug a pit, and then around 180 bodies were dumped into the hole and buried."
"Experts had already started exhuming them and I saw that entire families with young children were buried there. Many of the bodies had signs of torture, wounds and cuts on them."
"It's vile," Kashporovsky said.
Torture chambers
Ukrainian authorities have also found designated locations for torturing civilians in Lyman, in what has apparently become a common occurrence in areas controlled by Russian forces.
Law enforcement agencies, for example, have counted 22 torture chambers in the liberated territories in Kharkiv region, mostly in police stations.
"The most common torture techniques were [electrocution], severe beating with sticks and other objects, pulling off fingernails, and other heinous torture methods, including using gas masks to suffocate people," Serhiy Bolvinov, the chief police investigator of Kharkiv, said at an October 6 briefing.
In a torture chamber set up by the Russians in a private home in the village of Peski-Radkovsky in Izyum district, law enforcement agencies found a dildo, military garb, a gas mask and a plastic container holding yellow and grey dentures and the remains of teeth, he said.
Investigators are now performing forensic tests to try to determine who the teeth belonged to, he added.
"Where do the Russians usually start on captured territory? They look for veterans of the ATO [antiterrorist operation], volunteers, security agency staff, police officers and people who are opinion leaders," said Alexander Kovalenko of Kyiv, a military and political analyst for the website InfoResist.
"They're tortured in these chambers. Of course, the majority of them are no longer alive," he said.
"The Russians' goal is to break our spirit."
Rape as a 'military strategy'
The latest discoveries come amid long running accusations that Russian forces in Ukraine have regularly committed sexual violence in areas under their control.
Rape and sexual assault attributed to Moscow's forces in Ukraine are part of a Russian "military strategy" and a "deliberate tactic to dehumanise the victims", according to United Nations (UN) special representative on sexual violence Pramila Patten.
"All the indications are there," she told AFP on Thursday (October 13) when asked if rape was being used as a weapon of war in Ukraine.
"When women are held for days and raped, when you start to rape little boys and men, when you see a series of genital mutilations, when you hear women testify about Russian soldiers equipped with Viagra, it's clearly a military strategy," she said.
"And when the victims report what was said during the rapes, it is clearly a deliberate tactic to dehumanise the victims."
The UN has verified "more than a hundred cases" of rape or sexual assault since the beginning of the war, Patten said.
The first cases were reported just "three days after the invasion of Ukraine", she added, referring to a UN report released in late September.
The report "confirmed crimes against humanity committed by the Russian forces, and according to gathered testimonies, the age of the victims of sexual violence ranges from four to 82 years old", Patten said.
The victims are mostly women and girls, but also men and boys, she added.
"There are many cases of sexual violence against children who are raped, tortured and kept hostage," she said.
But "reported cases are only the tip of the iceberg", she added.
"It's very difficult to have reliable statistics during an active conflict, and the numbers will never reflect reality, because sexual violence is a silent crime" that is largely underreported.
Patten said she visited Ukraine in May in part to urge victims to break their silence.
But it was "also to send a strong signal to the rapists. The world is watching them, and raping a woman or girl, man or boy, will not be without consequences".
Same methods of Soviet era
Such incidents are not the unauthorised actions of individual soldiers, but rather a deliberate strategy implemented by Russian commanders who view terror as an important tactic, analysts say.
Russian forces have committed similar abuses in Syria as well as during the two Chechen wars.
"History takes us even further back," said Petro Burkovskiy, executive director of the Ilko Kucheriv Democratic Initiatives Foundation in Kyiv.
"These were all methods that the Chekists used between 1917 and 1921. They continued to suppress resistance in Central Asia until 1925," he said, using a term referring to Soviet secret police.
"What did the Chekists do there? They actually took anyone who opposed the Soviet authorities hostage. Those people were subjected to different forms of torture, assaulted and, in a word, obliterated."
"This was done in order to crush all protest sentiment," said Burkovskiy.
"In the 1940s in Latvia and Estonia, the NKVD [Soviet interior ministry] engaged in repression, deported people, tortured them and executed them," he said.
"All of that was widespread. Now the same thing is still happening. We're seeing the same long-standing methods of the Soviet intelligence services."
However, unlike with the crimes committed during the Soviet era, there is now a real chance of prosecuting the Kremlin, Burkovskiy said, adding that Ukraine and its allies are collecting evidence that will form the basis of a formal accusation against Russia.
"Ukraine is working on this, and the United States and Europeans are helping considerably. This is important since all the evidence needs to be gathered in accordance with international requirements."
"Then they'll need to find a formula according to which Russia and its leadership can be prosecuted," he said.
"There are two possible approaches: a national one, meaning that the war criminals will be tried in Ukraine, and an international one, where they'll be tried in the International Criminal Court."
"No matter what, this time they won't be able to get off scot-free," Burkovskiy said.