IZYUM, Ukraine -- Authorities continue to investigate a mass grave discovered last week just outside the Ukrainian city of Izyum, where survivors recount tales of torture and arbitrary detention under Russian occupation.
Kyiv's forces recovered a swathe of territory in recent days in a lightning counter-offensive in the east, liberating several towns from Russian forces but also uncovering what they say is a grim legacy of occupation.
Police chief Igor Klymenko said torture rooms were found in the town of Balakliya and elsewhere in Kharkiv, while presidential aide Mykhaylo Podolyak said the Izyum mass grave site alone held at least 450 bodies.
"In the occupied territories, rampant terror, violence, torture and mass murders have been reigning for months," Podolyak said.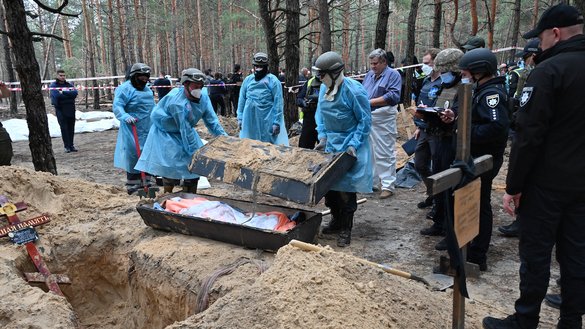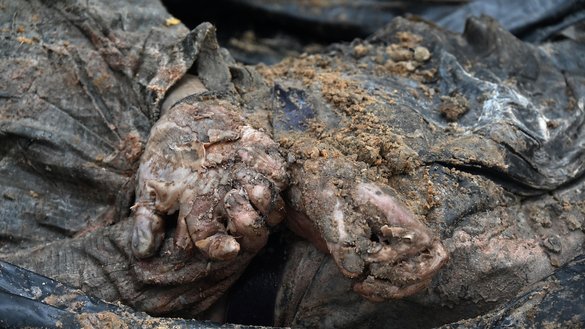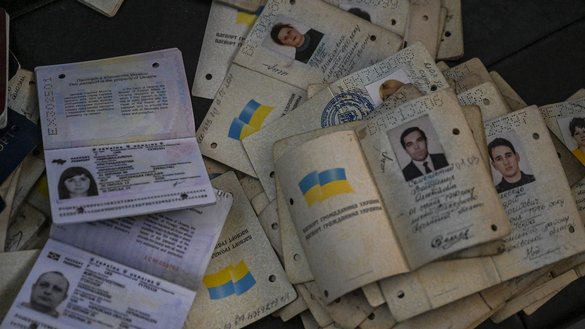 Following the discovery of the mass graves, the European Union (EU) presidency on Saturday (September 17) called for the establishment of an international tribunal for war crimes.
"In the 21st century, such attacks against the civilian population are unthinkable and abhorrent," said Jan Lipavsky, foreign minister of the Czech Republic, which holds the EU's rotating presidency.
"I call for the speedy establishment of a special international tribunal that will prosecute the crime of aggression."
Ukrainian President Volodymyr Zelenskyy, in his Saturday evening address, said that "new evidence of torture was obtained" from the bodies buried in the mass grave.
"More than 10 torture chambers have already been found in various cities and towns liberated in Kharkiv region," he said, describing the discovery of electrical implements for torture.
"Among the bodies that were exhumed today, 99% showed signs of violent death," Oleg Synegubov, chief of the Kharkiv regional administration, said Friday on social media.
"There are several bodies with their hands tied behind their backs, and one person is buried with a rope around his neck," he added.
'More than 1,000 civilians tortured, killed'
There were "probably more than 1,000 Ukrainian citizens tortured and killed in the liberated territories of the Kharkiv region", said Dmytro Lubinets, the Ukrainian parliament's human rights commissioner.
Survivors of Russia's occupation in eastern Ukraine add testimony to officials' claims.
"On the second day, they broke my arm," said Mykhailo Chindey, recalling his interrogation by Russian soldiers.
"One person was holding my hand, and another one was beating my arm with a metal stick. They were beating me up two hours almost every day.
"I lost consciousness at some point. I lost a lot of blood. They hit my heels, back, legs and kidneys," he said.
He was suspected of having supplied co-ordinates for air strikes to Ukrainian soldiers.
Chindey showed AFP the tiny, humid cell in the Izyum police station where he said he was held for 12 days with up to seven other prisoners before the arrival of Ukrainian troops.
Other detainees were kept in a dozen cells, he said.
Chindey remembered seeing about 15 people.
"I could hear the other people interrogated, screaming 24/7," he said.
One man had died there, he added.
On the ground floor, a young officer has arrived from Kharkiv to investigate potential war crimes.
His office reflects chaos. Folders are strewn on the floor.
More than 100 Ukrainian passports are strewn about in one room.
"We have much work to do," admitted the man, who refused to give his name.
'Bodies floating in the river'
A short distance from Izyum lies Kupiansk, where a panicked Marina Mikhailychenko is trying to flee the non-stop bombing around the battered city still being fought over by both sides.
The 32-year-old said she was arrested and held for one week during the Russian occupation of Kupiansk because her brother serves in the Ukrainian army. Eight other people were crammed into her cell.
"Local residents saw bodies floating in the river," said a Kupiansk volunteer nicknamed Bronik.
In Balakliya, Viktor Priliepov said the Russians held him in a police station cell for three days, forcing a bag over his head.
Priliepov, 68, was questioned about his son in the Ukrainian army but thinks he avoided rough treatment because of his "health problems".
But others, he said, were not so fortunate.
On the main road from Izyum to Kharkiv, a small dirt road leads into a pine forest. On the right side of the lane, two men in white overalls were digging the sandy soil.
A family with a young child was buried in the woods, said Oleg Kotenko, the government official in charge of the search for missing persons nationwide.
"They were killed. There are witnesses from the same building. They saw what happened and buried these people here," he said.
The United Nations in Geneva, Switzerland, plans to send a team to investigate the deaths of those buried in the forest.
The Kremlin on Monday dismissed the reports as fabrications.
Dozens of civilians bearing signs of extrajudicial killings were found in places like Bucha, outside Kyiv, after they were recaptured by Ukraine earlier this year.