TASHKENT -- Chinese cars surging into the Uzbek market have so far seen mixed reviews amid stories of poorly made "lemons" and erratic repair service.
One such victim is Marina Gromyko, Podrobno.uz reported in June, citing her account shared with the Potrebitel.uz community.
Gromyko in March purchased a crossover sports utility vehicle with a five-year warranty from the Chinese company Chery at a dealership in Tashkent.
The engine began showing signs of trouble soon after her purchase.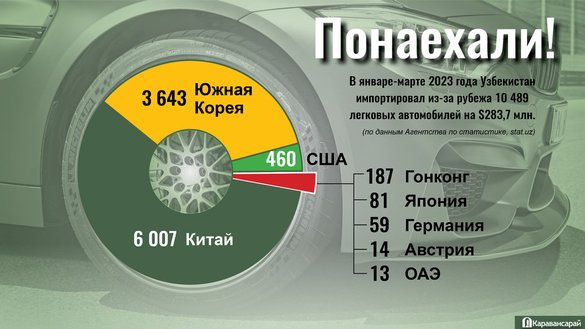 "We bought a Chery Tiggo 7 Pro, fully loaded, on March 14, 2023. On April 12, the car began to jerk and stall. We took this problem to the official Roodell service centre, and then to the ADM-Aster service centre at the dealership where we had purchased the car," she said.
"But they shrugged their shoulders everywhere and could not determine the cause. So we drove for another couple of weeks, periodically visiting their service centres," Gromyko said.
By May, when it became impossible and dangerous to drive the car, she left it at the ADM-aster service centre.
After a week of silence from the centre, Gromyko appeared in person, where she bumped into one of the managers, who was unaware of the car's problems or its week-long presence with no one working on it.
A week later, Gromyko was told that the gearbox needed to be replaced and ordered from China, and that it would take two months.
Similar incidents have been reported in other regions of the country.
Speaking on condition of anonymity, an employee of a Samarkand dealership selling Chinese cars told Caravanserai that in the last three months several cars have been defective.
The dealership repaired defects for three car owners, but it took more than a month and justifiably upset the customers, she noted.
"The ... story of Marina Gromyko's stalled engine circulated widely on social networks and negatively impacted the company's image. Car sales also dropped sharply," she said.
Chinese domination
The Samarkand dealership alone has averaged more than 100 China-made cars sold per month by offering interest-free loans and favourable terms of the purchase.
Prices range from $26,000 to $40,000, which is very expensive for Uzbekistan. With a down payment of 25%, buyers qualify for 0% interest.
Dealers also offer customers a five-year service warranty. However, as seen in Gromkyo's case, the warranty service is not well organised, and customers are forced to wait more than a month before a competent mechanic can be found to fix the problem.
While more expensive than domestic cars made by UzAuto Motors, Chinese cars' main appeal is that they are cheaper than similar cars from Japan or Korea -- especially electric models.
But the Chinese cars dominating the Uzbek market are often not adapted to local conditions, according to Tashkent resident Shukrullo Khamidov, who has been a driver for 40 years.
"They frequently lack a seat-heating option. They simply didn't account for Uzbekistan being cold in the winter," he said.
"There are too many different devices. As for the touchscreens, they are not sensitive enough. To this, add the menu that is not always easy to use. And the voice recognition doesn't work well," Khamidov told Caravanserai.
Chinese car companies often refuse to help customers with their problems, he confirmed.
Conquering the Uzbek market
Vehicle ownership is growing in Uzbekistan as China makes inroads into the market. As of January 1, individuals in Uzbekistan owned 3,396,500 light vehicles, 629,400 more than the previous year.
Chinese exports to the Uzbek auto market increased sharply after the Kremlin's invasion of Ukraine and Western sanctions against Russia.
Today, Chinese automobile makers have almost completely displaced their Russian counterparts' cars, which previously led all foreign suppliers in the Uzbek market.
The imports come amid an aggressive Chinese business policy and the construction of factories in Uzbekistan.
One such example is a facility to produce premium Exeed cars in Sirdaryo (Syr Darya) province. The future enterprise and network of showrooms were announced in Tashkent in May this year.
Initially, 5,000 cars will roll off the assembly line each year, with annual production volumes expected to increase to 20,000 vehicles.
In the summer of 2022, BYD, another Chinese company, announced that its cars would be manufactured at local automaker UzAuto's plants. The two companies legally formalised their relationship in January by registering a joint venture called BYD Uzbekistan Factory.
Another Chinese car brand, Geely, plans to have its entire vehicle lineup produced in Uzbekistan by the end of the year.
The number of cars -- including Chinese models -- on the roads of the capital and across the country grows almost daily, according to Nuriddin Irgashev, a 70-year-old mechanical engineer from Tashkent.
"Before, there were mainly trucks, tractors, construction equipment and minibuses. Now it is clear that there are more cars from China," Irgashev told Caravanserai.
"But I would not risk buying such a car," he added.
"I've heard many complaints about service. What's more, people in the older generation and my 'middle' generation are somewhat prejudiced against the 'Made in China' label."
Uzbekistan needs to liberalise its car market, said Tashkent economist Anvar Nazirov.
"China is really very quickly 'stamping out' solar panels, electric vehicles... But their quality is low, even by Asian standards, compared to Korean, Japanese and even Indian products," Nazirov told Caravanserai.
The quality of products produced in Europe, the United States, Japan and South Korea is an entirely different matter. Uzbeks should not chase after what is cheap and low quality, whether it is solar panels, cars or other goods, he said.
Uzbekistan needs to co-operate more actively with the West, the European Union, Japan and South Korea, including in plans for transitioning to electric vehicles, said Nazirov.
"And in this case, choosing China as a strategic partner is a big mistake, since as of today China cannot supply high-quality products, particularly for the Central Asian market," he said.