ASTANA -- Kazakhs are praising the government's "courageous" and "monumental" rescue of 47 Kazakh nationals from "Islamic State" (IS) in Syria.
Kazakh law enforcement agencies, with assistance from the Ministry of Foreign Affairs, carried out the special operation, dubbed "Jusan" (Bitter Wormwood), January 5-6.
Kazakhstan's National Security Committee (KNB) later provided a number of state-owned media outlets with a video filmed during the evacuation, which it "documented for the sake of history".
The seven-minute video shows a Kazakh military plane taking off in Aktau and landing in Syria. The Kazakh nationals are then loaded onto the aircraft, including several men who are led to the plane's staircase blindfolded and handcuffed.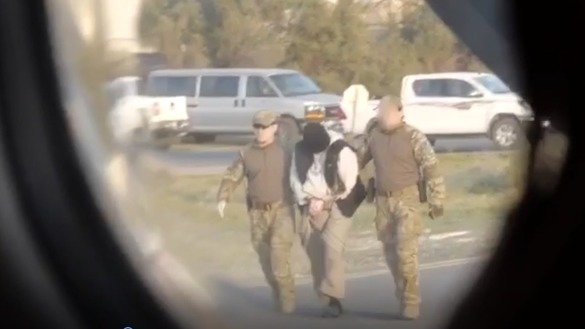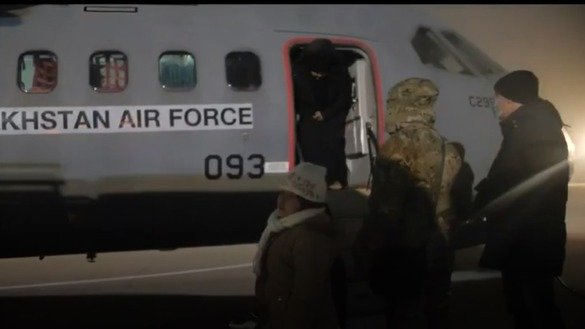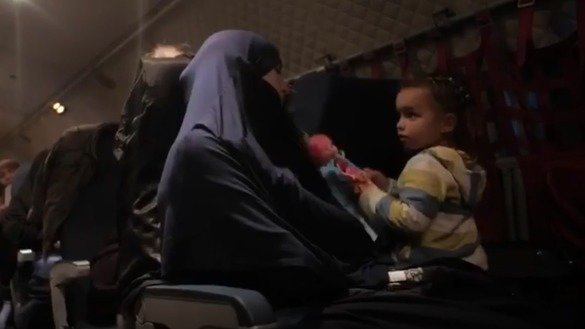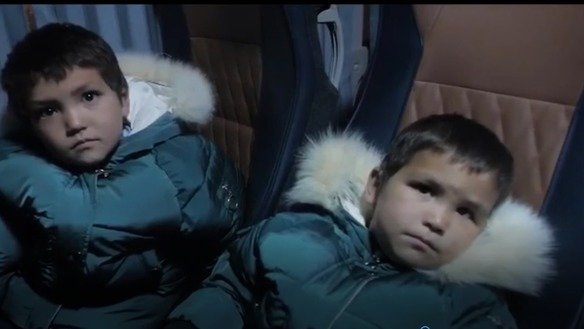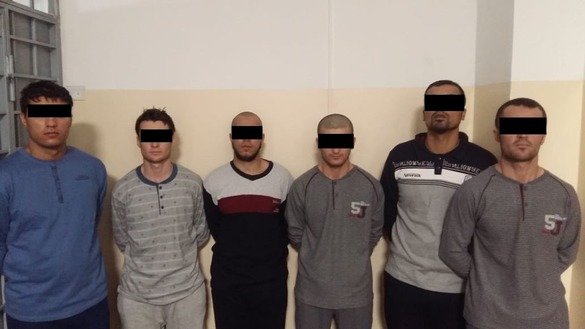 Subsequent interviews with some of the evacuees are also shown.
"During the special operation, 47 people, including 11 women and 30 children, most of them ages 1-5, were returned to their homeland," reads a caption in the video, which shows the children receiving toys and food.
"The innocent people were immeasurably happy about their rescue, and the efforts made will help prevent similar incidents," President Nursultan Nazarbayev said in a statement posted on his website on January 9.
"They were taken to this crisis-ridden country under false pretences and held hostage there by terrorists from the international terrorist organisation called IS," he said.
"We will continue to work to bring back children who are in war zones against their will," Nazarbayev said.
The government will give the women and children who were brought from Syria "all the help they need", according to him.
Trapped in Syria
Bakhytbek Rakhymberdiyev, a KNB department chief, provided further details about the rescued children during a news conference January 10 in Astana.
"The fathers of nearly all the children who have returned to Kazakhstan from Syria have died," he said, according to Tengri News. "The children have returned with their mothers. There's one child whose mother is still there for now... A few of the children who have returned were born in Syria."
The women and children will go through a rehabilitation process, while prosecutors will file charges against the men, he said, adding that 40% of all Kazakhs who return from a war zone are held criminally liable.
The returning citizens previously lived in various provinces of Kazakhstan and went to Syria between 2012 and 2015, Rakhymberdiyev said.
"After they ended up there, it was nearly impossible to leave. The maximum sentence [carried out by IS] for this is the death penalty," he said.
"We have evidence that some of our citizens were executed for trying to escape," Rakhymberdiyev said, referring to Kazakh IS recruits who died in Syria.
A positive reaction in Kazakhstan
Kazakh citizens and officials praised the operation.
"I marvel at the courage of our military pilots," Aleksandra Utepova, spokeswoman for Kazakhstan's Air Assault Troops, wrote on her Facebook page January 11. "It is one thing to demonstrate skill in military and combat parades and another to fly into a true war zone."
"Operation Jusan, in which pilots from Kazakhstan's Air Force took part, is monumental for the country: about 50 Kazakhs who were in the Syrian war zone have been returned to their homeland," she said.
"Kazakhstan does not forget its citizens, lends a helping hand and takes them under its peaceful sky," Utepova wrote.
"All you need to do is look into the eyes of these children, and you understand that they have not seen a peaceful life. They've lived their whole childhood in fear," she said.
"I'm proud of our guys, who despite the huge risk succeeded and brought our fellow citizens home."
"The video made a major impression on me," said Akmaral Duisenova, a 32-year-old resident of Astana.
"These are our Kazakhs, but through stupidity or inclination to commit crimes, they went to a place where a war is going on and set out on the path of terrorism," she told Caravanserai. "Our country looks after its citizens, but the guilty must suffer punishment and those who need help must be helped."
"The women and children need to return to a normal, peaceful life as soon as possible," Duisenova said. "I hope they can."
Ongoing efforts to counter-terrorism
The rescue is part of Kazakhstan's efforts to counter radicalism and extremism.
For example, the KNB carried out an operation January 10 in Almaty in which authorities detained a group of foreign citizens from Central Asia suspected of plotting terrorist acts in Kazakhstan.
"During a search of their temporary residence, materials to build powerful improvised explosive devices, along with firearms and ammunition, were found and seized," the KNB said in a statement January 14.
"According to investigators, the individuals who were detained were acting on the instructions ... of IS militants who are abroad," the statement said. "The use of explosive devices and a subsequent armed attack were being planned in Almaty in places where large numbers of civilians congregate."
Fighting an 'endless battle'
Meanwhile, at least 360 Kazakhs are still in Syria, Ruslan Seksenbayev, a political scientist from Taraz and director of the Beibit Aspan (Peaceful Sky) NGO, told Caravanserai.
"Obviously, the majority of those who fight there will be killed," he said, adding that some have returned to Kazakhstan to face trial.
"From a humanitarian point of view, the government must make every effort to bring women and children home and help them here," he said.
Counter-radicalism efforts "cannot ease off for one moment because terrorist sleeper cells can surface at any time", Seksenbayev warned.
"Recruitment happens mainly through social networks," he said. "Naive people are told about justice and a beautiful life, but they are actually enslaved in Syria and forced to sacrifice their lives in war."
"We take measures to expose and block accounts and pages that perform recruitment and spread propaganda, but new ones crop up," he said.
"It's an endless battle that still must be fought."