ALMATY -- Six members of an organised crime ring detained by the Shymkent branch of Kazakhstan's National Security Committee (KNB) are accused of extorting funds to finance their own terrorist activities.
The suspects regularly extorted large sums of money from local business owners, the KNB press office said in a statement April 5, adding the arrests were made with the assistance of a special unit of the National Guard.
"Members of a criminal group are suspected of committing a series of violent crimes, including with firearms," the KNB said. "The core of the organised crime ring consisted of followers of a destructive religious movement who had been convicted earlier on multiple occasions for committing serious crimes."
The suspects were caught literally in the act of trying to extort $10,000 (3.8 million KZT) from a businessman by threatening his life, the KNB said.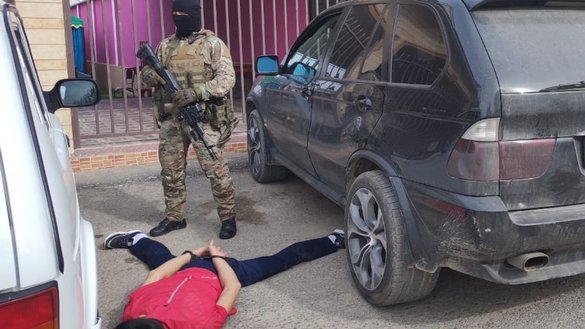 During a search, KNB personnel found a hideout with a weapons arsenal and seized five firearms and ammunition for them, it said, adding that the KNB is continuing to investigate whether the suspects had religious motives.
Going underground
Extremists such as members of "Islamic State" (IS) have resorted to various methods to finance terrorism. Before the war in Syria, its members around the world acted in a dispersed fashion and used insurgent tactics.
In each country where IS members have formed criminal groups, some members have committed terrorist acts while others bided their time in dormant sleeper cells awaiting activation, KNB reservist Col. Arat Narmanbetov of Almaty told Caravanserai.
"When Daesh [IS] was destroyed, the de-centralisation of its forces began," he said. "They went underground to make it harder to wipe them out. In this context the sleeper cells ... are starting to come to life. We have concerns that this process will reach Kazakhstan too."
Kazakhstan faces the risk of a coming wave of attempted terrorist acts that will require financing to pull off, Narmanbetov said, adding that extremists will do anything to raise funds.
"This organised crime ring in Shymkent is an example of what I'm talking about," Narmanbetov said.
"This banditry, in which they are starting to extort money from businesspeople, is one of the methods they understand," he said. "Similarly in Afghanistan, which is close to our Central Asian region, they [extremists] aggressively grow narcotics, or they tap pipelines because they have no problem stealing and re-selling siphoned oil."
Terrorising business owners
Such thefts of oil have occurred in Kazakhstan before.
In June 2006, extremists recruited workers at the Kumkol oil field near Kyzylorda to siphon oil from the Kumkol–Karakoin pipeline. The thieves used the stolen oil to manufacture petroleum products in 18 underground mini-refineries.
Extremists need such income to "publish and disseminate extremist literature and acquire weapons, buy weapons, store them and commit a terrorist act at the right time", Narmanbetov said.
The Shymkent arrests are not the first time that Kazakh authorities have arrested extremists who terrorise business owners, said Asylbek Izbairov, director of the Institute for Geopolitical Studies in Nur-Sultan.
"This kind of thing already happened in 2014, when two men flew from Syria and wanted to kidnap their uncle, a businessman, in Almaty and then demand about $10,000 [3.8 million KZT] in ransom," he told Caravanserai.
"They wanted to use $5,000 [1.9 million KZT] for terror financing. As they understood it, they were doing this for Allah's sake, for the propagation of the religion -- that was [their] twisted interpretation of Islam."
In 2004, a group made up of members of the Islamic Jihad Union attacked a family in Shymkent in order to steal their belongings and killed almost all the members of the family, he added.
Kazakh prisons have seen instances of a fusion between extremists and common criminals, said Izbairov.
He described a scenario in which extremists try to recruit from the general prison population.
An extremist will approach common criminals and say "that after they've converted to Islam, everything they did will be wiped out and now they can start with a clean slate," Izbairov said.
Extremists consider it permissible to seize the property of an infidel, he said, adding that in their view they are entitled to take even that person's life.
Genuine Islam holds that "the life and property of a member of any faith are sacrosanct," said Izbairov.
Such extremists' violation of that tenet "demonstrates they are outside the system ... simply cloaking themselves in religion," he continued. "The issue is not even radical ideology, but terrorist ideology, when organised crime has soaked up a distorted Islam."
Most of the money that extremists extort from business owners goes to foment terror, he added.