NUR-SULTAN -- Kazakh authorities have recently made a number of high-profile arrests in the fight against illegal weapons trafficking and extremism.
In the latest example, a multi-city security operation uncovered a gun-trafficking racket in Almaty, Shymkent and Kyzylorda, Kazakhstan's Committee for National Security (KNB) said in a statement on July 25.
The KNB seized eight AK-47's and two pistols and arrested several suspects in Almaty and Shymkent on July 18 and 19, the statement said.
Several of the suspects had extremist views, according to the investigators.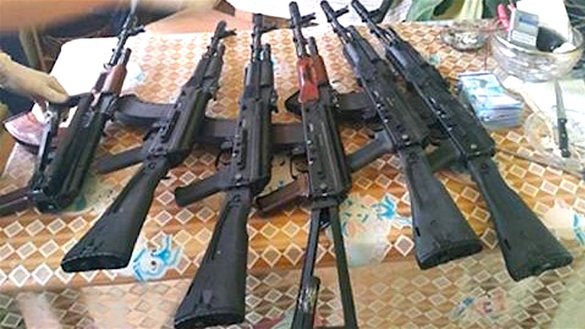 This operation came after the KNB's Arystan (Lion) special forces in June broke up a major channel for the sale of illicit weapons, ammunition and explosive devices.
The investigation uncovered a six-member criminal gang, all of them Almaty Province residents.
"There is a battle going on with the illegal weapons market, and [the authorities] are seizing illegal weapons," said Yernar Beisaliyev, a Nur-Sultan-based political analyst.
"Every year, Kazakhstan conducts a gun buy-back campaign ... and that's hundreds of weapons and their ammunition that could fall into the hands of criminals and terrorists," he said.
A series of high-profile arrests of gun traffickers shows that criminal groups in Kazakhstan are becoming more active on the illegal weapon market, Beisaliyev said.
Investigating and jailing extremists
Kazakh authorities have also been investigating and convicting extremists.
A Karaganda court sentenced three "Islamic State" (IS) members to prison terms ranging from 6 to 12 years, Tengri News reported July 19.
The leader of the cell began embracing destructive ideas in 2015, according to the report. With the help of accomplices, he plotted a terrorist act in Jezkazgan, Karaganda Province.
Two women from Aktobe had to pay for their extremism in July.
An Aktobe court sentenced Akmaral Almagambetova, a 32-year-old mother of five, to five years in prison for participating in a terrorist organisation and inciting religious hatred, the Kazakh newspaper Express K reported July 26.
Almagambetova was among those repatriated from Syria on May 9 as part of Operation "Jusan" (Bitter Wormwood), which saw the mass extraction of radicalised Kazakhs and their dependents who were trapped in Syria after the collapse of IS.
In July, an Aktobe court sentenced a second woman whom authorities had repatriated from Syria, Zarina Akmalayeva, to five years in prison on similar charges.
Some 231 Kazakhs returned in May and 47 in January.
Almagambetova travelled to Syria in 2013. She attempted to convince her husband to join her and to fight for IS, but he refused and divorced her. In Syria, she married several different militants, each time remarrying after a husband was killed in combat.
Taking into account the woman's remorse, her young children and a plea bargain, the court sentenced her to five years in prison, the minimum sentence for the charges.
All the women repatriated by Operation Jusan are undergoing rehabilitation. Those who were suspected of taking part in terrorist activities will face trial.
Publicising the KNB's work
The KNB is communicating to the public on the work it does.
In late July, it released the first documentary, "The Price of Peace -- the West", in a planned series. The film describes the fight against terrorism and gun trafficking in the country's west.
KNB agents' efforts include infiltrating crime rings and conducting "sting" gun-purchasing operations to identify all the culprits, according to the film.
It also relates the story of an extradited militant, Danabek Torekhanov, who fought for six years in Syria and Pakistan. Syrian government forces captured him and extradited him to Kazakhstan as part of Operation Jusan.
The film aired on TV July 28. The KNB posted it on its KNB YouTube channel July 29.