ALMATY -- Kazakhstan is eyeing a number of protectionist measures in response to Russian policies and to unfair practices of the Eurasian Economic Union (EEU).
Kazakhstan's Ministry of Trade and Integration has completed a planning document for the state programme for developing trade for 2021-2025, Nur.kz reported February 12.
"Work is being intensified to identify, analyse and remove barriers, exemptions and restrictions that impede the free movement of Kazakh goods and services into EEU markets," according to the document.
Nur-Sultan developed the trade planning statement while taking into account "the practice of other states in protecting domestic markets" and calls for the state to provide diplomatic support to Kazakh companies.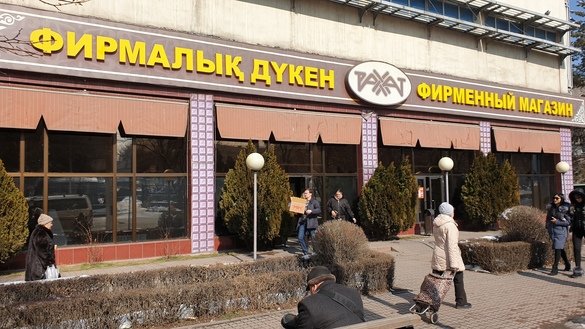 "Amid widespread use of restrictive measures and increased protectionism by foreign states, there are risks and threats that goods, services and intellectual property coming from Kazakhstan may become the object of these measures," added the ministry in the document.
The document directs the business community and government agencies to jointly implement a new trade policy and "develop proposals and implement tools to protect the domestic market".
As part of that effort, the Ministry of Trade and Integration is creating a rapid reaction office made up of all government agencies that deal with economic issues. The goal of the organisation will be to create and implement solutions on behalf of the state.
"The adopted 'reciprocal' measures will be introduced in accordance with generally recognised principles and norms of international law, with international treaties of the Republic of Kazakhstan and within the limits (equivalent to the damage caused) necessary to effectively protect the economic interests of Kazakhstan", the document says.
Kazakhstan intends to adjust its laws so that it can quickly respond to threats and risks in foreign trade.
Responding to Russian protectionism
The new policy is an apparent response to Russia's hostile actions, say observers.
Kazakh exporters have regularly complained about artificial barriers to the sale of their products in Russia and even harassment by regulatory authorities. Other countries regularly raise the problems at meetings of the EEU commission, but it has not resolved them.
The EEU has created conditions favourable for Russian entrepreneurs, investments and goods, while their competitors from other member states are forced to work under harsh, unequal conditions, according to Rasul Zhumaly, a former Kazakh diplomat living in Almaty and author of "Geopolitics in Central Asia".
Russia is using non-market mechanisms and its regulatory agencies to "eliminate competitors", he said.
Denis Krivosheyev, an Almaty-based economic analyst, supports Kazakhstan's emerging policy of a "reciprocal" response to hostile actions within the EEU.
"We have retreated for a very long time, often not understanding how protectionist policies are formed," he said.
"The elimination of internal barriers and restrictions and the erection of more complex, less apparent ones -- these are the real trade wars that not only the consumer but also the manufacturer must win," he added.
Discontent grows in Kyrgyzstan
Dissatisfaction over the EEU is similarly growing in Kyrgyzstan, which has been a member since August 2015.
The number of respondents who say that Kyrgyzstan's entry into the EEU has had a negative impact on the country's economy has increased by 10% over the past two years, according to a study carried out by the International Republican Institute (IRI), a non-profit organisation providing assistance in building democracy.
IRI polled about 1,500 Kyrgyz citizens from around the country from November to December 2019.
In an earlier study conducted in 2017, 7% of respondents said that joining the EEU had a "negative impact" on the country. Another 3% found the impact to be very negative.
In 2019, these figures showed a noticeable leap. The percentages of respondents who called the effect of joining the EEU "negative" and "very negative" grew to 13% and 4%, respectively.
At the same time, the percentage of those who consider Eurasian integration extremely positive has plummeted.
That group decreased from 29% to 19% in two years.
A sphere of dominance
Such beliefs can be seen in Uzbekistan, which refused to join the EEU earlier this year.
Uzbek President Shavkat Mirziyoyev on January 20 announced that Uzbekistan would not sign on to the Russia-dominated EEU. Instead, the country will have observer status.
"We will not be a member of this union," Mirziyoyev said in a speech to the first session of the upper chamber of parliament since the recent elections.
"Bear in mind one thing: Nobody will ever give away our independence to anyone. Independence rests in the hands of a president whom the people trust," he said.
Uzbekistan's guiding principle is to preserve its independence, Farhad Tolipov, director of the Tashkent-based think-tank Caravan of Knowledge, said at the time.
"Analysts highlight the fact that Russia is setting its sights on bringing the post-Soviet region back into its sphere of dominance and influence, which undermines the independence of the Central Asian countries," Tolipov said, a reference to the EEU.
Uzbekistan's proposed EEU membership "can be considered a particular form of modern dependence on a power [Russia], as occurs to other EEU members that are small republics", Tolipov said.
Although proponents of Uzbekistan's accession to the EEU talk about future economic benefits, so far no one has provided hard evidence to back up such a decision, according to Tolipov.