ASHGABAT -- Turkmenistan is ramping up security reforms while also marking 25 years of neutrality.
A United Nations (UN) General Assembly resolution passed by 185 countries on December 12, 1995, stated that Turkmenistan's permanent neutral status would help to strengthen peace and security in the region and called on all countries to respect Turkmenistan's neutrality.
The country's neutrality kept it out of Russian-dominated blocs like the Collective Security Treaty Organisation. However, it faces security challenges along its 744km-long border with Afghanistan and with the return home of Turkmen members of the defeated "Islamic State" (IS) from Syria and Iraq.
Meanwhile, Turkmenistan is preparing to mark the 25th anniversary of its neutral status this year with a large-scale celebration.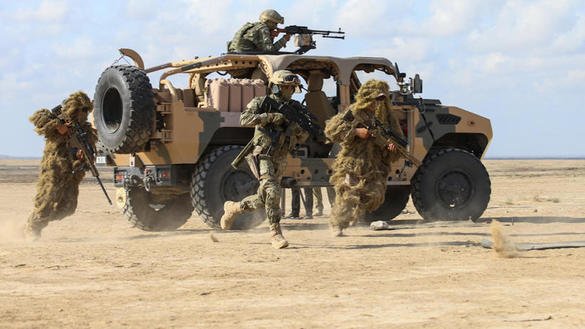 The state-run television channel Altyn Asyr reported on March 3 that the anniversary festivities are expected to include international conferences, roundtables, concerts, exhibitions and other celebrations.
Celebrations aside, Turkmenistan is becoming increasingly active in security issues, say observers.
Motives for reform include new threats and challenges, the level of fighting in northern Afghanistan and the expectation of "something bad" from Iran, said Dovlet Muradov of Ashgabat, who studies regional issues.
Iran and Turkmenistan share a border of 1,148km.
Perhaps naively, ordinary Turkmens perceive their country's neutrality as some sort of charter of immunity granted to Turkmenistan by the international community, "like a guarantee that we will be safe and that no one will be threatened by us", Muradov said.
However, the region abounds with radical groups and crime rings that have plans to spread radicalism and extremism, build a so-called "caliphate" and distribute drugs.
"The leaders and sources of inspiration of these destructive forces say openly that they don't recognise any borders between states, so Turkmenistan needs to seriously address security issues," Muradov said.
"If they don't recognise borders, it's entirely possible that they might not recognise Turkmenistan's neutrality either," he added.
Co-ordination of efforts
The work and composition of Turkmenistan's State Security Council have changed in recent months.
"New top security chiefs have now joined it," a source in the Prosecutor General's Office said.
"Some former members, such as Yailim Berdiyev, the national security minister, have been transferred to other positions, while others, such as Interior Minister Isgender Mulikov and Meilis Nobatov, chief of the Presidential Security Service, were fired and convicted," said the source.
Their crimes included corruption and abuse of office.
At the same time, Turkmenistan's military and law enforcement agencies have stepped up co-operation.
The changes occurred after two events: the adoption of a law on Turkmenistan's State Security Council by parliament, and then the creation of the new government position of deputy prime minister for security affairs on January 30.
In the past, the duties of the secretary of the State Security Council belonged to one of the "power ministers" (such as interior, national security or defence), while the president was in charge of the overall leadership and oversight.
Now, according to the new law, the deputy prime minister for security affairs will co-ordinate the work of the military and law enforcement.
Charymurad Amanov, a lieutenant general of the police and rector of the Interior Ministry Institute, will serve as deputy prime minister for security affairs and secretary of the State Security Council, according to a January 30 report on Turkmen TV.
He has been assigned to lead the "co-ordinated organisation of the activities of the country's military and law enforcement agencies", the report stated.
Engagement in the international arena
As the country's authorities take steps to guarantee security within the country, they have also begun to consult more often with regional partners on security matters.
In early February, Turkmen diplomats held meetings in Ashgabat, Kabul and New Delhi, where security matters were among the top agenda items.
The parties discussed the progress of the implementation of preventive measures to combat terrorist threats and co-operation in providing security and stability at the regional level.
Meanwhile, Turkmenistan and the United State are working on new areas of co-operation, including combating terrorism and ensuring border security and the non-proliferation of weapons of mass destruction (WMDs), officials say.
A US Central Command (CENTCOM) delegation led by civilian staffer David Mount met in Ashgabat in late January with officials from Turkmenistan's state customs service.
Authorities in Ashgabat have begun to grasp that it was impossible to provide security within the country on its own without helping to address today's global international problems, threats and challenges, said Muradov.
"The saying 'no man is an island' describes this situation perfectly," Muradov said.
"In this battle, all resources are good and experience that others have gained will be useful," he added.
He stressed the importance of bolstering co-operation on security by exchanging expert skills and information, actively combating terrorist and extremist ideology online and finding the sources of their financial backing.
A survey of terrorist threats, the Global Terrorism Index 2019, named Turkmenistan one of the world's safest countries.
"Of course, a ranking like that pleases us, but it shouldn't reassure anyone or make them complacent," Muradov said.