KHUJAND -- Tajikistan's large-scale garment factories are switching production to focus on personal protective equipment (PPE), including masks and gowns, to meet international and domestic demand amid the coronavirus pandemic.
Existing facilities in Tajikistan can produce up to 300,000 medical masks daily and fully satisfy medical institutions' demand for protective suits, according to the government.
In April, three large garment factories in Dushanbe -- Yekut-2000, Tojtex and Gulistoni Dushanbe -- and other enterprises began producing equipment to be sold to Italy. Tojtex alone can produce up to 10,000 masks per day.
In the beginning of May, they switched to the domestic market on the recommendation of the Ministry of Industry and New Technologies after Tajikistan reported its first confirmed coronavirus cases in late April.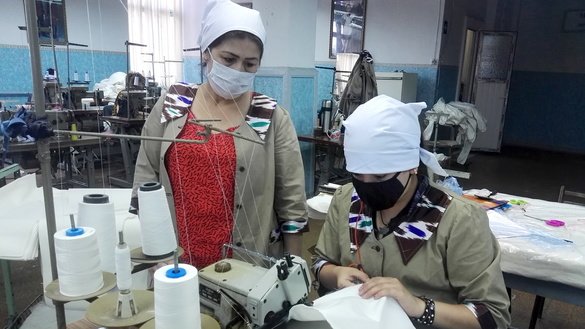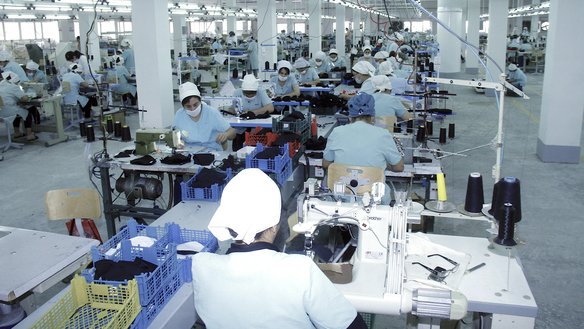 Meanwhile, Javoni, a Tajik-Italian apparel-manufacturing joint venture located in Sughd Province, is still meeting demand for medical masks in Italy and can produce 50,000 daily.
"Currently, 23 garment enterprises are producing masks, 15 of which are making protective suits at the same time," said Deputy Minister of Industry and New Technologies Sodikjon Abdukarimzoda Rustami.
The country produces 258,000 medical masks and 3,900 suits each day. Tajikistan has additional capacity that it can activate if necessary, Rustami said.
"In the early days of the pandemic, we had some difficulties with the production of protective equipment. It took time to master the new products and reprogramme production, but we completed this work in the shortest possible time," he said.
Co-operation with Italy
Tajikistan responded in April to an Italian partner's proposal to re-orient the Javoni joint venture to the production of medical masks with investments from Carrera, an Italian firm.
Tajikistan's Somon Air in April flew three times to Verona, Italy, to deliver about 3 million medical masks produced by the Tajik-Italian joint venture, according to Sughd Province officials.
Javoni, which operates the entire cotton-processing cycle, was created from the Khujand silk factory, which employed 10,000 workers and ceased to exist after the collapse of the USSR.
In the first years of independence, workers built a modern textile enterprise with investment from Carrera, employing 1,700 Tajiks, mostly women, to make clothes for the Italian brand.
In April, pursuant to a decision of the board of directors, the company quickly reoriented production to making medical masks because of the urgent need that arose in Italy.
"With the approval of the leadership of the Ministry of Industry and New Technologies, several large industrial enterprises of the cities of Khujand and Dushanbe, capable of producing export-oriented products, joined the effort to fulfill the Italian order," said Nargisa Shamsiyeva, a Sughd Province representative of the Ministry of Industry and New Technologies.
The province is carrying out a plan to supply 11 million medical masks to Italy for €11 million ($12.2 million), said the Sughd provincial government.
"Our products, unlike Chinese and Turkish products, are made of pure silk and natural cotton, which is valued today in Europe," added Shamsiyeva.
New opportunities
"Medical products, particularly medical masks, are now one of the most sought-after products in the world. As a result, for many of Tajikistan's idle plants and irregularly operating garment plants, European orders are an opportunity that needs to be taken advantage of," said Osifkhon Sharifzoda, director of the Department of Industry in the Sughd Province government.
"We have raw materials, natural cotton fiber, that will suit the European consumer in every respect. We'll need only to gradually improve the quality of the finished products," added Sharifzoda.
"The main thing is employment, especially of women, most of whom are not working," he said.
"A new opportunity has emerged, which we do not intend to let pass by," said Maksud Ziyoboyev, general director of the Zinnat company in Khujand, which is working together with the Nassochii Khujand company to fulfill orders.
Khamrokhon Mustafoyeva, who has worked in the clothing industry for 17 years, came to work at Zinnat four years ago.
After the order in April, "all the skilled women sitting at home were asked to go to work. They mastered the new products quickly," she said.
"Each day, each seamstress sews up to 200 masks. Each shift produces 3,500-4,000 masks. And they received a good salary for the first month of work," Mustafoyeva said.
"We have a forced vacation in our school right now," said Mijgona Negmatova, 18, who got a job at Zinnat. "I chose the profession of seamstress, which is characteristic of us Tajiks. Here I receive additional training. I hope to stay here."