DUSHANBE -- Russian authorities are increasing pressure on Dushanbe to join the Eurasian Economic Union (EEU), insinuating that if it does so, the Kremlin would create favourable conditions for Tajik migrant workers.
But such a deal is a double-edged sword, observers and neighbouring states warn.
Tajik migrant workers in Russia already face difficulties, and bureaucratic barriers to employment, which always have been high in Russia, are set to rise.
At the same time, membership in the Russian-dominated trading bloc has proved a disappointment to both Kazakhstan and Kyrgyzstan.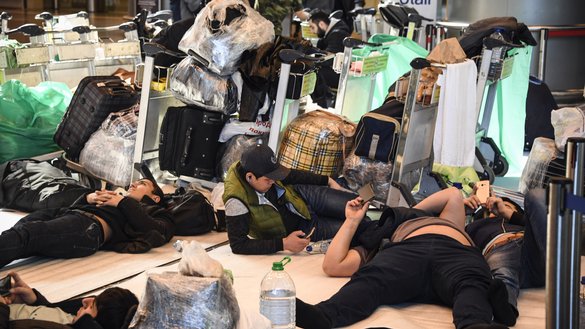 Dependence on remittances
Labour migration and remittances from abroad are some of the factors keeping the Tajik economy afloat.
Remittances accounted for significant shares of Central Asian countries' gross domestic product (GDP) last year, according to World Bank data from October: 25% in Kyrgyzstan, 26% in Tajikistan and almost 6% in Uzbekistan.
Remittances were even greater in pre-pandemic 2019.
Transfers from Russia to Tajikistan in the first three quarters of 2020 amounted to $1.2 billion (13.7 billion TJS), which was 37% less than in the same period in the previous year, according to the Bank of Russia.
During the COVID-19 pandemic, Russia closed transport links with a number ex-Soviet states. Flights with Kazakhstan, Kyrgyzstan and Belarus have resumed -- but not those with Tajikistan.
Russia has periodically enforced a visa regime with Central Asian countries that are not EEU members, particularly Uzbekistan and Tajikistan, said Farhad Tolipov of Tashkent, director of the think-tank Caravan of Knowledge.
"Thus, Russia is actually dividing Central Asian countries into 'ours' and 'theirs'," he said, referring to EEU members versus non-EEU members.
Russia pressuring Tajikistan
By limiting labour migration, observers say, the Russian regime is putting pressure on Tajikistan to join the EEU. Meanwhile, Russian state media is sending direct, undisguised signals to Dushanbe.
Russian propaganda outlet Sputnik Tajikistan on February 11 interviewed Yuri Shurygin, director of the Russian Association of Small and Medium Exporters and director general of the Russian International Export Promotion Agency.
Shurygin stressed that Tajikistan should choose the EEU over China, pointing to "a temporary pause" in trade amid the pandemic, during which "China nearly sealed the border".
"Tajikistan's hopes for economic ties [with China] did not come true, and the country's leadership and business community may see this window of opportunity in joining the EEU," he said.
Russian authorities have let Dushanbe know that if it joins the EEU, they will create favourable working conditions for Tajik migrant workers.
But observers with insider knowledge of the situation are sceptical.
Moscow is stepping up attempts to drag Tajikistan into the EEU, promising favourable prospects that will not materialise, said Valentina Chupik of Moscow, chair of the NGO Utro Mira (Sunrise of the World).
"Russian authorities are using labour migration, which Tajikistan depends on, to further their geopolitical interests," she said. "But after Tajikistan becomes a member of the EEU, things will become even worse for migrants."
Migrant workers have faced harsh conditions and discrimination in Russia, and many were left stranded, without work or support, when flights were closed during the coronavirus pandemic.
Migrants from the EEU member states should not expect tax breaks, Chupik said, pointing out that the Russian parliament is drafting a law that will make such obligations even more burdensome.
'We need to be careful'
The possibility of Tajikistan joining the EEU is stoking public criticism.
"What kind of rubbish is this where small impoverished states are dragged about forcibly without any criteria or obligations?!" Dushanbe activist Muzaffar Imomdod wrote on Facebook in February. "I am totally against it!"
The Russian regime may resort to provocations, so "we need to be extremely careful", he said.
"It is time for our authorities to think about the national interest and the interests of our country as a whole. Otherwise, with Russian propaganda and provocations, we could lose much more than we imagine."
Bolot Kalmyrzayev of Bishkek, a professor at the American University of Central Asia, responded to Imomdod in Facebook comments, saying Kyrgyzstan, an EEU member since 2015, has gone through a similar ordeal already.
"The Customs Union [the EEU's old name] did not bring us anything good," he said. "Domestic businesses suffered the most."
Dushanbe appears to be in no hurry to enter the Russian-co-ordinated trade bloc, fearing negative consequences for economic relations with Beijing.
Tajik political scientist Parviz Mullojanov, who lives in Sweden, said he doubted whether Tajikistan would join the EEU in 2021.
"Big business in Tajikistan works closely with China, so it won't support the idea of joining the [EEU]," he said.
Negative impact of labour migration
In a January report published by the World Bank, researchers analysed the negative impact of remittances on the economies of Eastern Europe, the South Caucasus and Central Asia.
According to the report, remittances to Tajikistan, Kyrgyzstan and Uzbekistan, mainly from Russia, negatively impact these countries' economies.
They reduce economic competitiveness, increase inflation, repel investors and hinder the manufacturing sector and the creation of new jobs, research shows.
In Tajikistan, for example, up to 40% of families live on remittances.
The influx of foreign currency to countries in the region also boosts the exchange rate of local currencies, working against exports and growth in the real economy.
This trend reduces the competitiveness of local manufacturers' goods, not only domestically but in foreign markets too, as local companies are faced with rising labour costs, according to the report.
In Central Asia, only resource-rich Kazakhstan, which hires migrant labour rather than exporting it, is free of dependence on migrant remittances.