TASHKENT -- US aid dispensed recently to Central Asia seeks to protect the public from earthquakes and bolster the use of clean energy.
The US Embassy in Tashkent Wednesday (June 2) lent equipment to the Republican Centre of Seismic Forecasting Monitoring (RCSFM), an agency of the Uzbek Ministry of Emergency Situations, the embassy said in a statement that day.
The RCSFM and the University of California, San Diego (UCSD) plan to install two temporary seismic stations at Karasai and Koytash. The purpose of the equipment is to boost understanding of acoustic and infrastructural questions.
A permanent station is planned for Karasai later this year.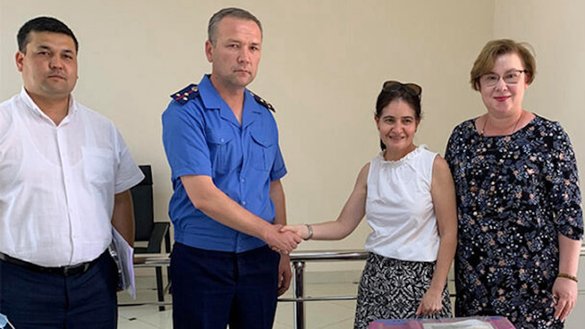 The US State Department intends to buy the equipment for the future permanent station at Karasai and to pay for its installation.
UCSD and the ​Incorporated Research Institutions for Seismology (IRIS) manage a 152-station Global Seismic Network (GSN). UCSD operates a third of the GSN stations, which will include the proposed station in Karasai, with support from IRIS and the US National Science Foundation.
Uzbekistan lies in an earthquake zone. In 1966, a quake flattened about 80% of Tashkent.
The Soviet government, which had a damaging habit of maintaining secrecy after disasters, put the death toll at only 15, but most estimates run far higher.
Green energy for all of Central Asia
Meanwhile, the US Agency for International Development (USAID), collaborating with the Tajik Ministry of Energy and Water Resources, recently launched a five-year, $39 million regional energy programme -- the USAID Power Central Asia Activity in Tajikistan, the US Embassy in Dushanbe said in a statement May 28.
The programme will help Kazakhstan, Kyrgyzstan, Tajikistan, Turkmenistan and Uzbekistan "meet their national energy priorities, reap economic benefits from cross-border energy trading, and improve energy security through greater regional connectivity", said the embassy.
"We thank USAID and our development partners for their contribution to the development of the energy sector," Energy and Water Resources First Deputy Minister Jamshed Shoimzoda said at a Dushanbe event inaugurating the project.
"Well-functioning competitive energy markets and energy security are critical to promoting social, economic and political growth in Central Asia," said USAID/Tajikistan Acting Mission Director Keith E. Simmons.
USAID intends to "provide technical services to the region's governments, energy companies, investors and development organisations", as well as "support national and regional energy market reforms, strengthen the regional electricity market and promote greater adoption of clean energy technologies", said the embassy.