NUR-SULTAN -- Russian politicians are continuing to accuse Kazakhstan of oppressing Russian-speaking residents, drawing rebuke from Kazakhs concerned about the Kremlin's aggressive stance towards ex-Soviet countries.
A November 9 article titled "Russia and Kazakhstan: Co-operation Without Borders", penned by Russian Foreign Minister Sergey Lavrov and published in the state-run newspaper Rossiyskaya Gazeta, reignited Kazakhs' indignation.
As the headline suggests, the article focuses on the "friendship, co-operation and mutual understanding" between the two countries and is filled with diplomatic formalisms stressing joint achievements.
However, at the end, Lavrov raises a Russian grievance long irritating to Kazakhstan: its alleged oppression of Russian-speaking citizens.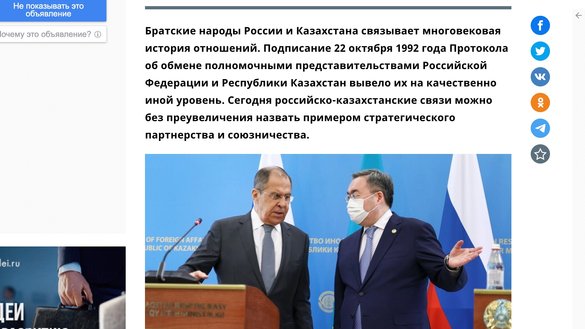 "Unfortunately, we have recently witnessed a number of high-profile cases of xenophobia targeting Russian-speaking citizens of Kazakhstan," Lavrov wrote.
He condemned unspecified outside forces, which he said advocate for xenophobia.
"These individual incidents are largely the product of ... outside propaganda techniques that aim to cultivate a parochial nationalism and discredit co-operation with Russia."
Lavrov threatened Kazakh nationalists with "prompt measures" should "dire cases" arise.
"For that we will activate direct communication channels -- through the foreign ministries, law enforcement and justice agencies, and the presidents' administrations," he wrote.
According to the Kazakh constitution, "Russian is granted the status of an official language and is used alongside Kazakh", he noted.
Russia will continue to "provide multifaceted support to Kazakhstan's schools, vocational institutions and universities that train educators and specialists who know Russian", he said.
A wake-up call
Although Nur-Sultan did not officially respond, political analysts, journalists and ordinary Kazakhs were outraged at the latest attack from Moscow.
Zhyldyz Aliyeva, a reporter for the Almaty newspaper Delovaya Nedelya (Business Week), described Lavrov's article as a wake-up call.
"In the past, the aggressive rhetoric against Kazakhstan came mainly from excitable members of parliament and pro-Kremlin media outlets, but this time we're seeing criticism from Russia's number-two official for international relations -- the foreign minister -- so we can essentially consider this Russia's official position," she said.
Aliyeva cited an interview Lavrov gave in May to Kazakh TV channel Khabar regarding provocative claims by Russian politicians that Kazakhstan's northern territory historically belonged to Russia. At the time, he tried to separate himself from such rhetoric.
The incidents were just politicians' attempts to draw public attention to themselves, Lavrov said in the interview.
"But no such statements will be made by the people who determine Russia's policies toward Kazakhstan," he said at the time.
But Lavrov's latest comments are a sign that Moscow is openly hindering Kazakhstan's processes of determining its own national identity, Aliyeva said.
"If there are Kazakh citizens who are not proficient in Russian and want to be served in their native language, what are they guilty of and how is that xenophobic?" she said.
Kazakhstan should react to Lavrov's article "systematically and constructively", said Gaziz Abishev, a Nur-Sultan–based political analyst and former adviser to the vice minister for investment and development.
"A systematic, knowledge-based defence of the national media space is the most important task for the national elite and state apparatus," he wrote on his Telegram channel on November 9.
"Without that, the country is doomed to hang in the wind, like an old, tattered flag."
There is no xenophobia in Kazakhstan, Abishev told Caravanserai.
Rather, this is a manufactured "problem", he said, adding that Moscow is projecting its own views onto Kazakhstan.
"In Russia there are prejudice and racism, especially toward immigrants," he said. "It is a systemic problem, but the authorities shut their eyes to it."
In the view of Kazakhs like Abishev, Russian officials are trying to draw a moral equivalence between isolated incidents in Kazakhstan and the violence and discrimination heaped on Central Asian migrants in Russia.
Disrespect
The Kremlin's accusations come as Kazakhs grow weary of Russia's disdain for their country's state language.
A viral image of an automated teller machine (ATM) in Kazakhstan that surfaced last month sparked widespread criticism of Russia's state-owned Sberbank for disrespecting the Kazakh language.
In another incident in August, Kazakh language activist Kuat Akhmetov posted a series of videos taken at public establishments in Kazakh cities in which he pointed out the lack of customer service in Kazakh.
Russian politicians subsequently demanded that the Kazakh authorities "call out these disgraceful actions by homegrown nationalists", and Kremlin-controlled media outlets berated Kazakh activists.
Akhmetov was forced to flee Kazakhstan and according to media reports now lives in Kyiv.
Russian authorities have increasingly warned against what they call ethnic hatred.
"Moscow is keeping a close eye on all displays of intolerance for ethnic traits in [Kazakhstan]", Maria Zakharova, a Russian Foreign Ministry spokeswoman, told the Russian news site Lenta.ru on November 3.
The "language patrols will face consequences from the Kazakh authorities", she said, referring to groups of Kazakhs like Akhmetov who aggressively look for failures by businesses, government offices and their employees to speak or write Kazakh.