KYIV, Ukraine -- Ukraine vowed to counter destabilising Russian influence over the country's political and economic spheres in the wake of intelligence suggesting that Moscow is looking to install a Kremlin-friendly president in Kyiv.
The United Kingdom (UK) said Saturday (January 22) it had information Moscow was "looking to install a pro-Russian leader" in Ukraine and accused several former politicians in Kyiv of harbouring ties with Russian intelligence.
The claims are adding to tensions between Russia and the West over European security, with a recent bout of failed negotiations bringing little relief over a build-up of Russian troops around Ukraine.
Mykhailo Podolyak, an adviser to Ukrainian President Volodymyr Zelenskyy's chief of staff, said the revelations were part and parcel of Russia's approach towards Ukraine and said Kyiv would push back.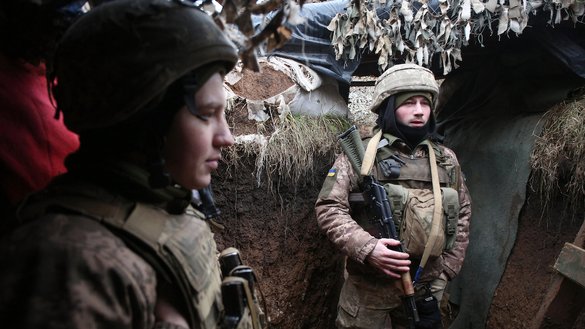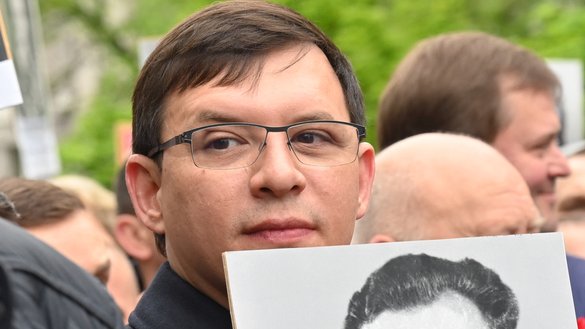 "Our state will continue its policy of dismantling any oligarchic or political structures that could be working to destabilise Ukraine" or "aid" Russia, he said in written comments to AFP.
The Kremlin has for some time followed a formula of selecting individuals in business or politics and then using those people to "promote Russia's interests", said Podolyak.
"This British information clearly follows along in this logical chain," he added.
'New political leaders'
London said it had seen evidence that several former Ukrainian politicians had maintained links with Russian intelligence services and that former MP Yevgen Murayev was being considered as a potential leader.
Some of those in contact with Russian intelligence officers were "currently involved in the planning for an attack on Ukraine", the UK's Foreign Office said in a statement, though it did not release details of the evidence.
The alleged plot is "deeply concerning", a US official said. Moscow dismissed the accusations as "disinformation" and urged London to "stop spreading nonsense".
Ukraine needs sweeping political reforms and a new head of state, Murayev wrote on social media Sunday.
"The Ukrainian people need rule of law, peace, sound and pragmatic economic and social policies, and new political leaders," he wrote.
Murayev lost his seat in parliament when his party failed to win 5% of the vote in 2019 elections. He is understood to be the owner of a television channel that was closed last year on allegations it was airing pro-Russia propaganda.
Concerns in Ukraine have been building with an estimated 100,000 Russian troops massed on Ukraine's border, along with an arsenal of tanks, fighting vehicles, artillery and missiles.
Current fears of a Russian invasion stem from Moscow's annexation of the Crimean peninsula in 2014 and the formation by pro-Kremlin separatists of two self-proclaimed breakaway republics in Ukraine's east.
More than 13,000 people have died in the fighting between government forces and the pro-Russian rebels.
NATO troops 'on standby'
The West has sought to make clear to Russia that the costs of invading Ukraine will be catastrophic.
The United States is trying to marshal its allies to prepare an unprecedented package of sanctions for Moscow if its sends in more of its forces, while European Union members insist they could hit the Kremlin with "massive consequences" within days if needed.
NATO Monday said its members were placing troops "on standby" and sending ships and jets to bolster Eastern Europe's defences in response to the Russian buildup, pointing to recent decisions by Denmark, Spain and the Netherlands to mobilise forces.
Russia risks creating a "new Chechnya" if it invades Ukraine, British Prime Minister Boris Johnson said Monday.
"Invading Ukraine, from a Russian perspective, is going to be a painful, violent and bloody business," he said. "I think it's very important that the people in Russia understand this could be a new Chechnya."
'False flags' and cyberattacks
Reports earlier in January detailed how Russia was setting up false flag operations, waging cyberattacks and spreading disinformation as part of a campaign to prepare the groundwork for a potential invasion on Ukraine.
Ukraine's Digital Transformation Ministry accused Russia of carrying out a January 14 cyberattack on key Ukrainian government websites.
"All the evidence points to Russia being behind the cyberattack," the ministry said in a statement January 16. "Moscow is continuing to wage a hybrid war."
Even before the assault, European foreign ministers had warned that cyberattacks could precede, or accompany, a military incursion that Russia may be planning.
Meanwhile, Russia has put in place saboteurs trained in explosives to carry out a "false-flag" operation to create a pretext to invade Ukraine, US officials warned January 14.
US intelligence believes Russia could begin the operations "several weeks" before a military invasion, which could start between mid-January and mid-February, White House spokesperson Jen Psaki said.
"We have information that indicates Russia has already prepositioned a group of operatives to conduct a false-flag operation in eastern Ukraine," she told reporters.
"The operatives are trained in urban warfare and in using explosives to carry out acts of sabotage against Russia's own proxy forces."
A day earlier, US National Security Adviser Jake Sullivan said that Russia was "laying the groundwork to have the option of fabricating a pretext for an invasion".
Moscow's hybrid war
European politicians and analysts warned last year that nations must enhance their knowledge of Russia's hybrid warfare strategy as a way to counter exactly what is playing out in Ukraine.
Such information is especially relevant for Central Asia and other countries bordering Russia as such aggression could soon appear on their own doorstep.
Russia's hybrid warfare strategy is made up of five key areas, according to Olena Carbou, the co-founder and executive director of the Ukrainian Think Tanks Liaison Office in Brussels.
It uses economic, energy, political and militaristic pressure, accompanied by disinformation or information warfare, she said last year.
"Ukraine and Georgia became the beachheads of this war," she said.
In countries where Russia is waging a hybrid war, each of the instruments is constantly present with varying degrees of prominence, Carbou explained.
"If we're talking about political influence, it's support for pro-Russian political forces. It's destabilisation of the political structure and interference in the electoral process," she said.
"The danger of hybrid war is that the aggressor exploits weaknesses," Carbou said. "The state must become stronger. It must make its state institutions stronger, eliminate corruption [and] increase the public's information literacy."
The Kremlin's tactics involve country-specific narratives and approaches, according to Nodar Kharshiladze, a Tbilisi-based political scientist and founder of the Georgian Strategic Analysis Centre.
"Russia does not say that it is good. It says that Europe is bad," he told Caravanserai last year.