KYIV -- Kyiv is working with international partners to establish a legal mechanism that will allow it to receive compensation from Russia for damage incurred from its invasion.
The Parliamentary Assembly of the Council of Europe on January 26 approved a resolution on "Legal and human rights aspects of the Russian Federation's aggression against Ukraine".
The resolution calls for European Union (EU) member states "to set up an international compensation mechanism, including an international register of damage, in co-operation with the Ukrainian authorities".
"It would include at a later stage an international compensation commission, mandated to review and adjudicate the claims submitted and documented by the register, as well as a compensation fund, from which compensation awards would be paid to successful claimants."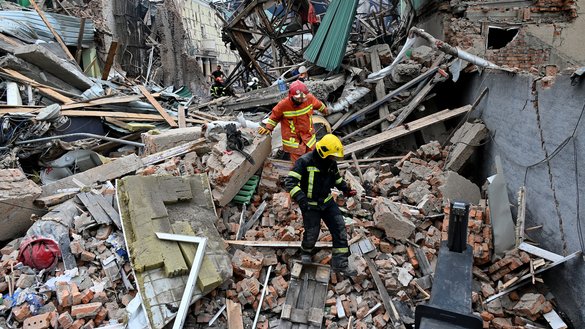 The United Nations (UN) General Assembly earlier on November 14 adopted a resolution that calls for Russia to pay war reparations to Ukraine.
Russia must be held accountable for its violations of international law, Ukrainian Ambassador Sergiy Kyslytsya, who presented the draft resolution, insisted.
"Seventy-seven years ago, the Soviet Union demanded and received reparations, calling it a moral right of a country that has suffered war and occupation," he said at the time.
"Today, Russia, who claims to be the successor of the 20th century's tyranny, is doing everything it can to avoid paying the price for its own war and occupation, trying to escape accountability for the crimes it is committing."
Estimates of the cost of Russia's invasion of Ukraine since February 2022 have ranged.
"Various figures are being mentioned currently -- from $500-700 billion -- but we need to understand that these are very approximate figures, just for us to be able to calculate," Taras Zagorodniy of Kyiv, a political and economic correspondent and managing partner of the National Anti-Crisis Group, told Caravanserai.
"We don't yet know the final bill that Russia will have to pay Ukraine. It must still be calculated in detail -- what we include, what we don't include."
"One track is just the physical destruction of property. But there are other parallel tracks, for example, the environmental damage. That will also be an impressive amount," he said.
Compensation
The next step is to create an international register of losses, where all of Ukraine's claims will be documented, according to Irina Mudraya, Ukrainian deputy minister of justice.
Any Ukrainian citizen may use Diia, a mobile app, to submit a claim regarding destroyed or damaged property to local authorities. Then a special commission makes an on-site visit to tally up losses and verify the information.
"We are doing everything we can and more to ensure that both the international register of losses and all elements of the international compensation mechanism will start operating as soon as possible," Mudraya told Caravanserai.
"The international compensation mechanism, which we are creating to compensate for the damage inflicted on all victims of Russia's armed aggression against Ukraine, provides for the creation of a compensation fund," she added.
"The fund must gather up all available financial resources for compensation payments, including from frozen funds."
Ukrainian authorities have long eyed the more than $300 billion belonging to Russia or its citizens that has been frozen around the world, mostly the Russian Central Bank's international reserves and some $19 billion in assets of Russian businessmen, oligarchs and politicians who support Vladimir Putin's regime.
However, frozen assets may not simply be seized and transferred to Ukraine.
"The challenge is that the freeze itself is temporary and doesn't allow for this money to be converted for other purposes," said Mudraya.
Russia will never voluntarily agree to pay anything to Ukraine. That is why Ukraine is trying to create a mechanism by which it can receive Russian assets without consent from Russia itself, she said.
'Russia will pay'
Another hurdle is that, under the mechanism, each country where Russian assets are found will have to pass its own laws on how to confiscate them.
This process is difficult and not fast, but it will bear fruit in the end, according to Alexey Buryachenko of Kyiv, executive director of the International Association of Small Cities.
"I believe that Russia will pay for everything," Buryachenko said.
"Assets of up to $400 billion have already been frozen around the world. Now a shared vision is being developed for a single guiding document that will be signed by all countries where Russian assets have been frozen."
"And then mechanisms will be worked out individually with each country on how to take Russian assets and transfer them to Ukraine," he told Caravanserai.
Some countries have independently begun to develop internal mechanisms for confiscating Russian assets in favor of Ukraine.
The United States last December approved a plan to use certain confiscated Russian assets to aid Ukraine in its war with Russia.
Lawmakers in Estonia have also vowed to develop a mechanism to use frozen Russian assets by the end of January.
"I personally have promoted this idea since March 9, when I appeared before the European Parliament and declared that this is unjust: Russia is destroying Ukraine's infrastructure, and our taxpayers are helping Ukraine," Estonian Prime Minister Kaja Kallas said in an interview with Estonian Radio 4 on January 17.
"Russia should be the one to pay for what has been destroyed."