IRPIN, Ukraine -- Months after being ravaged by Russia's invasion of Ukraine, the Kyiv suburb of Irpin is slowly returning to normal.
Irpin marked the closest Moscow's army came to the capital since the start of the war on February 24, seizing the suburb in the first days of the war.
Ukrainian forces recaptured Irpin at the end of March.
Filled with pine trees and typically calm, Irpin saw more than half of its buildings destroyed by Russian shelling, including 4,000 apartments and 2,000 houses beyond repair, according to authorities.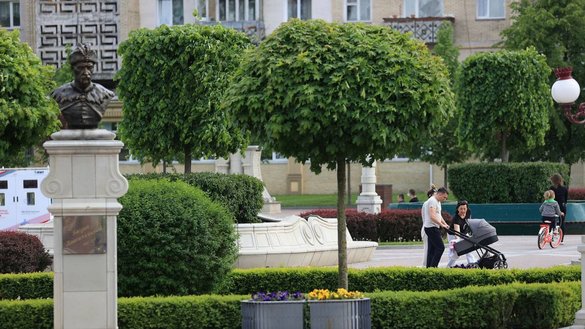 "There are entire micro-districts that were completely incinerated by the large-scale artillery shelling," Volodymyr Karplyuk, the former mayor of Irpin, told Caravanserai.
"On March 28, when we heard the official announcement about the liberation of Irpin ... volunteers started coming here to clean up and clear out the city," said Karplyuk, who is now chairing the city's Investment Council.
Five hundred volunteers a day were coming to help even though the area was still mined at the time, he said.
"Right now water consumption is 50% of the prewar level, so we can say that half of Irpin has already returned," Karplyuk said.
Work is under way to rebuild.
Hiroki Matsuura, an architect and urban planner of Japanese descent living in the Netherlands, this month visited Irpin and pledged to draw up a new master plan for the city.
City officials have been travelling abroad nearly every week for talks on reconstruction aid.
"There are already positive developments. We've gone to France, Belgium and the United States," Karplyuk said. "We've been working with local businesses, the authorities and various foundations."
"We're not giving up. We expect that 80% of the residents will be back by fall," he said, adding, "Moving forward, our challenge is to find funding."
"If we get the resources, it will take two years to rebuild everything," Karplyuk said.
'I want to go home'
Many of those returning to destroyed homes are taking the initiative to rebuild, even as they await assistance.
Yana Antonova and her husband left Russian-occupied Donetsk in eastern Ukraine in 2014 and invested all their money in an apartment in Irpin.
Their building, one of the largest in the city, has been dubbed the "Titanic" by locals.
It was hit hard by the war.
"More than 20 shells hit our building. Twenty apartments were destroyed. Another 100 were severely damaged, with their windows and walls blown out," Antonova said.
"There are 408 apartments in our building. That's about 1,500 residents," she said, adding that it is very dangerous to live in the apartment now.
Seeking to complete repairs before cold weather returns in September, Antonova and other residents have started raising their own funds.
"Of course, everyone is waiting for the end of the war and reparations from Russia. But when will this war end?"
"Other residents and I have already collected about a half-million UAH [about $17,000], but we need 3 million [$102,000]," Antonova said.
Many residents have already repaired windows, installed chimney pipes and patched holes on the roof to keep water from leaking into apartments.
"I don't want to leave the country. I want to go home. I want to live in my own apartment in our building," said Antonova.
Others, whose homes were destroyed, are living in makeshift housing.
An enclosure dubbed "Zalizne mistechko" (Iron City) contains five railway cars that can host up to 25 families in Irpin, the Ukrainian railway company Ukrzaliznytsia told reporters during a presentation of the homes earlier in June.
The carriages come equipped with air conditioning, bathroom facilities and a coffee machine, and residents can connect to a Wi-Fi network provided by US businessman Elon Musk's Starlink service.
A dining car offers residents meals prepared every day by an NGO, and a seventh railway car has been equipped with shower stalls, a changing room and a washing machine.
An open space is dedicated to recreation with small playgrounds for children, a barbecue area, benches, wooden tables and two hammocks.
Businesses return
Businesses are returning to the city.
"About 50% of businesses have also returned to the city," said Karplyuk, the former mayor.
"Of course, if businesses, cafés or restaurants have sustained significant destruction, the public is waiting for state support," he said. "But if there's even the slightest chance that they can open, the majority of private entrepreneurs are doing so."
Anna Mashchenko and her husband used to own two cafés in Irpin where they sold coffee and baked goods.
During the Russian occupation, one of the stores was destroyed by Russian soldiers.
"All the equipment -- the refrigerators, deep freezers, grill -- everything is beyond repair," Mashchenko said. "But we haven't yet asked for any help. Thank goodness our second café wasn't damaged. We're still working there."
The surviving café was the first establishment to open in the city after the withdrawal of the Russian troops.
"My husband came back on April 11. There was no gas or water. By some miracle there was still electricity," Mashchenko said.
"He slept in the café because it was cold in the apartment. He turned on the space heater, took out a cot and decided he'd make tea and coffee for the public."
"The first volunteers would come to charge their phones at the café because there was electricity there," she said.
Mashchenko's husband gave free coffee to the volunteers, Territorial Defence Force and police.
The couple is now working every day, and business is starting to pick up.
"There's no comparison between how things are now and how they were before the war," Mashchenko said. "There's less money coming in, but it's all right -- people are coming back bit by bit."
"We see that every day in the number of people. With every passing day, there are ... new customers."
"I believe that everything will be fine."