KYIV -- With angular welded frames, huge wheels and teeth painted on the front grille, the one-of-a-kind conveyances being built to order for Ukrainian forces on the battlefield resemble props from the "Mad Max" films.
Tough and durable, these buggies are much in demand for their ability to speed over the roughest terrain, carrying weapons and the wounded.
They are needed as Ukraine faces the challenge of transporting its thousands of troops and evacuating the wounded from the battlefield because vehicles on the front line may only last a matter of weeks.
The lightweight vehicles with off-road capability are made by a company set up by Musa, a 29-year-old doctor who asked to use a pseudonym for safety concerns because his family lives in Russian-annexed Crimea.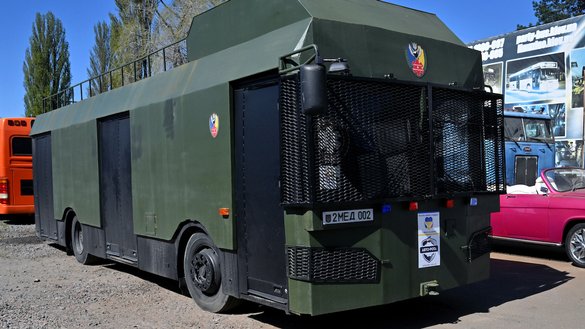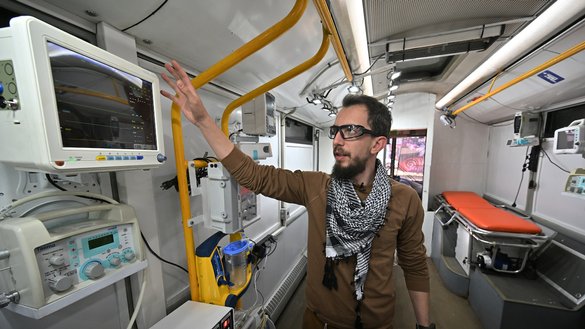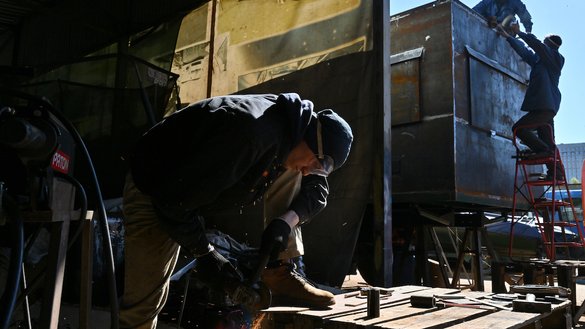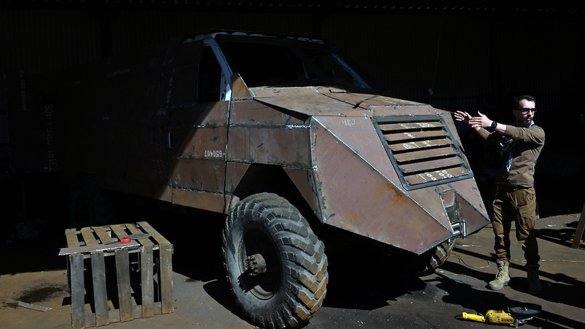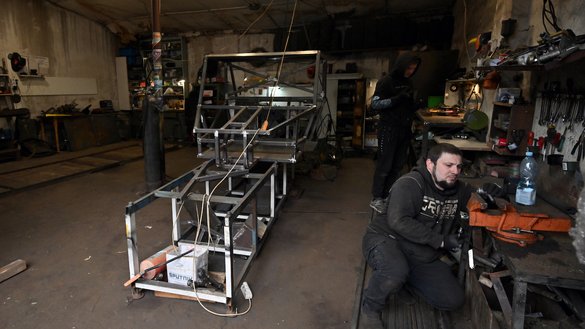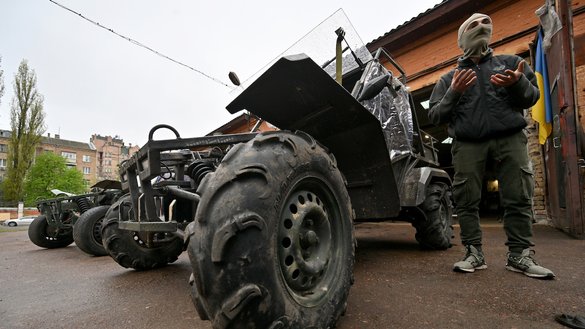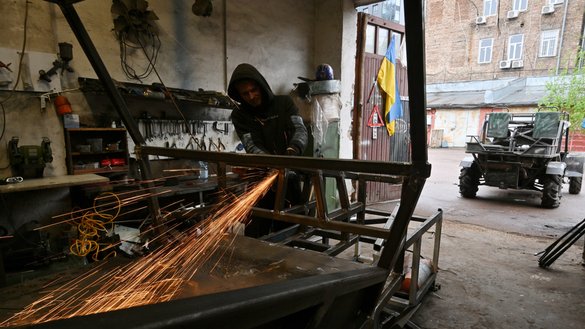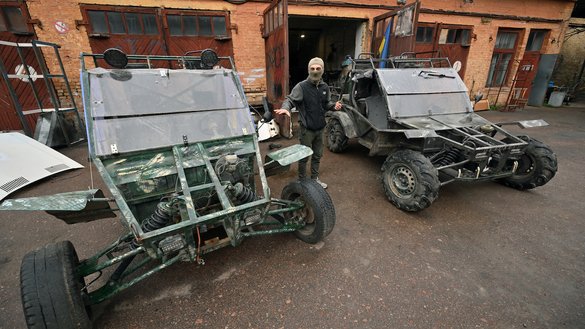 Musa launched the business -- named Dracarys, a nod to the fire-breathing dragons in "Game of Thrones" -- to help supply Ukrainian battalions, who use public donations to buy the vehicles.
At an industrial site in Kyiv, Musa and his team assembled the frame of a buggy from metal pipes. Musa revved up another finished vehicle for a hair-raising ride.
Driven up and down steps, the buggy accelerated powerfully before braking just as it seemed about to crash into a wall.
The buggies weigh 650kg, about half the weight of a normal car, and sell for $6,500 each.
Dracarys has made "a few" of the vehicles since last summer, Musa said.
The buggies are assembled from a hodgepodge of engines and other parts from old secondhand cars, such as Audis and Volkswagens, without complicated electronics, making them easy to repair in the field.
"These cars, there are so many of them in Ukraine, and they're cheap," Musa said.
The buggy he drove has added features such as plastic roll-up side windows to guard against rain and mud and a heater.
Once the finished vehicle is test-driven, it will go to a battalion called Crimea for use in reconnaissance missions.
Musa has given up medicine for now and feels he can help the war effort more through the buggies.
He is a Crimean Tatar, a Muslim group from the peninsula that largely opposed Russia's annexation and has been harshly punished.
Crimean Tatars have suffered collective trauma twice at Russia's hands: in 1944, when Soviet dictator Joseph Stalin deported them to Central Asia; and in 2014, when Russian President Vladimir Putin illegally seized Crimea from Ukraine.
'Frankenstein vehicle'
In another workshop in Kyiv's outskirts, a different group of mechanics are at work for the war effort -- assembling armoured vehicles for medical use.
The project is spearheaded by Romanian volunteer Radu Hossu, who raised funds among Romanians and Moldovans via his Facebook page, to provide transportation for a medical battalion in the war-hit eastern Donetsk region.
Hossu hopes it will then be reproduced more widely.
His team is creating a complex of different-use vehicles to work in tandem, costing around $165,000.
They include a hybrid of a Ford truck and a Soviet Gaz chassis that will become an extraction vehicle to remove wounded soldiers from frontline areas even under fire.
It will be heavily armoured, with huge wheels.
"This is basically a Frankenstein vehicle -- it doesn't exist on the planet," Hossu said.
A Polish bus has been rebuilt as a mobile hospital where medics can immediately do complex operations.
A former food truck is being converted into a medics' sleep and wash area.
And a towable boat will be able to evacuate the wounded by water.
Hossu, a former political consultant, has named the project after Oleg Gubal, a Ukrainian soldier who died en route to hospital.
He knew Gubal personally and wants to prevent other families from experiencing such grief.
"If something like this would have existed... I'm not saying Oleg would be alive, but it would have been a chance for him to survive," Hossu said.
Ukrainian ingenuity
For months, Ukrainian forces have put their creativity to work to address shortages they encounter.
"There is probably no better example of this than their conversion of pickup trucks and SUVs [sport utility vehicles] into militarised vehicles known as 'technicals'," Business Insider reported in September.
These "technicals" are often distinguished by a heavy machine gun mounted on the back of a civilian truck and have been used on the ground in a variety of ways.
"Technicals are relatively easy to make and don't require specialised training to operate," the report added.
Bits and pieces of wrecked armoured vehicles have been fused with antiquated weapons and even pickup trucks, Forbes reported December 19.
"The result is a dizzying array of improvised armour, rocket-launchers and air-defence systems," all indicative of Ukrainian ingenuity, it said.
"Militias in Syria and Iraq, with their tractor-tanks and steel-encased trucks might be the modern champions of do-it-yourself armour, but the Ukrainians offer stiff competition," it added.