KYIV -- Oksana Leontiyeva, a 36-year-old hematologist, dropped off her five-year-old son Grisha at kindergarten and then was headed to work when a Russian missile hit her car at an intersection in downtown Kyiv, killing her on October 10.
Grisha, whose father died of an illness before the February 2022 Russian invasion of Ukraine, is now being raised by his grandparents.
Russia's invasion has brought staggering destruction and suffering to Ukrainians, and for children that has meant losing loved ones, being ripped from schools or homes and exposure to horror.
"At first we told him that his mom was at work, that there were problems there. Then we said that she was in heaven and had become an angel ... it's hard for a child to understand," Grisha's grandfather Grigory Leontiyev, who lives in Kyiv, told Caravanserai.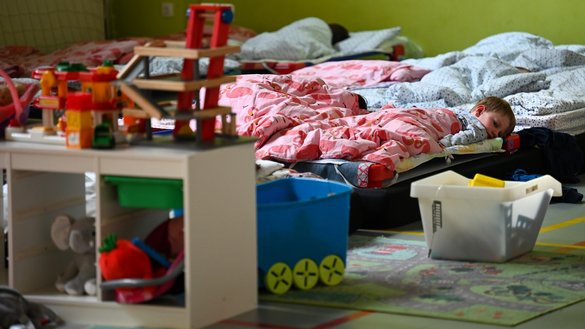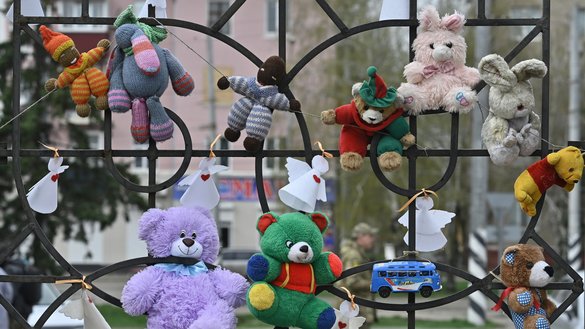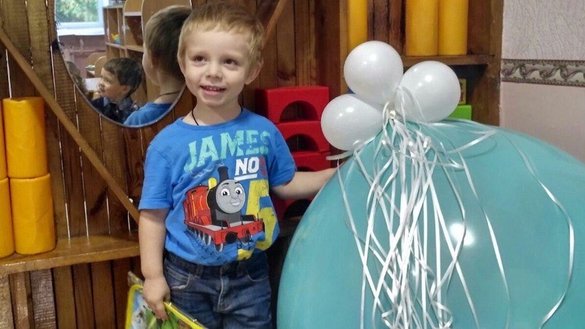 "When my daughter was killed and we were left alone with him ... it was hard," Leontiyev said.
Grisha feared being alone in the days after his mom's death, he said.
"Several days after our daughter's death, we all went to her apartment," he recalled. "He said, 'You won't leave, will you? You won't leave me here alone?"
Now Leontiyev and his wife, who are in their 60s, mainly fear that they will not live long enough to raise their grandson and that he will be left a complete orphan.
"A child is a child. He has no concept of forever. Once he asked, will the war end? I said, it will end! And Ukraine will win? Of course it will win! The soldiers will return home? I said, of course they will return."
"And he asked, will mom come back too? ... I don't know how to answer that question."
Meanwhile, the Russian war on Ukrainian children continues.
In the latest atrocity, a missile strike on Kyiv Thursday (June 1) killed two adults and a child.
'Enemy of children'
"War is always the worst enemy of children," tweeted United Nations Children's Fund (UNICEF) Executive Director Catherine Russell in April.
"Every child, no matter they live, deserves to grow up in a peaceful environment. No child should experience a childhood scarred by violence and fear," she wrote.
More than 500 children have been killed since the invasion, according to UN statistics.
Injuries, Russian missile strikes, schooling in bomb shelters and separation from parents and relatives all affect children's psychological state, say analysts.
"All children in Ukraine live with shelling ... The latest night attacks on the capital are simply terrorism," said Lyudmila Romanenko, a psychologist with the Centre for Psychosocial Rehabilitation of NaUKMA (National University of Kyiv-Mohyla Academy) and Voices of Children, a charity.
Before the full-scale invasion, Romanenko lived in Luhansk province and worked with children living at the so-called "line of contact" with temporarily occupied territories.
The psychological symptoms of trauma that were typical for children in the east are now observed in all Ukrainian children regardless of where they live, she told Caravanserai.
"If you consider small children, you see even more fears. For example, if children slept separately before the war, now they all have returned to their parents' bed."
"The fears escalate, and there is a regression," said Romanenko.
Illegal deportation
The situation is even worse for Ukrainian children who have been illegally taken to Russia.
Ukrainian authorities have identified 19,484 children who were illegally deported to Russia as of May, but some say there are as many as 200,000-300,000.
Russians illegally adopt the children, who often have living parents in Ukraine. They also face physical and psychological violence for expressing pro-Ukrainian opinions.
"Our children have said that the Russians punish and even beat children," said Olha Yerokhina, a spokeswoman for Save Ukraine, a charity that helps bring Ukrainian children back from Russia.
Since the start of the invasion, the charity has managed to return 109 children to their homeland.
"A girl from Ukraine put on a T-shirt with a logo that had a small flag of Ukraine. Her Russian minder told her to remove the T-shirt. She had a tank top underneath. She took off the T-shirt. Then he said she needed to cut it into pieces because he wanted to film it for Russian propaganda," she told Caravanserai.
When the girl refused, the minder said Russian soldiers would go to her mother in Kherson. They also threatened to lock up the child in an isolation cell.
"After this intimidating behavior, the Russian minder cut up the T-shirt himself and filmed it," said Yerokhina.
The illegal removals have since continued, according to Yerokhina, pointing to the recent deportation of 660 children from Berdyansk to Russia.
"Unfortunately, we can't do anything while these territories are occupied by Russian troops," she said.