China has been viewed as a strategic threat by a number of countries for years, but recently the implications of Beijing's actions around the world have expanded significantly the degree of alarm.
From remote Himalayan valleys to small tropical islands, an increasingly assertive Chinese regime is embracing conflicts like never before.
The confrontations are seen as part of President Xi Jinping's nationalist drive to return a once-weak China to its purportedly rightful place of dominance in the world and to shed a past of discreet diplomacy.
"There is a sense that the time has come for China to claim its spot under the sun," said Steve Tsang, director of the China Institute at the School of Oriental and African Studies in London.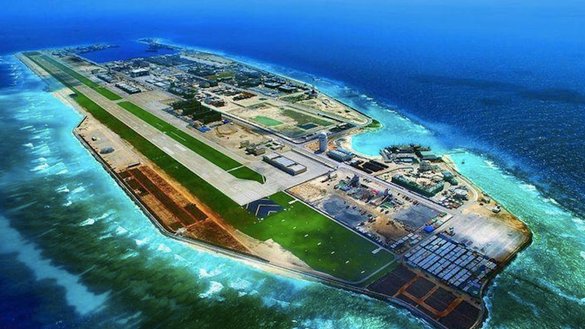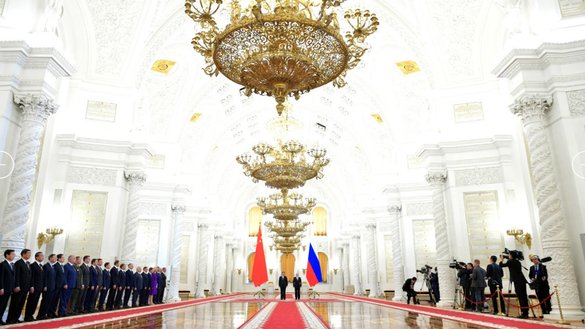 That means meeting the call by Xi to "unsheathe the sword", he said.
Territorial rows
"From India to Japan... to Australia to Canada, the Chinese have been bullying their way around the world," Hong Kong's last British governor, Chris Patten, told an online discussion organised by British lawmakers on July 8.
"What's happened in Hong Kong is just part of a broader series of actions taken by the Chinese Communist Party taking advantage of the fact that we're all of us focused very much on dealing with the coronavirus," he said, referring to China's imposition of a controversial security law in Hong Kong, which effectively ended the city's cherished autonomy and democracy traditions.
In Central Asia, the region is undergoing a geopolitical transition in which the Russian and Chinese regimes are vying for influence.
Beijing has been ramping up military co-operation with Central Asian states, much to the worry of Moscow.
Chinese military officials regularly meet with defence ministers from Kazakhstan, Tajikistan and Kyrgyzstan, and Beijing's aid to the region takes a variety of forms. Turkmenistan, for instance, receives air defence systems, drones and light armoured vehicles from China. Kazakhstan and Uzbekistan receive combat drones from China as well as technical assistance to their armed forces.
Beijing is paying special attention to military co-operation with Tajikistan, which borders both China and Afghanistan and shares a longer border with Afghanistan than does any other country.
In the South China Sea, Beijing, at the expense of other nations' territorial claims, has been building artificial islands and establishing a heavy military presence in a brazen pursuit of resources.
"We stand with the international community in defence of freedom of the seas and respect for sovereignty and reject any push to impose 'might makes right' in the South China Sea or the wider region," US Secretary of State Mike Pompeo said on July 13.
Beijing has constructed a series of ports along the Indian Ocean, creating a necklace of refuelling and resupply stations from the South China Sea to the Suez Canal. Ostensibly commercial in nature, the ports would allow its rapidly growing navy to expand its reach.
Beijing is leveraging its financial dominance over countries to exact military use for strategic areas and ports, particularly in Gwadar, Pakistan, and Jask, Iran.
Malign foreign influence
The Chinese regime is engaged in a highly sophisticated malign foreign influence campaign, and its methods include bribery, disinformation campaigns, blackmail and covert deals.
While Twitter, YouTube, Google and Facebook are banned in China, which uses a "Great Firewall" to restrict access to news and information, Chinese diplomats and state media hypocritically take advantage of openness abroad and have flocked to such platforms in recent years to push Beijing's narrative.
Coronavirus disinformation spread by Russian and Chinese journalists is finding a bigger audience on social media than does content created by premier news outlets around the world, the Oxford Internet Institute said in a report published June 29.
Twitter on June 12 said it had deleted more than 170,000 accounts linked to Chinese government disinformation campaigns.
The European Union (EU) on June 10 released a report charging that the Chinese and Russian regimes have sought to undermine European democracy and burnish their own reputations during the COVID-19 coronavirus pandemic with "targeted influence operations and disinformation campaigns".
Chinese-backed hackers are attempting to steal research and intellectual property related to treatments and vaccines for COVID-19, the US Federal Bureau of Investigation (FBI) and the US Cybersecurity and Infrastructure Security Agency (CISA) warned in May.
Intellectual property theft, espionage
To achieve its goal of becoming a superpower, Bejing recognises the need to make leaps in cutting-edge technologies.
But rather than engage in the hard slog of innovation, it often steals intellectual property and then uses it to compete against the very companies it victimises.
"In effect, cheating twice over," said Christopher Wray, director of the FBI, adding that Beijing is targeting research on everything from military equipment to wind turbines to rice and corn seeds.
"The Chinese government is engaged in a broad, diverse campaign of theft and malign influence, and it can execute that campaign with authoritarian efficiency," he said when he spoke at the Hudson Institute on July 7. "They're calculating. They're persistent. They're patient. And they're not subject to the righteous constraints of an open, democratic society or the rule of law."
"China, as led by the Chinese Communist Party, is going to continue to try to misappropriate our ideas, influence our policymakers, manipulate our public opinion and steal our data," Wray said. "They will use an all-tools and all-sectors approach -- and that demands our own all-tools and all-sectors approach in response."
"Through its talent recruitment programmes, like the so-called Thousand Talents Programme, the Chinese government tries to entice scientists to secretly bring our knowledge and innovation back to China -- even if that means stealing proprietary information or violating export controls and conflict-of-interest rules," he said.
"The Chinese government is also making liberal use of hacking to steal corporate and personal data -- and they're using both military and non-state hackers to do it."
Human rights abuses
The Chinese regime's programme to "unsheathe the sword" includes worrisome human rights abuses at home as well.
Chinese authorities have rounded up more than one million Uighurs and other Muslim minorities in Xinjiang and locked them up in re-education camps as part of a vast brainwashing campaign. Evidence points to a systematic sterilisation of women.
US Secretary of State Mike Pompeo in a conference call with reporters July 9 called the situation "the stain of the century" and condemned "horrific and systematic abuses" in Xinjiang including forced labour, mass detention and involuntary birth control.
Exiled Uighurs on July 7 urged the International Criminal Court (ICC) to investigate the Chinese regime for genocide and crimes against humanity, filing a huge dossier of evidence with the The Hague-based court to back their case.
Beijing meanwhile undermines the freedom of thought of those under its control.
Chinese authorities in Hong Kong, for instance, have ordered schools to remove books for review under the new security law, which has criminalised certain opinions such as calls for independence or autonomy.
Libraries in the financial hub said they were pulling titles written by a handful of pro-democracy activists, a move the United States called "Orwellian", in reference to George Orwell's book 1984, which focuses on the consequences of government over-reach, totalitarianism, mass surveillance and repressive regimentation of all persons and behaviours within society.