With global competition to find a proven and effective COVID-19 vaccine intensifying, the Russian regime is amping up its rhetoric around its own candidate vaccine, dubbed "Sputnik V".
It seems it is not enough to be the "first" to enter the race, as Russian President Vladimir Putin claimed on August 11.
The Kremlin now has gone on the offensive, especially as doubts are increasing over Sputnik V.
Moscow's campaign to promote its vaccine has been heavy on patriotism and dismisses any criticism -- especially claims that the Kremlin is cutting corners on safety -- as anti-Russian smears.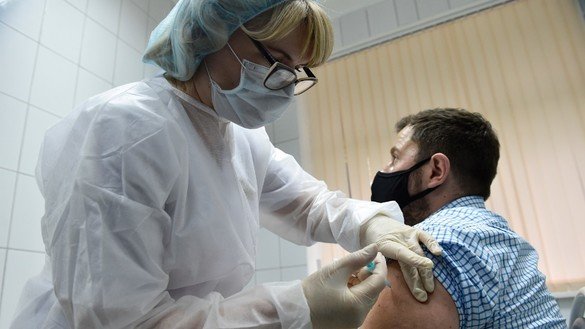 It takes a page from Putin's disinformation playbook, attempting to cast doubt on other COVID-19 candidate vaccines with unsupported claims, such as that Western scientific approaches to finding a vaccine are less effective and riskier and that Western "research is lagging".
A promotional video that was part of the initial publicity for the vaccine shows Sputnik V as a luminous orb, wiping out the disease as it circles the coronavirus-infected Earth.
"It's part of the Russian mentality to save the world," Kirill Dmitriev, CEO of the Russian Direct Investment Fund, which bankrolled the country's vaccination effort, said in an interview with the Guardian published September 30.
Dmitriev dismissed allegations from British security officials that Russian hackers had stolen secrets from medical institutions in the West, calling them a "concerted effort to tarnish the Russian vaccine for political reasons".
"We're absolutely confident that the Russian intelligence agencies" were behind the hacking of labs conducting coronavirus research, British Foreign Secretary Dominic Raab said July 19, branding the behaviour "outrageous and reprehensible".
When Oxford University and British pharmaceutical firm AstraZeneca briefly paused their vaccine trials in early September because of an unexplained illness in a trial participant, Kremlin propagandists seized the opportunity to criticise.
"The suspension of [trials] clearly showed the fallacy of the approach when entire countries exclusively rely on novel and untested platforms in choosing a vaccine," Dmitriev said in a statement September 12.
Serious doubts
With more than 100 COVID-19 candidate vaccines under development and at least 10 undergoing Phase 3 human trials, the Kremlin is facing major competition.
For its own part, the Chinese regime is going full steam ahead on its coronavirus vaccination campaign -- giving unproven drugs to tens of thousands of Chinese outside the traditional testing process.
Russian researchers published their Phase 1/2 trial findings September 4 in the Lancet medical journal, meaning their research had undergone peer review.
The vaccine had proven to be "safe and well-tolerated" among a few dozen volunteers, said the article.
However, members of the global medical and science community are still raising questions about the safety and efficacy of the Russian vaccine.
An open letter signed September 7 by more than 30 specialists from 12 countries casts doubt on the findings, pointing toward "potential data inconsistencies".
The researchers identified what they said appeared to be a number of duplications in figures presented and concluded that the data within the study were "highly unlikely" to be correct.
The Russian vaccine may even be more dangerous than the disease it was trying to counter, a number of health scientists and medical analysts suggested in August.
"I have little faith in the pronouncements of the Russian authorities that they already have a vaccine ready for use," said Asel Saliyeva, a doctor who specialises in treating COVID-19 at a hospital in Kazakhstan, back in August.
"During the testing process, a vaccine can seem safe early on, but the consequences can appear much later," she said. "You can't risk the health of millions, even when the risk seems justified."
"The creators of the Russian vaccine themselves don't know how long the vaccine works because they didn't conduct any long-term, large-scale clinical studies," said Bolot Kalmyrzayev, a molecular geneticist at the American University of Central Asia in Kyrgyzstan, at the time.
Russian cosmonauts preparing to blast off for the International Space Station (ISS) said on September 24 it was too early to get the coronavirus vaccine touted by Putin.
"I'd personally say that I would not get vaccinated because I tread very carefully on this issue," Sergei Ryzhikov, 46, leader of the three-member crew that reached the ISS on October 14, told AFP.
"As soon as the vaccine is tried and tested and proves its reliability, then a decision will be taken to recommend that cosmonauts get vaccinated," said fellow cosmonaut, 37-year-old Sergei Kud-Sverchkov.
Such widespread doubt has hampered the Kremlin's efforts to make the Sputnik V vaccine a crowning glory for the country.
Putin seeking political boon
While the Kremlin clearly has one eye on achieving global prestige, producing a successful vaccine will be welcome at home, where Putin's popularity is sharply waning.
Putin is also beset with fears stemming from the frozen conflicts dating back to Soviet times that are erupting in the countries around Russia.
The Kremlin appears to have no answers for the political crises in Belarus and Kyrgyzstan, and the escalating Nagorno-Karabakh conflict.
The Kremlin's claims that its scientists discovered the much coveted vaccine represent Putin's latest political stunt, observers say.
"This is not a gentlemanly stroll in the park by a bunch of people who all agree that there's some common public good we all need to strive for," J. Stephen Morrison, director of the Centre on Global Health Policy at the Centre for Strategic and International Studies in Washington, told the Washington Post.
"This has become a geopolitical race, and it's one that's seen as tied to domestic stability and support amid lots of adversity," he said.
Dmitriev's verbal jabs at rival candidate vaccines are in bad taste, Morrison said.
"Trying to bad-mouth other competitors' vaccines seems like a little bit of rowdy behaviour," he said.
The Russian regime, which is governing a worsening domestic economy, has an additional motivation in which to push the vaccine through rushed testing trials: profit.
Vaccine trial 'volunteers'
Sputnik V has been offered to teachers and front-line healthcare workers in Russia, although the Health Ministry has declined to say how many have volunteered to receive the vaccine so far.
Leonid Perlov, a 66-year-old geography teacher in Moscow, said he was offered the potential vaccine but declined because it "has not passed all of the necessary stages of testing".
Among his colleagues, he noted a divide.
"The biology teachers are not in a hurry to get vaccinated," Perlov told the Washington Post. "But the history teachers are the ones who are ready to volunteer."
However, there are signs that not everyone is participating voluntarily.
One employee of a Moscow government department described pressure at work to sign up, the Guardian reported.
"It was made clear that we had to sign up online for the trial," the employee said. "When they called to tell me to come for an appointment, I had to make up an excuse."
A Russian journalist who volunteered for the vaccine reported that when she arrived at the vaccination point, a man was complaining he had been forced to attend.
Sputnik V initially was tested on a few dozen "volunteers" from the Russian military.