Belarus, at the bidding of close ally Russia, is using thousands of desperate migrants from the Middle East, Afghanistan and Africa as pawns in a geopolitical game to create pressure on the European Union (EU) to drop sanctions.
Polish Prime Minister Mateusz Morawiecki Tuesday (November 9) accused Russian leader Vladimir Putin of orchestrating an unprecedented wave of migrants trying to illegally enter Poland from Belarus.
The move, which has trapped hundreds of migrants at the Poland-Belarus border, threatens to destabilise the EU, he said.
"This attack which [Belarusian President Alyaksandr] Lukashenka is conducting has its mastermind in Moscow; the mastermind is President Putin," Morawiecki told an emergency session of the Polish parliament.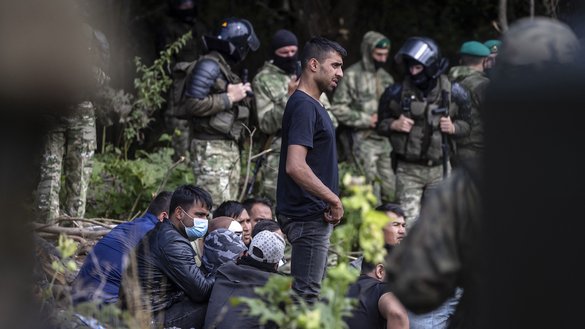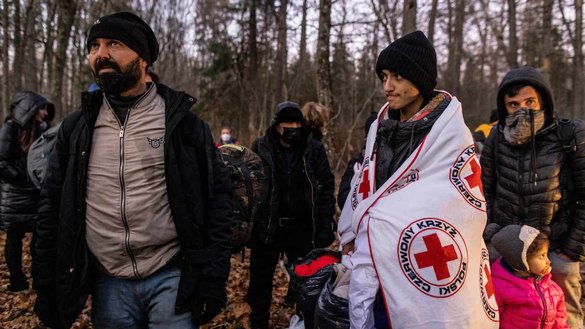 Critics have for months said Lukashenka is luring migrants from the Middle East to his country to send them across the border in retaliation for EU sanctions.
Belarus denies the claim and accuses Poland of violating human rights by refusing to allow the migrants in.
The tense situation has raised fears of a confrontation on the border, where troops from both countries are deployed.
Polish police said Wednesday they had detained more than 50 migrants who crossed into Poland from Belarus over the last 24 hours, and were still looking for others, as Warsaw signaled a spike in crossings.
Instigating border breaches
Poland on Monday said it had repelled an attempt by hundreds of migrants to illegally cross the border from Belarus but that thousands more were on the way.
Polish border guards tweeted video footage showing migrants using wire cutters and branches to breach a border fence.
"The situation is not calm," Polish Defence Minister Mariusz Blaszczak told Polish Radio on Wednesday, adding that smaller groups of migrants were now attempting to breach the border of the EU and NATO member.
The defence ministry also alleged that Belarusian officials were using intimidation to force migrants to breach the border.
Poland's defence ministry on Wednesday posted two video clips on social media capturing a shot allegedly fired on the Belarusian side of the border by an armed man in uniform.
Polish government spokesman Piotr Muller said 3,000 to 4,000 migrants were near the border, and blamed "people linked to Belarusian special services" for organising the Monday breach.
The United States called on Minsk to stop what it described as an orchestrated influx of migrants, while the EU called for fresh sanctions against the regime.
NATO accused Minsk of using the migrants as political pawns.
'Political pawns'
NATO denounced Belarus's use of migrants to put pressure on the EU as "unacceptable", expressing concern about "escalation" on the border.
European Commission (EC) President Ursula von der Leyen on Monday called on member states to impose new sanctions against Belarus. The EC is the EU's executive branch.
The use "of migrants for political purposes is unacceptable", she said in a statement. Brussels would also review how to sanction "third-country airlines" that brought migrants to Belarus, she added.
Minsk has reportedly issued special visas allowing migrants to fly into Belarus from Iraq and other Middle Eastern countries. They then make their way to the Belarusian-Polish border.
Migrants massed on the border zone include 32 Afghans who have been trapped there since August, with neither country taking them in, according to Amnesty International and other rights advocates.
The US State Department called on the regime in Belarus to "immediately halt its campaign of orchestrating and coercing irregular migrant flows across its borders into Europe".
Caught in the middle, migrants often report being forced to cross the border by Belarusian officials, then being pushed back into Belarusian territory by Polish authorities.
At least 10 migrants have died in the region, seven of them on the Polish side of the border, according to the Polish daily Gazeta Wyborcza.
Shadow of the Kremlin
Lukashenka Tuesday said he did not want an armed confrontation but "will not kneel" in a stand-off over migrants on the border with Poland.
"We are not seeking a fight," he said, warning that any conflict would draw in Belarus's ally Russia.
Belarusian Foreign Minister Vladimir Makei on Wednesday said Minsk was seeking a "joint response" to the crisis with Russia and was hoping for "mutual support".
Putin is the primary backer of Lukashenka, who is increasingly isolated after orchestrating a brutal crackdown on the opposition last year in the wake of elections the opposition said were rigged.
In May, a Belarusian fighter jet forced a foreign civilian airliner to land in Minsk so that Lukashenka's regime could kidnap a Belarusian dissident on board.
Belarus occupies a central place in Russian strategic thinking, perhaps more so than any other neighbour except Ukraine. It is key to what Moscow considers its "strategic depth".
The dictatorship in Minsk is Russia's only pro-Kremlin neighbour between the Baltic and Black seas. The others -- Estonia, Latvia, Lithuania and Ukraine -- are all hostile to Putin's regime.
The Kremlin's relationship with Europe has worsened since Russian forces annexed Crimea from Ukraine in 2014, and tensions are exacerbated by allegations of election meddling and spying.
European leaders sharply condemned the poisoning of leading Kremlin critic Alexei Navalny in Siberia in August 2020, saying they could respond with further sanctions on Moscow.
Navalny recovered from the near-fatal poisoning but was sentenced to 32 months in prison on dubious charges in February.