TASHKENT -- Uzbek authorities are cracking down on members of Hizb ut-Tahrir (HT), a group that the Uzbek Supreme Court banned in 2016 but has been especially active in recent months.
A number of countries besides Uzbekistan have also banned HT -- Russia, Germany, Turkey, Pakistan, Tajikistan and the majority of Arab countries -- all pointing to its calls for a global "caliphate".
Uzbek news reports recounting the arrests of members of HT have become more common in recent months, as have references to Makhmudjon Kholdarov, the ideological leader of HT (also known as Makhmud Abdulmumin).
In one recent incident, authorities broke up a network of Kholdarov's followers that operated in all five Uzbek provinces, the Interior Ministry (MVD) said in a July 27 statement.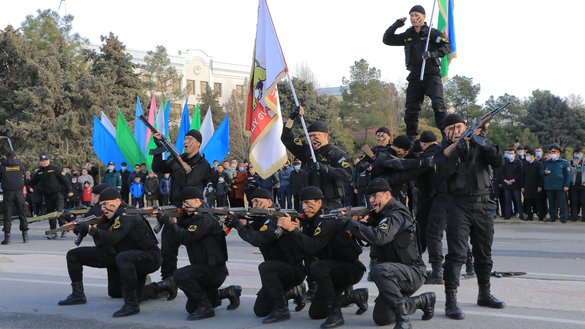 They arrested eight male suspects between the ages of 22 and 51 who were part of the Gariblikdan Azizlik Sari (From Poverty to Honour) online group. Authorities have opened a criminal case, the ministry said.
Kholdarov, a native of Kyrgyzstan, in 2020 created From Poverty to Honour on the messaging app Telegram. He also started various channels on YouTube in 2019 and 2020.
On his public pages, Kholdarov read sermons and criticised the Uzbek government's religious policies.
He "issued orders to organise political revolutions and mass protests in Uzbekistan", according to Uzbek security services.
Kholdarov is in hiding in Poland, says the MVD.
"After completing his prison sentence in Belovodsk, Kyrgyzstan, he left that country in 2006," a Bishkek-based analyst told Caravanserai on condition of anonymity, referring to a year-long sentence that Kholdarov served after being convicted of extremism.
"Kholdarov is now leading the [HT] network in Uzbekistan, Kyrgyzstan and Tajikistan," the analyst said.
Kholdarov was one of the first extremists to grasp the internet's ability to spread propaganda.
"There's no Islam there," the Bishkek analyst said of Decision in Islam, one of Kholdarov's YouTube channels. "It's all blatant propaganda. On top of that, he has several Telegram and WhatsApp channels."
"He has direct ties to another Kyrgyz native: Abu Saloh, the commander of a terrorist organisation that's fighting in Syria," the Bishkek analyst said.
2 groups arrested
The MVD earlier announced on July 5 that it had arrested a second group of Kholdarov followers in the capital -- young Tashkent residents.
One of the detainees, whose name has not been released, recruited more than 10 friends, acquaintances and classmates to the virtual Telegram groups Choikhona (Teahouse) and Iimonlashailik (Faith First), said the MVD.
Group members disseminated audio, video and other materials containing extremist content and promoting HT activities.
"The [HT] ideologues drew up a 'caliphate constitution that has 187 articles. The intensification of their activities arises partly from ... the revival of extremist groups all over the world but especially in the Middle East," Ravshan Nazarov, a scholar of Uzbek history, told Caravanserai.
Islam's influence among the Uzbek population is only growing, said Ulugbek Khaidarov, an Uzbek-born blogger who lives in Canada.
Although trying to promote secular values, the state is losing to activists and preachers. No one dares to argue with them, and religious Uzbeks denounce or even crudely insult atheism, according to Khaidarov.
"Islamic preachers ... are expanding their sphere of influence. What's worst of all is that radical Islamists are also involved in this," Khaidarov told Caravanserai.
"That means that in the battle between secular and religious ideologies, the religious ones are winning," he added.