BISHKEK -- The governments of Kyrgyzstan and Tajikistan have granted mining concessions to Chinese companies to extract domestic gold deposits, but local residents, activists and analysts fear they have made a big mistake.
Kyrgyz President Sadyr Japarov authorised the Chinese company Zhong Ji to resume mining the Solton-Sary gold deposit in Naryn province, Erbol Sultanbayev, spokesman for Japarov, revealed on August 18, following three years of closure.
Japarov visited the mine and listened to local residents' concerns about its negative environmental impact, Sultanbayev said.
For 11 years, Solton-Sary residents have protested the arrival of Chinese companies in their district, concerned about the environmental impact.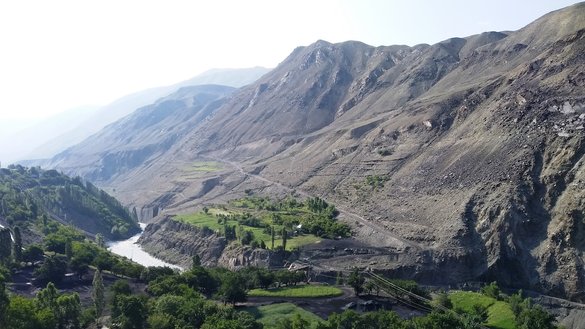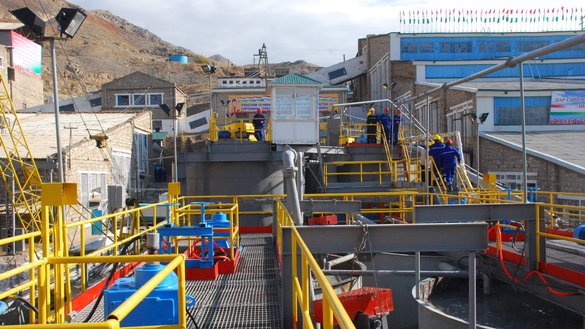 "We don't need these Chinese. All our lives we have lived by raising livestock and will continue to do so, but they come and dig up our lands, mine our gold and ruin the environment," a local community member shouted during a protest in November 2019. "The livestock die, and children fall ill!"
On that occasion, a crowd gathered at the base of the mountain, ready to chase away Zhong Ji's Chinese employees, Kloop.kg reported.
In August 2019, the unrest in Solton-Sary was so severe that the Kyrgyz government suspended Zhong Ji's operation there, Reuters reported.
Residents complained about the mass die-off of their animals, attributing it to the pollution of streams flowing from the Chinese company's mining site. Earlier that year, Zhong Ji was forced to compensate farmers for the damage, 24.kg reported in July 2019.
However, even before that uproar, the State Environmental Safety Inspectorate (Gosekotekhinspektsiya) identified 83 violations in Zhong Ji's operations and fined the company 448,000 KGS (approximately $7,000 at the time).
Several fights broke out between local residents and Zhong Ji employees in 2019.
One year later in October, scandal centred around another Chinese company, Full Gold Mining, which was mining gold at the Ishtamberdy deposit in Jalal-Abad province. Safety violations triggered a large fire at the mine.
Gosekotekhinspektsiya has repeatedly fined Full Gold Mining for gross violations of environmental requirements, in particular, improper handling of hazardous chemical waste.
Additionally, citing local residents, London-based environmental news website The Third Pole reported in February 2021 that Full Gold Mining destroyed 71 hectares of forest to extract 24kg of gold.
"No one even thought to restore the lost vegetation. The local population is dissatisfied with such an attitude towards nature. This dangerous activity must be stopped," a resident of a village in Chatkal district told The Third Pole.
China faces constant public opposition in the countries where it extracts resources, said Baktygul Stakeyeva, an environmental engineer with MoveGreen, a Bishkek-based youth environmental movement.
"Certainly, the distrust that people in many countries have towards the Chinese is justified, including because of the disregard for nature and the environmental violations," she said.
There are also economic consequences of co-operating with China.
Beijing does not compensate for its harmful activities, even by stimulating the local economy, said Bishkek-based economist Elmira Suranchiyeva.
"Chinese companies bring in their own employees and don't create jobs in the districts where they operate, where the standard of living is usually low," she said. "This is not the best way to deal with Sinophobia."
Tajikistan: environmental impact, loss of deposits, land
In April, Tajik President Emomali Rahmon commissioned the Talco Gold mining and processing company and laid the cornerstone for a new metallurgical plant and gold refining enterprise in Ayni district in western Tajikistan.
Talco Gold, a Tajik-Chinese joint venture, will develop the gold mine, whose proven reserves alone exceed 50 tonnes. The mine will also produce antimony.
In Tajikistan, almost all gold (84%) is mined by Tajik-Chinese joint enterprises. Gold production is increasing by more than 25% annually, worrying geologists who share alarming predictions that the Chinese will exhaust Tajik gold mines in 30 years.
But Tajikistan already has much more pressing problems today.
China actively finances various projects in Tajikistan and in return receives mining concessions, as happened with the Upper Kumarg and East Duoba gold mines in Ayni district.
Dushanbe gave them to Beijing to repay a $332 million debt.
What is more, Chinese enterprises have caused increasing environmental problems in Tajikistan, but as in Kyrgyzstan, they seem not to make any effort to reduce the damage.
Residents of Panjakent district in northern Tajikistan, home to Zarafshon, a Tajik-Chinese joint gold mining venture, told Fergana News in May 2020 that the company's atmospheric emissions harm fruit trees in local orchards: unripe fruit rots and falls to the ground, and melons are now difficult to grow in the area.
"Zarafshon dumps tailings and industrial waste near the villages of Bedak and Khumgaron," the report said. "The unpleasant odour they emanate is a constant nuisance to locals. But the company's management does not properly focus on protecting the environment, does not compensate the state or the public for the harm caused to them, and does not set aside funds to improve local infrastructure."
"There is only Chinese companies' great desire to move dirty production out of China," Tajik economist Azam Murtazayev told Fergana News.
Tajikistan may be repaying China with more than just mines, recent media reports indicate.
Dushanbe transferred about 1,100 sq km of land to Beijing in 2011 to settle a territorial dispute, the Your.tj news site recalled last year, citing official statistics.
In 2017, Tajikistan's territory shrank by another 600 sq km. The report did not specify which neighbour received this large plot of land, but analysts say it is no secret.