KYIV -- Wagner Group mercenaries are using untrained prisoners -- including some infected with human immunodeficiency virus (HIV) and other pathogens -- as "bait" on the front lines, say Ukrainian forces fighting in Bakhmut.
The eastern Ukraine town, which has little strategic value, has been under attack for months by Russian forces, who are mostly on the defensive in other regions across the country.
A driving force behind the offensive is the Wagner mercenary group, a private military company (PMC) with ties to the Kremlin, say war observers and Ukrainian troops.
The shadowy force was founded by St. Petersburg businessman Yevgeny Prigozhin, a close ally of Russian President Vladimir Putin.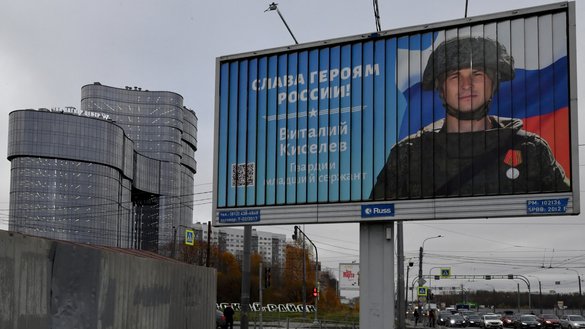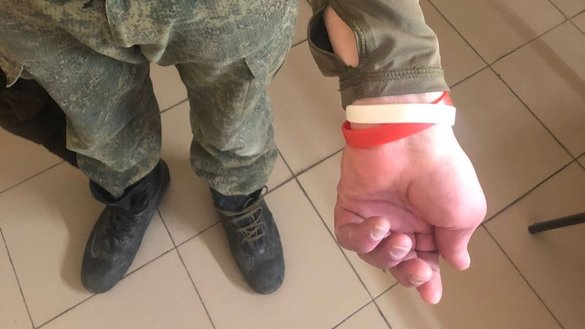 The 61-year-old has taken an increasingly prominent role in Russia's invasion of Ukraine -- leading some to question if he might harbour personal political ambitions.
Ukrainian officials say Prigozhin has been sending thousands of mercenaries recruited in Russian prisons to the front line, with the promise of a salary and amnesty.
Several Ukrainian soldiers in Bakhmut told AFP these alleged ex-convicts are used as a type of "human bait".
"It starts at around 6.00pm, when it's getting dark," said Anton, a 50-year-old Ukrainian soldier from the 93th brigade who was resting after an injury.
"These soldiers -- with no experience -- are sent towards our guns and stay there for a few minutes," said Anton, estimating that seven or eight were sent every night.
"Their job is to advance towards us, forcing us to fire on them, to reveal our positions," said Sergiy, a major in the 53rd brigade.
"After that, they fire artillery or send more experienced commandos towards our positions."
Most of these fighters -- dubbed "disposable soldiers" by the Ukrainians -- are killed, they said. Some are wounded and captured.
'Cannon fodder'
The change in tactics has surprised Ukrainian forces. Wagner mercenaries were previously known for being better trained and equipped than regular Russian forces.
"It's a widespread phenomenon for Wagnerites to simply walk into bullets and die," said Irina Rybakova, a spokeswoman with the 93rd brigade, using a term for members of the group.
"I think they are on something. Our guys said that they are under the influence of drugs of some sort," she told Caravanserai.
Wagner mercenaries previously were well equipped with GM-94 grenade launchers or the latest modified machine guns, as well as other more modern and expensive equipment, Rybakova said.
But now everything has changed. It is not only the weapons and professional skills that have changed, she said, but also how the mercenaries are used in battle.
"We are accustomed to Wagner as an elite company. It always had highly trained men. They handled weapons well and performed some particularly difficult tasks," she said. "But now we're seeing that they are just ordinary convicts."
"They get taken there, fight for a few days, and are either captured or killed. They are used as cannon fodder."
"From intercepted conversations, we even hear that they are referred to as 'disposables'," Rybakova added.
"For example, take the way they're fighting on the right flank in Bakhmut. First, there's shelling, followed immediately by Wagnerites coming in at full force, in groups of 30-50 men ... just to be slaughtered."
World War II tactics
"This is how they try to uncover firing positions. It's a tactic from the Second World War, when there were no drones that could detect positions," said Dmytro Snegiryov of Kyiv, a military analyst and co-chair of Just Cause, a non-governmental organisation.
"At that time, you did reconnaissance by fighting and calculating where the defensive positions were," he said.
"It's just that now these men are also being pumped up with drugs," he said. "They are using barbiturates ... These drugs are what is producing such a mess."
Wagner's dependence on convicts indicates its desperation, according to Snegiryov.
"According to the latest information, PMC Wagner is already more than 60% convicts," he said. "Moreover, you can see that Prigozhin is taking men doing time for serious crimes."
"He needs aggressive renegades capable of anything," he said.
'Marked' fighters
Prisoners infected with HIV and hepatitis C are among those being recruited by the Wagner Group, according to the Main Intelligence Directorate of the Ukrainian Defence Ministry.
"The fact that more than 100 prisoners with confirmed HIV or hepatitis C have been 'mobilised' at Penal Colony No. 5 in Metalostroy (Leningrad Oblast, Russia) to the Wagner PMC alone shows that this phenomenon is widespread," the statement said.
"Russians mark such sick 'fighters' with appropriate wristbands on their hands," it said.
"The Wagner Group command 'marks' the infected soldiers by forcing prisoners to wear red wristbands if they are HIV-positive and white ones if they have hepatitis."
Several of these Wagner members have already been captured by Ukrainian forces and confirmed the mass recruitment of infected prisoners by the Wagner PMC, the statement said, adding that "Russian medics ... routinely refuse to provide care to the wounded soldiers with hepatitis or HIV."
Cruel allies
The use of prisoners as "cannon fodder" indicates a complete breakdown of the Russian government, according to Tatyana Ivanova of Kyiv, a Ukrainian human rights activist.
"Essentially, some people go to the prisons, illegally take men from the prisons -- without identity documents, without anything at all -- and take them to war," she said.
"These men really are slaves. Because they have nothing. They have no right to freedom. And if they refuse to do what they are being forced to do, their sentences can be extended," Ivanova said.
Prigozhin is cruel, but Putin needs such an ally -- someone uncompromising and ready to commit any crime, she added.
That is why Prigozhin has the access and authority to settle any issues in Russia, she said.
To enter a prison in Russia, you need to clear many bureaucratic procedures. However, Prigozhin opens all the doors and is allowed to take inmates away, bypassing every law.
"This is called the collapse of state institutions," Ivanova said. "The state itself has collapsed ... Nothing is functioning."
"If a country's president has given his consent to someone else to go and take [inmates] away from prisons, it means that there is no state."
"No rule of law, no laws. People are absolutely disenfranchised ... The whole country is enslaved," she said. "It is a terrible situation, especially for Russians themselves."