VILNIUS, Lithuania -- In Vilnius, as in every other city of Lithuania, Ukraine's blue and yellow flag is as common as the national yellow, green and red tricolour.
For Russians who have recently arrived in Vilnius, accustomed to seeing "Z" symbols -- the tactical insignia of Russian troops in Ukraine -- on every corner in their own country, the sight is quite striking.
But for locals it has been the daily norm for nine months.
So are the words "Glory to Ukraine!", written in Cyrillic and Latin letters, and announcements on public transport that rides are free for citizens of Ukraine.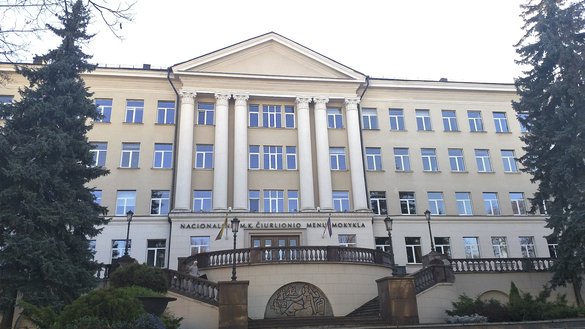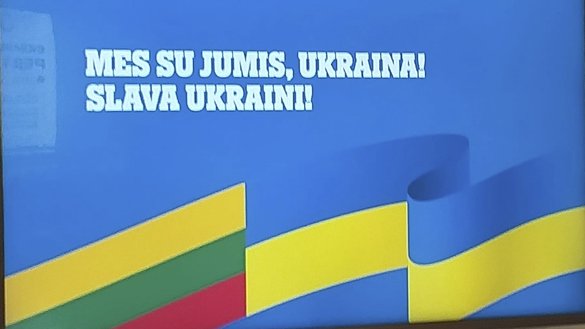 In Lithuania, manifestations of sympathy for the people of a country subjected to full-scale aggression from its "eastern neighbour" are not limited to external gestures of solidarity.
After Russia's invasion of Ukraine on February 24, millions of Ukrainians in the southern and eastern regions fled to their country's safer regions. Some moved abroad, including to Lithuania.
By the end of this summer, about 61,000 refugees, including almost 23,000 minors, had arrived in Lithuania, according to official data.
Scholarships for Ukrainian students
The National Čiurlionis School of Art in Vilnius accepted 18 Ukrainian students aged 11—15 this spring, giving them the opportunity to continue their education free of charge.
"When we saw that refugees were beginning to flow from Ukraine, we realised that we, as a specialised school, would receive applications," said Dainius Numgaudis, the school's director. "And we decided that we need to orient ourselves toward our friends in Ukraine, including those with whom we had previous connections, and toward choreographic colleges in Kyiv and Kharkiv."
The choreographic colleges are high schools of the arts.
The school contacted Ukraine's Ministry of Culture. Olesia Shaytanova, a native of Ukraine and prima ballerina with the Lithuanian National Opera and Ballet Theatre, offered to be the intermediary.
A series of legal formalities was necessary immediately after Ukrainian children arrived in Vilnius. If a minor arrives in the country without parents, Lithuanian law requires guardianship to be established for the child.
The Lithuanian state assumed full support of 18 "Ukrainian Čiurlionisians", providing them free education, housing and food. Ukraine, despite the war, provides scholarships to students who left for Lithuania.
"It is very important for these kids that the state does not forget them, and these scholarships help them maintain a connection with their homeland," Numgaudis said. "For the Easter holidays, some of them travelled to their parents, who are now in different countries: Poland, Germany, Romania and Moldova. Those who did not have such an opportunity lived here with families during these holidays."
Thirteen-year-old Anya, from Kyiv, says she feels at home here and is grateful for the chance to continue her education and develop her abilities.
She also admits that it was initially very difficult and scary for her.
"A new life, new friends, a new country, a language you don't know. Everything is new," she said. "But it turned out that this is a wonderful school. The class accepted me wonderfully. There are excellent opportunities to study to your fullest ability.
Elina, 15, studied at the Kyiv Choreographic College and is very happy about her temporary move to Vilnius despite the uncertainty of the future.
"Here we have everything needed for studies," she said.
"At the same time, it's hard when you watch the news and see what is happening in Ukraine, at home. Because every day everything changes, and you don't know what will happen tomorrow," she said. "But when you're in the dance hall, in the classroom, you can distract yourself a bit, work and improve."
The 'guardian angel'
All the "Ukrainian Čiurlionisians" interviewed spoke about Shaytanova with great respect, calling her their "guardian angel".
Upon graduating with honours from the Kyiv State Ballet School, Shaytanova became a leading soloist at the Taras Shevchenko National Academic Opera and Ballet Theatre of Ukraine. Three years later she became the prima ballerina with the Lithuanian National Opera and Ballet Theatre.
After the Russian army invaded Ukraine, Shaytanova decided right away that she ought to help her native country in some way.
"Since I don't understand anything in the military domain, I need to act where I am a professional -- in the cultural sphere," she said. "I phoned my friend Eligijus Butkus, the deputy director of the school's ballet department. I thought it would be nice to bring the children from the Kyiv State Ballet School, where I studied for eight years, here for studies -- those we can take."
"Why did I do this? I'm a ballerina, and I know that our time window for dance is short. And children are losing the opportunity to study and learn in large dance halls where they cover professional disciplines, such as classical dance, stage dance or character dance."
Another project participant was Margarita Dushakova, who teaches classical dance at the Kyiv State Ballet School.
She left Ukraine with her daughter, a student, almost immediately after the start of the war. They first went to Poland, where they received a very warm welcome. But after a few days, Dushakova and her daughter contemplated what to do next.
"My daughter wrote to Olesia Shaytanova, who immediately responded, and all the doubts disappeared by themselves -- our path is to Vilnius," she said. "Olesia is someone with a huge heart."
Dushakova works with students at the Čiurlionis School and provides lessons via Zoom for those who remain in Kyiv. She also helped organise a "Thank You, Lithuania!" concert on June 1.
"How can we thank you? Only with our art! All that is possible and impossible was done for the children," she said. "A wonderful dormitory, and food, and a ballet outfit (and it is not cheap) -- all for free."
Finding joy
Only 10 of the young Ukrainians returned to the Čiurlionis School after the summer break. The others decided that the hardest times were behind them and went back to Ukraine.
To help the Ukrainian children integrate in the school, Numgaudis said they prepared the Lithuanian children for interaction with their Ukrainian peers.
Аll the Ukrainian children live in a dormitory, side by side with Lithuanian boys and girls.
"At the dormitory, we had to relocate the Ukrainian children to rooms with windows on the opposite side, where the roar of planes is less audible, because in the first month the Ukrainian children struggled to realise that a plane flying by could be a civilian aircraft," Numgaudis said.
"Life brings us back to this topic all the time, no matter what we talk about."
He also noted that Ukrainian children studied the Lithuanian language all summer long and worked on their athletic and dance form at a new educational centre in Palanga, a resort town on Lithuania's Baltic coast.
According to the director of the Čiurlionis School, the Ukrainian children have a heightened understanding of how important it is to live in a peaceful country.
"Every day they talk with their relatives who remain in Ukrainian cities. Some of their parents serve in the Ukrainian Armed Forces. But in everyday life, they, like us, rejoice in the sun, warmth and peaceful sky," Numgaudis said.
He said Lithuanians experienced a similar displacement after World War II, when a third of the population was exiled to Siberia, while others left for Europe, and then on to America or Australia.
"We all have relatives [among the victims as well as the émigrés], and we know that the whole world helped them survive that time," Numgaudis said.
'Everyone is helping'
Lithuanians are giving Ukraine and its citizens more than just humanitarian aid.
At the end of May, Lithuanians collected a little more than $5 million in three days to buy a Bayraktar combat drone from Turkey, which has excelled in the skies over Kyiv. Lithuania has fewer than 3 million inhabitants.
After the purchase, the Lithuanians planned to give the drone to the Ukrainian Armed Forces, but Baykar Defence's executives, moved by the gesture, said they would donate one to Lithuania. This drone, dubbed Vanagas (meaning "hawk"), now performs combat missions.
Lithuanian TV anchor Andrius Tapinas, who initiated the crowdfunding campaign, said everyone pitched in to help.
"One boy made a website where he sold T-shirts with his own design to support Ukraine," Tapinas said. "He collected €460, which he donated to purchase the Bayraktar. And this boy is only eight years old."
"Everyone is helping in any way they can, and it's not for appearances," Numgaudis said. "It's just that we understand that the Ukrainians are also fighting for us right now."