TASHKENT -- The Kremlin's troop call-up for Ukraine presents legal and existential threats to migrants from Central Asian countries who are living in Russia, human rights defenders warn.
When Russian President Vladimir Putin doubled down on his invasion of Ukraine by announcing the partial mobilisation of 300,000 reservists last Wednesday (September 21), he said only men with "relevant" skills or military experience would be affected.
In practice the mobilisation has been haphazard and even absurd, with many Russians outraged over cases of authorities summoning men unfit for service. Their dragnet has extended to women too.
Elderly Russians, the ill, students, and nurses and midwives without any military skills were mistakenly called up for service, according to several regional governors.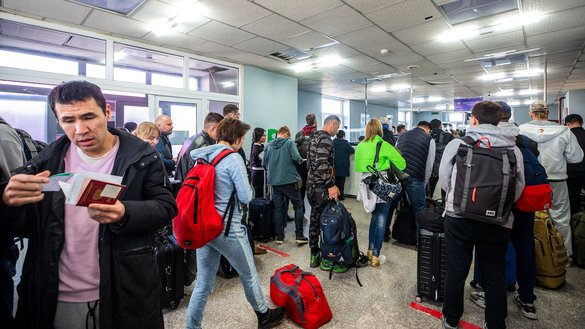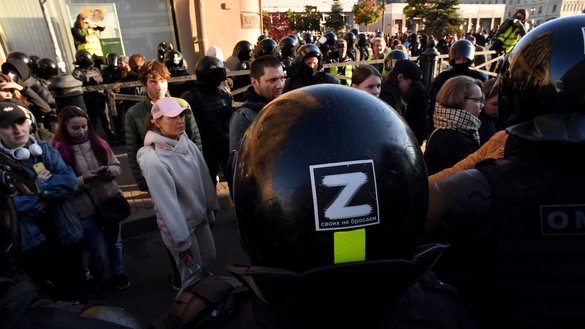 Russian drafts ordinarily target only men, but the call-up of nurses and midwives betrays high casualties in a war that has gone badly for Russia since it invaded Ukraine February 24.
On Saturday Russia announced the replacement of its highest ranking general in charge of logistics.
The same day, Valery Fadeev, chairman of the Presidential Council for the Development of Civil Society and Human Rights, had urged Defence Minister Sergei Shoigu to "urgently resolve issues" to avoid "undermining the confidence of the people".
He mentioned several aberrations including the conscription of 70 fathers of large families in the far eastern region of Buryatia, and of nurses and midwives without any military skills.
These recruits were called up "under threat of criminal prosecution", said Fadeev.
He also criticised those "handing out summons at 2am as if they all thought we were draft evaders".
Recruiting migrants
The mobilisation comes as Russia continues to coerce or lure migrants to join the war.
The Russian State Duma last Tuesday adopted a law allowing foreign citizens who fight for Russia for one year to obtain Russian citizenship in a simplified manner. Previously, foreigners had to fulfil a military contract for at least three years.
Plans are under way to create "full-fledged infrastructure" at the migrant centre in Sakharovo "to assist the Russian Defence Ministry in the recruitment of foreign citizens into military service", said Moscow mayor Sergei Sobyanin.
The Sakharovo multi-purpose centre is a one-stop shop for migrants to handle employment-related issues, including mandatory fingerprinting, medical examinations, and receiving or renewal of permits to work in Russia.
The State Duma also signed off on amendments to the Criminal Code that envisage lengthy prison terms for Russian citizens -- including dual citizens -- who refuse to join the armed forces.
Moscow could strip the Russian passports of naturalised citizens from Central Asia if they refused calls to mobilise, Kirill Kabanov, a member of the Kremlin's human rights council, warned on Thursday.
The draft rules include compulsory military service within a year for Russian citizens hailing from Kazakhstan, Kyrgyzstan, Tajikistan and Uzbekistan, he said.
The Uzbek embassy in Moscow and the Uzbek general prosecutor's office last week both warned citizens not to join foreign militaries or to fight in foreign lands.
Such offences are punishable by 5 to 10 years in prison under Uzbek law.
Similarly, the Kyrgyz embassy in Moscow last week warned citizens that fighting abroad is punishable by up to 10 years in prison, Radio Free Europe/Radio Liberty reported.
'Run away now'
Valentina Chupik, a human rights activist who works with migrant workers, urged Uzbeks who have Russian relatives or who have already acquired Russian citizenship to "run away now".
"I also advise other migrants to leave, because, above all, they will be forced to enter into contracts for 'voluntary military service'," Chupik wrote on her Facebook page on Thursday.
Those unfit for military service may be coerced into working to support the army for free or for wages insufficient for survival, she added.
"You risk becoming either cannon fodder or slaves. Run away from here now. Tomorrow may be too late!" she wrote.
About 2 million Uzbeks are working in Russia, according to Russian historian and anthropologist Sergey Abashin.
Russian authorities are only delaying a general military mobilisation and are trying to use other available human resources, such as the population of occupied regions, contract soldiers, prisoners and now migrants, he said.
Foreign citizens -- migrant workers -- will be forced to join the military, Abashin warned.
"It is a trick and vile because there are already laws that make it easy to strip citizenship from anyone who didn't receive it by birth," he said.
Central Asian migrants are vulnerable to recruitment by the Russian military, according to Fakhriddin, a 40-year-old Uzbek migrant who has been living and working in Moscow for the past five years.
Some have been unable to find work or find themselves in debt. Others have families in their homeland who need to be fed, he said.
"Perhaps they take the risk in the hopes that 'it will all work out'. They think they will return from the war with big money and Russian citizenship because many of my compatriots dream of a Russian passport [citizenship document]," Fakhriddin said.
"I, too, want Russian citizenship but not through a contract in the army. There are other legal ways, and I don't plan to die for who knows what."
"These are people who did not prosper in Russia, the unemployed, those who need money, or the incarcerated. Or just those who have fallen for into the clutches of the Kremlin's propaganda," said Farkhod Mirzabayev, a political scientist from Tashkent.
Those migrants "might enter the service because of poverty and desperation, and this will be a great tragedy for themselves, their families and Uzbekistan", he said.
'Absolutely illegal'
Uzbekistan should immediately begin an extensive outreach campaign with migrants' families in Uzbekistan so they will persuade their working loved ones that fighting in Ukraine is unacceptable, Mirzabayev said.
"This is where we need to use the mahalla [urban community associations based on residence] system to the fullest. We also need to monitor possible attempts by local authorities in Russia to force Uzbek migrants in difficult life situations to join the military."
"It would be good for [Uzbek] officials to protest such actions," he added.
The actions of Russian authorities "are absolutely illegal and are full-scale fraud with knowingly false promises of Russian citizenship and with criminal recruitment of mercenaries", said Chupik.
Whether Uzbeks will join the Russian military will depend on "to what extent will Uzbekistan's government agencies be able to communicate to migrants that they will be imprisoned for mercenary activity and war crimes", she said.
"If the [Uzbek] authorities remain silent, migrants will go to the front like submissive sheep," she said. "If the authorities act tough, migrants will be more afraid of their own 'wolves' than they will covet the promised Russian pastures."