ASHGABAT -- Russian Prime Minister Mikhail Mishustin's recent visit to Turkmenistan was most likely part of the Kremlin's efforts to evade Western sanctions, say analysts.
Mishustin traveled to Ashgabat last Thursday-Friday (January 19-20) to take part in a Turkmenistan-Russia business forum, where he signed documents and held "high-level" talks, Turkmen state news agency TDH reported.
TDH did not disclose any details about the talks, stating only that they addressed "expanding co-operation in different areas".
The visit came conspicuously as the international community further tightened sanctions on Russia over its invasion of Ukraine, noted one observer, a political science instructor and analyst at the Turkmen Foreign Ministry's Institute of International Relations.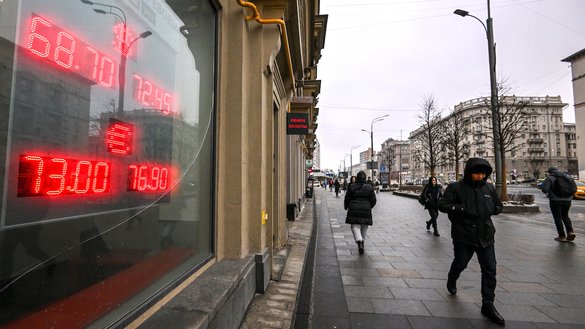 Russia announced Mishustin's visit to Turkmenistan on January 17, the same day European Commission President Ursula von der Leyen announced plans to introduce a 10th round of sanctions against Russia.
"There is no way this is a coincidence because on that same day, January 17, Russian President Vladimir Putin also spoke on the phone with Turkmen President Serdar Berdymukhamedov about co-operating on energy," the instructor said on the condition of anonymity.
It is entirely possible that during the "high-level" talks Russia tried to not just persuade Turkmenistan to forge closer economic co-operation, but also to help it evade Western sanctions, he said.
"Russia ... will somehow use blackmail or promises of payoffs to drag [Turkmenistan] into its schemes to bypass the European and American sanctions," he said.
"The sanctions are already working, and they'll ruin Russia's economy completely," he added. "As a result, the Russian leadership is like a drowning person clutching on to a lifeline as it tries to find a partner anywhere in the world -- even in the underdeveloped countries of Africa -- to support trade in any way and find new loopholes for its goods."
Co-operation for selfish purposes
The latest round of European Union (EU) sanctions is expected to be ready by February and is aimed at closing loopholes in earlier-adopted sanctions.
Russia's main goal now is to use any means to minimise damage to the Russian economy from the sanctions and to find a way around them, said the instructor.
"Russia wasn't as interested in Turkmenistan in the past as it is now. Of the Central Asian countries, we trade the least with Russia. And now there's this sudden surge in interest in Turkmenistan," he said.
This interest on the part of the Russian leadership is occurring as relations with the other countries in the region are suffering, he added.
In the past, Turkmenistan exported its gas to Ukraine through Russia. Russia has since closed this route off for Turkmenistan, depriving it of considerable foreign exchange earnings and trade with Ukraine.
"It's entirely possible that as Russia faces challenging circumstances, it will promise Turkmenistan that it can export gas to Europe and then will sell its own gas to Europe, presenting it as Turkmen gas and thus bypassing the sanctions," he said.
At best, Russia plans to use Turkmenistan as a middleman in its trade and economic relations with Europe, he said.
At worst, it plans to use Turkmenistan to bypass the sanctions.
A dangerous scheme
Russia's efforts to lure Turkmenistan into its schemes pose a danger to the nation, said the Turkmen analyst.
In making a deal with an aggressor country, Turkmenistan could not only lose face and tarnish its reputation as a neutral state but could also be subject to international sanctions for being a middleman or an accomplice, he said.
Such secrets get out sooner or later, he warned.
"Even if the official media outlets of both countries don't report on some secret topics of the Turkmenistan-Russia 'high-level talks', the world will find out very soon, especially if it has to do with any prohibited, criminal or condemned action," he said.
Russia's quest for loopholes to bypass the sanctions restrictions have already been exposed.
Last Thursday, Bloomberg reported that in Singapore cheap Russian oil is being blended with raw materials from other sources and then re-exported to numerous countries.
In another example, Russian and Belarusian timber exporters were caught in a scheme to send their products to the EU, passing them off as being of Kazakh and Kyrgyz origin, the Belarusian Investigative Centre (BIC) reported December 20.
Turkmenistan could be subject to similar revelations if it engages with a partner as dangerous as Russia, said the instructor.