MOSCOW/ALMATY -- Central Asians passing through Moscow's Zhukovsky International Airport often face prejudice, xenophobia and rudeness from customs officials and airline employees -- a painful reality that Tajik journalist Anora Sarkorova unfortunately knows only too well.
Sarkorova, a respected journalist who has written for the BBC, the Institute for War and Peace Reporting, and a number of other media outlets, wrote about her recent experience at the airport as she travelled from Dushanbe to Prague.
Airport and airline employees crossed all possible bounds of indecency towards passengers who did not look Slavic, subjecting them to humiliating procedures and trampling on all moral and ethical standards, she posted on Facebook on October 16.
Border guards shouted at Tajik migrant workers passing through border control, indicating where they could and could not stand, she said.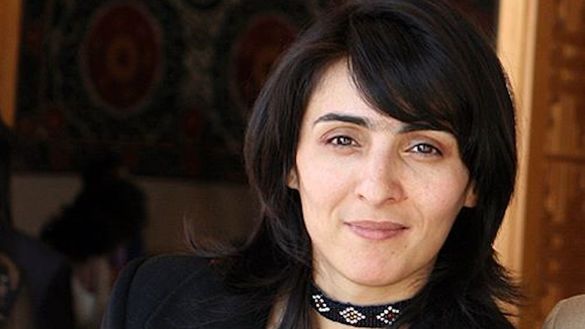 When Sarkorova asked an Ural Airlines employee about possible guarantees for the safety of paintings she was transporting, the employee allegedly said, "Why should we give guarantees to some Tajik?!"
Customs officers shouted, "Nothing valuable. These are paintings by some Tajik artist. Some nonsense, crap," according to Sarkorova.
The verification of her documents then continued with prejudice, continued Sarkorova.
"The supervisor came running up, looking at me hatefully. And spoke loudly to the whole room, 'Scan all her Schengen visas, and urgently pass them on to everyone on duty. It's suspicious that Tajiks are flying to Europe. They sweep the streets, sure, but going to Europe ... '" wrote Sarkorova.
Customs officers held her for 40 minutes, questioning who she was and why she was heading to Europe.
As passengers boarded the plane, Ural Airlines flight attendants "greeted only the Russians; they ignored 'the blacks' [Tajiks]", said Sarkorova.
Systemic racism
Sarkorova's Facebook post has received almost 9,000 likes, more than 6,000 comments and 2,000 reposts.
Most of the commenters, including many residents of Central Asian countries, commiserated with Sarkorova and shared their own experiences encountering similarly toxic attitudes from Russian civilians and officials.
However, some Russian commenters alleged she was a "hired hack" who put up a "made-to-order" post. To avoid such problems, she should stay in her own country and not come to Russia, they suggested.
What happened to Sarkorova was reported by various media outlets, mainly from Russia and Central Asia.
Russian news website EAN shared the reaction of Ural Airlines, which blamed registration agents and airport staff for their rude behaviour. However, nobody involved, working for the airline or for the airport, has officially apologised to Sarkorova.
The problem, Sarkorova said, is not so much rudeness but rather Russians' prejudice towards ethnic minorities.
"Thousands of Tajiks, Uzbeks and Kyrgyz living in Russia have written to me, complaining about similar problems," she said.
"One family from Tajikistan, whose children were enrolled at a Russian school [in Tajikistan] and had a good command of the Russian language, moved to Moscow," she said. "They admitted to me that their children are afraid to say their ethnicity at school, because others will start bullying them."
Sarkorova described her unsuccessful attempts to rent an apartment in Moscow. Landlords refused to rent to her, openly citing her ethnicity."
"Chauvinism can be everywhere in one form or another," she said. "But at least in Western countries people will think carefully before saying something chauvinistic, while in Russia they can unceremoniously humiliate others and no one will be held responsible."
"Radical chauvinism, xenophobia, racism, rudeness and disrespect are systemic problems in Russia," she said.
Human rights 'rest in peace'
As a journalist, Sarkorova has extensively covered the problems of Central Asian migrant workers in Russia, where employers and police officers regularly violate their rights.
These migrant workers often have no recourse for human rights abuses in the Russian legal system.
With Russian President Vladimir Putin's recent "reshuffling" of his human rights council, those rights will likely be even more limited.
Putin removed several opposition figures from the Presidential Council on the Development of Civil Society and Human Rights, a presidential decree published Monday (October 21) on the government website showed.
The 50-member body, which has spoken out against abuses, has gradually been losing its influence and many respected members of the human rights community had already quit in protest at various Kremlin actions, AFP reported.
The five people being removed from the council include its long-time chairman, Mikhail Fedotov.
The council's new leader, Valery Fadeyev, is a senior member of the ruling United Russia party and worked as a presenter and news anchor on pro-Kremlin Channel One television.
The decision effectively meant the end of the council as a legitimate advisory body on human rights, said Russian rights campaigners.
"The council is dead. May it rest in peace," Grigory Melkonyants, a campaigner for electoral rights, wrote on Facebook.
The new members are much likelier to agree with the authorities, he said.
Those excluded "always stood up for the law and justice and Putin doesn't want to keep such advisors", Lyubov Sobol, an opposition politician, wrote on Twitter.