ASHGABAT -- Allegations that a Russian intelligence unit secretly offered bounties to the Taliban to kill US and coalition troops in Afghanistan are drawing harsh criticism in Central Asia.
A Russian group, known as Unit 29155, had covertly offered rewards for successful attacks on coalition troops in Afghanistan last year amid US-led peace negotiations to end the war between the Taliban and the Afghan government, The New York Times reported June 26.
Taliban militants, or armed criminal elements closely associated with them, are believed to have collected some bounty money, the officials told the newspaper.
Twenty US troops were killed in combat in Afghanistan in 2019, but it is not clear which killings are under suspicion.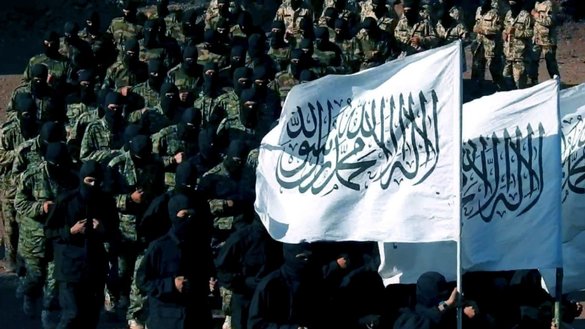 Amid co-operative efforts by many countries to establish peace and guarantee stability in Afghanistan, the information on the payments to the Taliban has outraged the people of Turkmenistan, said Andrei, an IT specialist from Ashgabat.
"When I told my Turkmen friends about what I had read in online publications, they were furious at what the Russian military intelligence operatives did in Afghanistan," Andrei said.
"A friend of mine... called these actions a direct incitement of militants to continue the bloodshed on Afghan soil," he added.
Mercenary interests above all
The recent reports suggest that the Russian military is directly linked to financing terrorism, said a 62-year-old veteran of the Soviet-Afghan war from an Ashgabat suburb who used the pseudonym Agajuma.
While all Central Asian countries, including Turkmenistan, which shares more than 740km of frontier with Afghanistan, are trying to help the Afghans create a peaceful life and building power lines, railways and a gas pipeline, Russia is paying militants to kill and commit terrorist acts, said Agajuma, a retired officer of the Soviet-era GRU (Main Intelligence Directorate).
"The peoples of Turkmenistan, Uzbekistan and Tajikistan all want peace in their neighbour's [Afghanistan's] house, while Russia apparently wants to prolong the war," Agajuma said.
Bribing militants and urging them to take radical actions show that Moscow places its geopolitical and mercenary interests above peace in this long-suffering country, according to Agajuma.
"Russia's goal is obvious. It wants the Central Asian countries to perpetually feel a threat from Afghanistan and to not drift away from its patronage in regional organisations like the Collective Security Treaty Organisation (CSTO), in which Russia plays the dominant role," Agajuma said.
However, such efforts are futile when it comes to Turkmenistan, he said. In executing a strategy that involves fanning the flames of conflict in Afghanistan and stoking the threat from Afghan militants, the Kremlin is miscalculating.
"First of all, for the last quarter century, Turkmenistan has had permanent neutral status... confirmed by a UN [United Nations] resolution, so there is no way it can join a military bloc headed by Russia," he said.
Following years of independence, Turkmenistan and the other Central Asian countries have improved their defence capabilities and could fend off any potential aggression by militants on their own, he added.
"Also, you need to remember that Turkmenistan has always done good for Afghanistan: it built a [general] hospital, a maternity hospital and school there, and it has sent relief shipments," Agajuma said. "The Afghan people, including those who are on the Taliban's side, are aware of this. So they don't covet our land or wealth."
Russia-Taliban links
Russia has a tortured history in Afghanistan, where the former Soviet Union in its final years was bogged down in a devastating fight against Islamic guerrillas.
In recent years, Russia has been accused by multiple governments and official agencies of quietly providing small arms to the Taliban.
Moscow's special relationship with the Taliban was in full view last year when top Taliban officials conferred with Russian Foreign Ministry officials about ongoing negotiations with the United States.
The New York Times said there were different theories on why Russia would support Taliban attacks, including a desire to keep the United States bogged down in war.
The Russian unit could be seeking revenge over the US killing of Russian mercenaries in 2018 in Syria, where Moscow backs President Bashar al-Assad, the Times reported.
Although the Taliban denies links with any intelligence agency, the Taliban have a history of accepting funding, weapons, support and training from a variety of external actors, including Russia, al-Qaeda and Iran's Islamic Revolutionary Guard Corps (IRGC).
The Kremlin also denied the existence of a bounty programme.
History of 'hybrid warfare'
Unit 29155 operates under the command of the Russian military intelligence agency, known widely by its old acronym GRU, for Main Intelligence Directorate, although the agency changed its name in 2010 to the Main Directorate (GU).
The unit has been involved in a number of incidents that implicate it in the Kremlin's hybrid warfare in Europe and beyond, including a destabilisation campaign in Moldova, the poisoning of an arms dealer in Bulgaria, a thwarted coup in Montenegro, and the attempted assassination of former Russian double agent Sergei Skripal and his daughter in Salisbury, the United Kingdom.
Unit 29155 specialises in preparing for "diversionary" missions, "in groups or individually -- bombings, murders, anything", a retired GRU officer with knowledge of the group told the Times last October.
The officers of Unit 29155 appear to be tight knit and are decorated veterans of Russia's bloodiest wars, including in Afghanistan, Chechnya and Ukraine.
The Kremlin's hybrid war strategy aims to destabilise adversaries through a combination of cyber-attacks, the spread of fake news, and covert and deniable military operations.
Any involvement with the Taliban resulting in the deaths of US troops would be a huge escalation of Russia's hybrid war against the United States, the Times reported.