KABUL -- A recent report circulating online that Chinese military trainers have been deployed to Bagram Airforce Base in Afghanistan has raised concerns among Afghans already skeptical of increasing Chinese interest in the country.
Unnamed sources told AND Magazine in early October that "multiple Chinese military aircraft have landed" at Bagram Airforce Base.
Their purpose at the time was unclear, but the magazine reported March 13 that "Chinese military personnel are on the ground at Bagram, and they are training Haqqani Network fighters".
Elements from Iran's Islamic Revolutionary Guard Corps (IRGC) and Pakistani Inter-Services Intelligence personnel are also present at the base, it said.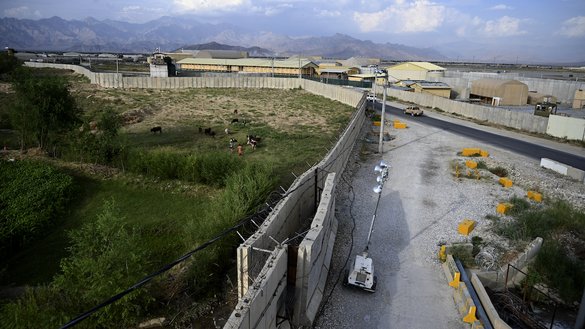 Recent statements have supported these claims.
"A small contingent of foreign troops [have] taken some of the inner sections of the Bagram airbase," Amrullah Saleh, former Afghan vice president and former director of the National Directorate of Security, tweeted April 22.
"I don't want to speculate on who they are & what functions they perform. It won't remain dark for long though. They train the Haqani militias which is confirmed by multiple sources."
The Haqqani Network is blamed for some of the deadliest attacks in Afghanistan during the last two decades. It has historical ties to al-Qaeda and a partnership with the "Islamic State (IS).
While the Haqqani Network takes care of planning and providing resources, IS launches the attacks and takes responsibility, providing a smokescreen from accusations, Afghan officials said in February 2021.
China 'exacerbating' crisis
China has not confirmed the report, but the news has been spreading on social media, where Afghans have expressed grave concern.
"The Bagram issue and the training of Haqqani fighters by the Chinese are a very important topic of discussion," said Rahmatullah Bezhan, an Afghan political analyst in Norway.
Although "such deployment has not been confirmed or reported by the intelligence community so far", he said, "the deployment of Chinese troops to Bagram air base or [generally to] Afghanistan for conducting any strategic assignments would be a very hasty and immature move."
"The visits of the foreign minister and other Chinese officials to Afghanistan, whose government has not recognised Kabul's [new] administration, are very suspicious," Bezhan said.
Chinese Foreign Minister Wang Yi visited Kabul on March 24 for talks.
"The attempts by the Chinese to move around and build networks in Afghanistan will not benefit the country's stability, security or government creation, but rather will exacerbate its crisis," Bezhan said.
"It will drag the Chinese from a clearly understandable game to a challenging one that will cost them immensely."
Interference in Afghan affairs
Any Chinese military presence in Afghanistan is against Afghanistan's national interests and contrary to international laws, said several other analysts.
"If the news is true that the Chinese have sent troops to Afghanistan, this would be a major shift in China's policy, and such presence is indeed considered interference and is against international law," said Wais Naseri, an Afghan analyst in Germany.
"What is clear is that China is in political, economic and military competition with the United States," he said. "China is very interested in Afghanistan."
"A Chinese military presence in Afghanistan is a sensitive matter for the region and the world," said Abdul Basir Salangi, a former Parwan provincial governor now in Turkey.
He doubts that Chinese troops are indeed in Afghanistan but says "there is a very likely possibility of the Chinese training Haqqani Network militias in Miranshah, Peshawar and Quetta".
China might have dispatched a small group of intelligence analysts to Afghanistan to obtain information about Uighur insurgents' activities, said Arif Kayani of Islamabad, an Afghan political and military analyst.
Jawed Khaliqi, 27, a political science student at a private university in Kabul, agreed.
"It is very likely that they [the Chinese] are training Haqqani Network militias to suppress Uighur fighters in Afghanistan," he said.
China after Afghanistan's mines
Other analysts point to the economic value that China could find in Afghanistan.
Chinese companies have already expressed interest in investing in Afghanistan's mining sector, and friendly relations with Kabul would pave the way for an expansion of Beijing's Belt and Road Initiative (BRI) into Afghanistan and through the Central Asian republics.
Among other goals, the BRI is meant to facilitate the extraction and shipping of poorer countries' natural resources for Chinese benefit.
"China's policies show that China is very interested in Afghanistan's mines," said Mirza Muhammad Yarmand, a former deputy interior minister now in France.
"They are trying to get the contract and exploit Afghanistan's mines because ... the distance is very convenient and cost effective," he said.
In Yarmand's view, Beijing knows better than to inject troops into Afghanistan.
"There is no need for Chinese troops to come to Afghanistan, and if they do so, it will cause a major regional controversy and a conflict between the East and the West," he said.
"The presence of Chinese troops is not acceptable to any Afghan because China has not made any contribution towards the stability, security or economic development of Afghanistan," said Khaliqi, the university student.
"China's only goal in Afghanistan is to plunder our mines," he said. "China's military presence does not serve the national interest of Afghans but will complicate the situation and increase proxy wars in Afghanistan."