TASHKENT -- Joining the Russia-led Collective Security Treaty Organisation (CSTO) and the Eurasian Economic Union (EEU or EAEU) makes little sense for Uzbekistan, especially amid Moscow's invasion of Ukraine, say analysts and lawmakers.
Russia has been attempting to shore up its alliances after it invaded its neighbour in February.
Uzbekistan, which has had observer status in the EEU since December 2020, has long been under pressure to accept full membership in the Moscow-led union.
Western sanctions against Russia, however, "make it illogical" for Uzbekistan to join the EEU, Doniyor Ganiyev, a member of the Uzbek parliament, told Kun.uz on July 27.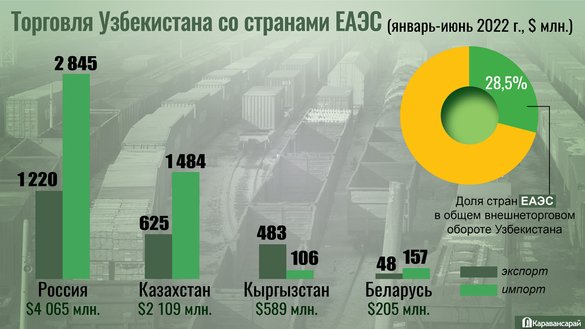 The sanctions will likely cause the Russian economy to contract by at least 10%, which will have a major impact on other EEU member states, he said.
For example, if the Russian economy shrinks by 10%, its partners' economies will then shrink by 8%, he predicted.
While it is true that the Russian market is important for Uzbekistan, he said, "if the most attractive market in the EEU shrinks by 10% to 15% per year, what's the point of belonging to the organisation?"
Under the current circumstances, it is crucial for Uzbekistan and other countries to bide their time and keep an eye on the situation, Ganiyev said.
"If an organisation itself is appealing, it won't chase other countries to get them to join," he said.
The EEU's internal bodies are not independent and mostly serve the Kremlin's interests, he added.
The answer is 'no'
It is important for Uzbekistan to understand whether or not joining the EEU serves the country's interests, said Alisher Ilkhamov, director of the London-based Central Asia Due Diligence.
"The answer ... is most likely no. It was already no before Russia invaded Ukraine, and since the invasion even more so," he said.
It is in Uzbekistan's interests to significantly diminish Russia's role in the Uzbek economy and its share of Uzbek trade, he noted.
"Our country is bound too closely to the Russian economy ... joining the EEU will make us only more dependent on it," Ilkhamov said.
Uzbekistan's biggest trading partner is China, which accounts for 18.5% of Uzbekistan's total foreign trade, followed by Russia (16.6%) and Kazakhstan (8.6%). Kyrgyzstan accounts for 2.4% of Uzbekistan's foreign trade.
EEU members and other countries with close ties to the Russian economy risk running afoul of Western sanctions, said Meruert Makhmutova, director of the Public Policy Research Centre in Almaty.
"Since Russia unleashed the war in Ukraine, the EEU countries are the main channel through which Russia can bypass the sanctions," she said.
"Remember that there are no customs barriers between the EEU member countries, while Kazakhstan and Russia share the longest overland border in the world," Makhmutova said.
Geopolitical suicide
Nigara Khidoyatova, a former Uzbek politician living in the United States, called the EEU a "project that is dead on arrival", first and foremost because its policies crush the economy.
"Given the current sanctions, if Uzbekistan were to join this union now, it would be like buying a ticket for the Titanic," she said. "Even Kazakhstan is thinking about leaving, but it's proving impossible to do so."
"Russia most certainly is pressuring Uzbekistan, but its leaders are forgetting that this is the wrong time, and that exerting pressure -- particularly when [Russia] is isolated on the world stage -- is no longer feasible for them," said Khidoyatova.
The question of whether Uzbekistan should become a full-fledged member of the EEU is a non-starter, agreed Kamoliddin Rabbimov, a Tashkent-based political analyst.
The implicit position of the country's leaders is that there can be no discussion of joining the EEU, he said.
Former foreign minister Abdulaziz Kamilov used to frequently repeat that Uzbekistan would assess the experience of its neighbours who have joined the EEU, Rabbimov noted.
"Kazakhstan and Kyrgyzstan greatly regret joining the organisation. There is no positive momentum in their economies. Also, a very strong, aggressive geopolitical confrontation between Kazakhstan and Russia has begun to surface."
"Therefore, I think that Tashkent is realising that joining the EEU would be suicidal -- not only economically but also geopolitically," Rabbimov said.