MOSCOW/KYIV -- Russian police and draft personnel have taken to crowded streets in order to find conscripts to carry out President Vladimir Putin's "partial" mobilisation.
Putin on Thursday (October 20) visited a training centre for mobilised Russians for the first time since announcing a partial military call-up on September 21 aimed at propping up Moscow's forces in Ukraine after a series of military setbacks.
State television showed Putin visiting a shooting centre in the Ryazan region, southeast of Moscow, dressed in black, shooting a newly developed sniper rifle and hugging troops.
More than 200,000 men have been conscripted into the Russian army since Putin announced the mobilisation drive, the defence ministry said.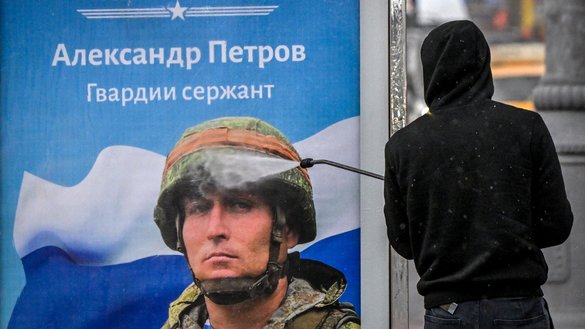 Putin does not plan to end a military mobilisation in Russia "yet" but some of the country's regions completed the process, the Kremlin said earlier, on October 18.
Hunting for conscripts
The latest moves come after videos and photos posted on social media showed police and draft officials lying in wait to "catch" men at the entrances to subways and residential buildings.
A video published on October 14 on Russian Telegram channel BAZA for example showed a woman accusing two men in civilian clothes and a policewoman of watching men leaving an apartment building in St. Petersburg.
"Do you have a conscience at all?" asks the woman who captured the video.
Her question goes unanswered.
Another video published on the channel the same day showed several police officers who claimed to be checking vendors' permits at the Mitinsky Radiorynok shopping mall in Moscow.
"Ultimately, they took about 40 men away from the mall: they were put on two buses and sent to Interior Ministry (MVD) police stations. After that, they were transported to mobilisation centres," said the channel.
The mobilisation has also led to some awkward incidents.
A flight departing Ufa airport was delayed for more than nine hours because the co-pilot was drafted while sitting in the cockpit, MKSET.RU, a Bashkir publication, reported on October 14.
"There are many such stories. And above all, they arouse resentment and alarm," Anna Rapoport, a St. Petersburg-based social activist, told Caravanserai.
"The authorities' actions, in fact, are a crime against their own people. We just had a round-up next to one apartment building yesterday. They beat up civilians and tried to deliver summonses," Rapoport said.
Men have also received summonses even at work, she said, pointing to a report of a historian of 18th-century weapons being called up.
"This is absurd. I read the news that in one Russian village they drafted the only farmer and now they are looking for a volunteer who can look after 30 goats," she added.
Russian authorities have conducted roundups at state-run boarding schools and at homeless shelters.
On October 9, Food Not Bombs, a Moscow organisation that provides food to the homeless, wrote on its Telegram channel that police officers with summonses raided one of its shelters.
"They confiscated men's passports [ID documents], loaded them into vans and took them to the draft office. There, everyone received a summons and was taken to the draftee training centre," said the organisation.
"By the evening, only those older than 50 had been released (although they did tell us about a 60-year-old whom officers tried to mobilise this time). The fate of the others is unknown. They will probably be sent to the war."
"The cops said that they will continue to go to soup kitchens for the homeless, train stations, etc.," it added.
Little selection criteria
The predatory and arbitrary nature of the mobilisation suggests that it is not going as well as the Kremlin claims, say observers.
"From what I see, there are no selection criteria whatsoever for the war. In other words, the draft office simply grabs everyone it can -- regardless of age and status," Vladimir Ivanenko, a journalist from Sevastopol in Russian-annexed Crimea, told Caravanserai.
After the mobilisation began, Ivanenko and his brother left for Kazakhstan, fearing that they might be grabbed and sent to the front.
"I left for Kazakhstan at the end of September. I just had the feeling that the main thing was to get my brother out, because I'm not on the military register, but my brother is. He is disabled," he said.
"His fitness for service is imaginary, but I realised that this won't stop anyone. We left, and a week later they threw a summons in his mailbox. Personally, I don't understand why you summon someone with a disability," said Ivanenko.
"If they had conducted training and updated the lists, this mobilisation could be carried out easily. But if there are no lists ... at first they tried to mobilise men through the governors of provinces," Mykhailo Samus, a military analyst and deputy director of the Centre for Army, Conversion and Disarmament Studies in Kyiv, told Caravanserai.
"Then they went to enterprises, even private ones, to all of them. And the latest method is to chase guys through the streets, because the chief draft officer has a plan to fulfil," he said.
"The mobilisation is meant to create combat-ready units, not just to grab men. Currently, Russia is just pulling wool over people's eyes. As a result, they are not forming units but simply filling the front with human bodies," said Samus.
"Not everyone mobilised can be a soldier. You must learn to perform special tasks. Even basic shooting needs to be learned. And what we are seeing is just an imitation of mobilisation, the fulfilment of Putin's whims," he added.
'A real reindeer safari'
The actual number of those mobilised is actually much lower than the stated 300,000, not exceeding 100,000 recruits because there is no full-fledged register of men subject to the draft, according to Eduard Bagirov, a Kyiv-based human rights activist and director of the International League for the Protection of the Rights of Citizens of Ukraine.
"In 30 years [since the end of the Soviet Union in 1991], the Russian Ministry of Defence has not been able to systematise the huge multimillion-person pool of Russian citizens subject to military service."
"There is no electronic database. For the past 20 years, they have not tracked those registered with the military," Bagirov said.
A 70-year-old grandfather was among those who received a summons, he added.
"Now they haven't even recruited 100,000. There is little time left ... so this chaotic mobilisation will go on for a few more weeks," he said.
Bagirov compared the moblisation to reindeer herding.
"Here, too -- near the subway, near apartment buildings, in the markets -- they drive the 'reindeer' into a circle and carry out the order of Russia's reindeer herder in chief -- a real reindeer safari."
"Draft officials and police officers justify their goals with the distinctive word 'necessity', but all this is provoking a backlash," said Bagirov.
"I would advise Russians who are caught and forced to go to the front to refuse to go. If you go to jail for refusing, then you go to jail," he suggested.
"They can't put away everyone behind bars. Plus, another six months will pass before the court issues a verdict. In any event, [you] will stay alive. And when Putin dies, you will most likely receive amnesty," he said.