ALMATY -- Kazakhs watching the events unfold in Ukraine are growing increasingly frustrated with Russian television channels that are either spreading Kremlin propaganda or saying nothing at all.
Anton Shin, an independent lawyer in Almaty and former chairman of the executive council of the Asia International Association of Cable Operators, condemned the Mir television and radio company for not reporting on the events in Ukraine as the war rages on.
Owned by the Commonwealth of Independent States (CIS), Mir was formed by Russia and other former Soviet republics including Kazakhstan.
As such, the citizens of those countries are entitled to see "objective, fair reporting on the civic and political, economic and cultural life of the states", as the company articulates in its charter, Shin wrote on Facebook March 2.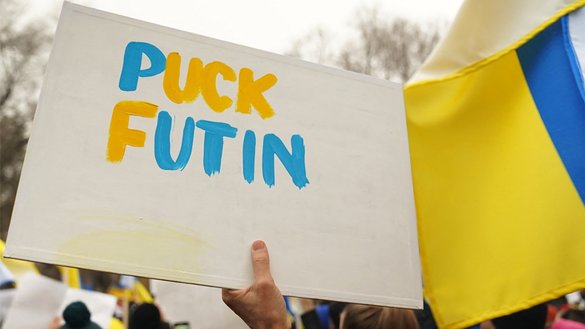 He demanded that Mir's management begin reporting on the fighting in Ukraine.
The Kazakh Ministry of Information and Social Development could "initiate a re-examination of the Republic of Kazakhstan's co-operation with this company ... and to take other steps aimed at nullifying the financial participation of the Republic of Kazakhstan in this company's business", he said.
Kremlin-backed television channels are Russian President Vladimir Putin's main megaphone for disseminating anti-Western ideas that build hatred for European multiculturalism and liberal values, according to Almaty resident Sergey Duvanov, director of the Kazakhstan International Bureau for Human Rights.
"Putin is consumed by resentment over the defeat in the Cold War, the collapse of the Soviet Union and Russia's economic failures, and he's spreading this feeling to a multimillion-person audience in the CIS, including in Kazakhstan," he told Caravanserai.
Russian television channels have enabled Putin to spread destructive ideas to Kazakhs, making it vital from a national security perspective to remove these propagandistic outlets and replace them with high-quality Kazakh content, he said.
"But there's a risk in that Putin could take offence at 'nationalist' Kazakhstan, and then the Ukraine scenario could repeat itself here," he said.
Kazakh provider drops Russian channels
Kazakh provider Remstroiservis stopped broadcasting Russian channels because of the war in Ukraine, the news website KazTag reported on February 28, citing a statement by the company.
"Dear subscribers: We oppose the war and war propaganda. We have therefore temporarily replaced the broadcasts of all Russian so-called state television channels with Khabar24," read the statement that was posted on the company's Telegram channel.
Based in Shakhtinsk, Karaganda province, Remstroiservis provides internet services and offers digital television packages.
"During the military actions in Ukraine, an unknown source began playing propagandistic anti-Ukraine videos on the frequency of these Russian channels, and we made this decision," a Remstroiservis employee told Caravanserai on the condition of anonymity, without specifying the source.
Local viewers were hardly disappointed to see the Russian channels disappear from the lineup.
"I'm sure this mysterious source is the very [same] Russian channels that in recent days have been spewing even dirtier, falser propaganda than they ever have before," said Alibek Kokpayev, a system administrator who lives in Shakhtinsk.
"We usually watch entertainment programmes because their news is sheer brainwashing," he said.
"The war in Ukraine is a touchy issue for Russia, and the Kremlin is actively spreading its propaganda in Kazakhstan in order to shape public opinion here about the alleged 'Nazis' in Kyiv they're supposedly saving the Ukrainian people from," Kokpayev said.
Putin-controlled media lose their 'soldiers'
The latest criticism comes amid shake ups in Russia's propaganda landscape as some journalists at Kremlin-controlled media outlets quit in protest of Russia's Ukraine invasion.
Maria Baronova, editor-in-chief of the Kremlin-controlled international broadcasting company RT, resigned soon after the start of the invasion.
"A week ago I was still writing about 'NATO collaborators' and 'NATO propaganda', I was firing curses at them, expounding on treason and Russophobia, talking smack about [democratic schizophrenia], but the joke's on me -- it turned out they were all completely right and I was wrong," Baronova wrote February 27 on her Telegram channel.
Putin's totalitarian regime has made Russians' life an "endless hell" and it was now trying to forcibly export that system to Ukraine, she said.
At Ruptly, a Russian state news agency based in Berlin, an exodus of employees has begun after Russian forces invaded Ukraine on Putin's orders, Reuters reported February 28.
Employees complained during an all-staff teleconference that they were not permitted to objectively report on the conflict, such as by using the word "invasion".
Ruptly was founded in 2013 to provide news, including videos and live feeds from around the world, to RT and other customers.
Ruptly is part of the international media empire run by Margarita Simonyan, a Putin ally, which also includes RT and Sputnik, Reuters noted.
Simonyan is a target of Western sanctions due to her position as a "central figure" in the Russian propaganda machine.
Unprecedented rally against Putin
Kazakhs at the weekend rallied for peace and demonstrated against Russia's invasion of Ukraine while others expressed increasing frustration with the war's portrayal -- or lack thereof -- by Russian media.
More than 2,000 demonstrators stood in Almaty on Sunday (March 6) for the Ukrainian national anthem and chanted pro-peace slogans and insults directed Putin.
Kazakhstan normally blocks political demonstrations but public sentiment is shifting in ex-Soviet states, and many appeared spooked by suggestions that unprecedented Western sanctions against Russia over Ukraine should target Moscow's allies too.
The Kazakh Foreign Ministry has stressed its neutrality in the conflict and last week invited Britain's ambassador for talks after a UK lawmaker appeared to call for sanctions against individuals in the country "complicit and supporting" Putin.
The consultations came after UK lawmaker Margaret Hodge, a member of the opposition Labour party, on February 28 asked UK Foreign Secretary Liz Truss whether individuals from "jurisdictions like Kazakhstan and Azerbaijan" would be targeted by sanctions over Russia's invasion of Ukraine.
Truss replied that she would "look into the issues around Kazakhstan and other nations".
Kazakhstan's Foreign Ministry on Saturday said it had received assurances from London that the country would not be sanctioned by the United Kingdom over Russia's invasion of Ukraine.