ALMATY -- A Russian lawmaker made thinly veiled threats against Kazakhstan after Kazakh President Kassym-Jomart Tokayev refused to recognise the so-called "Donetsk People's Republic" (DPR) or "Luhansk People's Republic" (LPR).
Tokayev, while attending the plenary session of the St. Petersburg International Economic Forum on June 17, told reporters that Kazakhstan would never recognise the self-proclaimed, Russian-backed republics in eastern Ukraine.
He pointed to two principles of the United Nations (UN) Charter -- the territorial integrity of a state and the right of a nation to self-determination.
Kazakhstan prioritises the first, because otherwise there would be as many as 600 countries on the planet, which would be chaos, Tokayev said.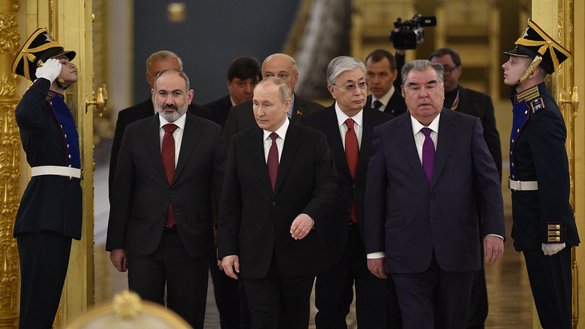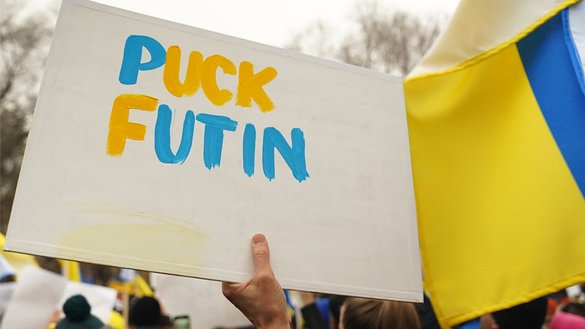 "And this principle will be used towards the quasi-state territories such as Luhansk and Donetsk, as we believe them to be," he said.
Kazakh officials have made clear their nation's position since the start of Russia's invasion of Ukraine in February.
In an interview with the pan-European news network EurActiv at the end of March, Timur Suleimenov, Tokayev's first deputy chief of staff, said that Kazakhstan would not serve as a tool for circumventing US and European Union sanctions on Russia.
"Of course, Russia wanted us to be more on its side. But Kazakhstan respects the territorial integrity of Ukraine," Suleimenov said at the time.
"We did not and will not recognise the Crimea situation [or] the Donbas situation because the [UN] does not recognise them," he said, referring to parts of Ukraine wholly or partly occupied by Russia.
A challenge to Putin
Tokayev's remarks marked the first time as president he has publicly stated Kazakhstan's position on the breakaway republics.
In a symbolic move, he also refused an award -- the Order of Alexander Nevsky -- from the Kremlin after the St. Petersburg International Forum.
Gaziz Abishev, a political correspondent for and editor-in-chief of the Turan Times news site based in Nur-Sultan, welcomed Tokayev's bluntness and his message that Kazakhstan does not support separatism and respects the territorial integrity of countries.
"What's more, Tokayev made it clear that similar risks exist inside Russia itself, where 'the right of nations to self-determination', if exercised, could potentially lead to the appearance of new states," Abishev said.
Russian lawmakers, however, were offended.
A day after Tokayev's statement, State Duma Committee on CIS Affairs Deputy Chairman Konstantin Zatulin accused Russia's "so-called allies" of pursuing only their own interests in relations with Moscow.
In an interview with radio station Govorit Moskva, Zatulin called Tokayev's blunt response "inappropriate" and took it to be "a challenge to the president [of Russia, Vladimir Putin,] next to him".
Zatulin then moved to veiled threats.
"They [Kazakhs] know only too well that a number of provinces and towns populated predominantly by Russians have little to do with what is called Kazakhstan," he said, in an apparent reference to North Kazakhstan province, which Russian politicians in the past have claimed historically belonged to Russia.
If allies have "friendship, co-operation and partnership" with Russia, then they will not face "territorial issues", he added.
"But if these things do not exist, then anything is possible. As in the case of Ukraine."
"So, it seems to me that it would be worthwhile for Kazakhstan and other countries to pay attention to this part of the matter," Zatulin warned.
'Look closely at Ukraine'
Kazakhstan has repeatedly seen attacks from Russian lawmakers and Kremlin propagandists.
In late April, Russian pro-Kremlin journalist Tigran Keosayan launched an angry tirade against Kazakhstan for refusing to hold a military parade on May 9 to mark Victory Day.
Many former Soviet states mark May 9 to celebrate the Soviet defeat of Nazi Germany, though the Baltic states gave up that practice years ago.
"Kazakhs, brothers. What's with the ingratitude?" Keosayan asked in a video posted on his YouTube channel, referring to the decision made by Kazakh authorities.
"Look closely at Ukraine. Think seriously," he said.
"If you think you can continue to be such sly asses and there won't be any consequences, you are mistaken. The world has changed. Everything has changed."
Speaking publicly earlier in March, Sergei Savostyanov, a Moscow City Duma member, proposed adding Kazakhstan and several European countries, including the Baltics, to a list of countries that need to be "de-nazified".
Russia likely will intensify its propaganda in Kazakhstan soon, and the country must be prepared for this eventuality, said Dosym Satpayev of Almaty, a political scientist and the director of the Risk Assessment Group think-tank.
"Russia will wage a tough propaganda war against Kazakhstan using all channels -- television, news websites, Telegram channels. And, unfortunately, it has an audience in our country," Satpayev said.
Kazakh government and society must come together to counter information threats from Russia, he said.